Possible Scenario
Source: The Common Sense Show
The Total Loss of the Rule of Law in the US, Will Lead to the Deadliest Purge In World History
I was among the first to report that Robert Mueller delivered highly enriched uranium to the Russians, on behalf of the Clinton Foundation in 2009. The evidence is airtight. His appointment to special prosecutor was intentional because he and Hillary had the most to gain by blocking any Trump action against Hillary and ultimately Mueller and Comey, who was also involved in Uranium One.
Robert Mueller is using his office and that of the FBI to seize all evidence connected to Uranium One and stop any further investigation.
On July 20, 2017 I wrote an investigative piece which completely documented Mueller's involvement in Uranium One as the evidence placed him at a Russian airport delivering highly enriched uranium. The evidence, among other evidence, coming from a Russian government memo as well as a US State Department memo, demonstrated that Mueller was the central part of this uranium transfer.
Follow this brief dot-connecting exercise as it will become crystal clear where the Deep State, with the help of Robert Mueller and Hillary Clinton are taking this country. This is undoubtedly the beginning of the purge.
Relevant History
The following photo represents the level of transparency of the parts of our government controlled by the Deep State. Stalin has nothing on Robert Mueller. When Mueller's objectives are complete, Mueller will take his place among the Pol Pots' in world history. I do not want to be accused of speaking metaphorically. I am plainly saying that when Mueller accomplishes his mission of removing Donald Trump from office, compromising Pence into retiring for some obscure "health reason", President Pelosi, along with Field Marshall Mueller at her side, will preside over the most hideous and deadly political purge in the history of this planet.
Our government, particularly the legal process is supposed to operate within the light of day. Look at the picture of Robert Mueller's office and ask yourself how much light is passing into Mueller's office.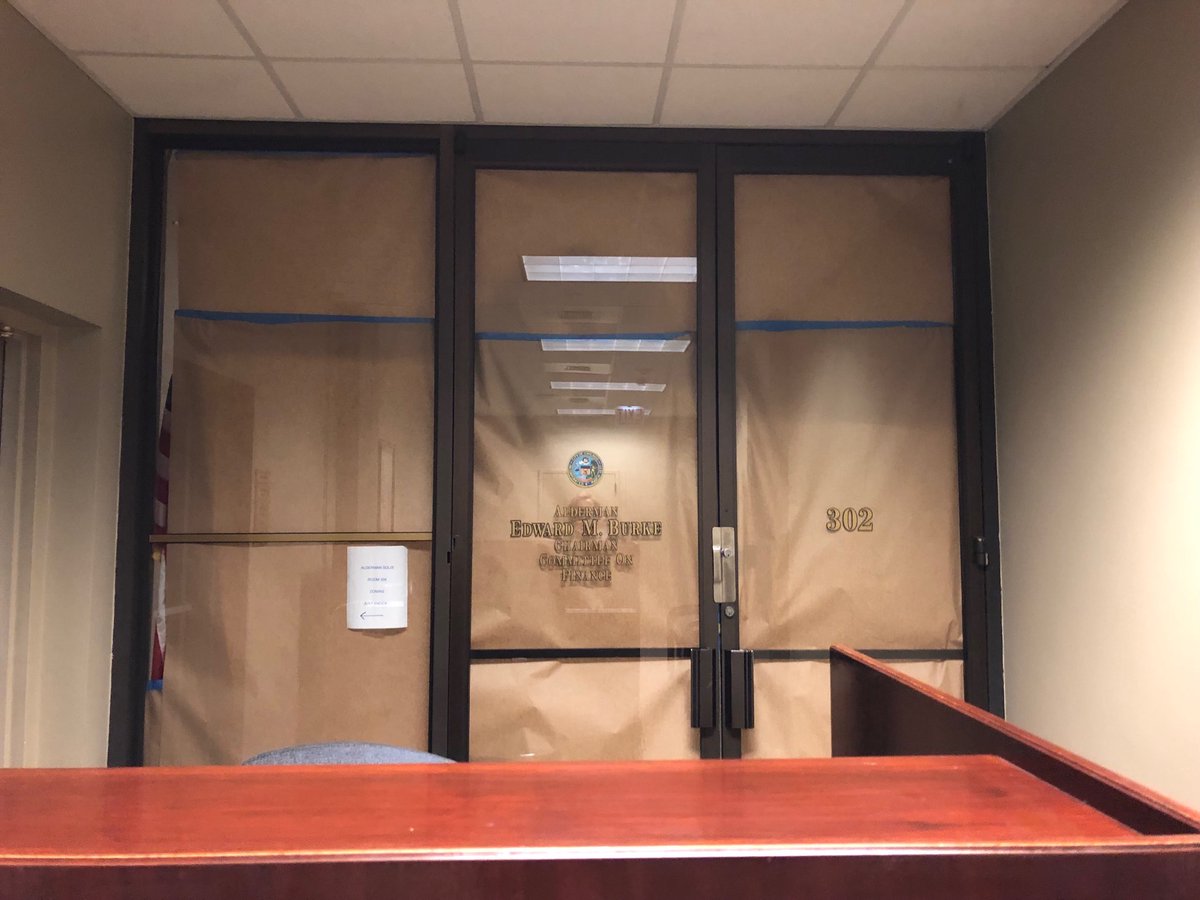 Understanding Your Enemy
Through the course of interviewing the late Larry Grathwohl, who died under very mysterious circumstances, I became a friend and a confident. In the late 1960's Larry investigated one of America's earliest Bolshevik's Bill Ayers, the head of the s0-called Red Diaper Babies, known as the Weathermen Underground. They were a subversive, group of young Ivy League graduates who were the sons and daughters of successful American business people. There mission was to overthrow the US government and make it into a communist state. Larry Grathwohl was working as an FBI undercover informant who had penetrated the Weathermen and befriended Bill Ayers. In a stunning interview, Larry revealed that when he asked Ayers what he would do when the Weathermen took over the country, he replied, that we would have to send about 50 million Americans to "re-education camps" and murder about 25 million of them.
Bill Ayers went on to groom Obama for his first elected position. Bill Ayers, despite being a felon who did prison time for his Weathermen activities related to the Weathermen's murder of a San Francisco police officer, still visited the White House after Obama was elected.
In New World Order parlance, Ayers protege, Obama, was to be the set up man designed to deliver the US on the alter of the globalists. Hillary Clinton was to be his closer and complete the task.
Restoring the aims of the globalists fell to the Deep State after Trump was elected and it is Mueller's job to remove the speed bump of New World Order progress known as Donald Trump.
The following is not new news, however it needs to repeated in the face of what is transpiring in this country.
Please go to The Common Sense Show to continue reading this disturbing material.
From Wikileaks: https://twitter.com/wikileaks
________
"Reeducation camps?" $200 million invested in upgrades for Guantanamo (see linked article below)?
Larry Grathwohl on Ayers' PLAN for AMERICAN RE-EDUCATION CAMPS and the KILLING of MILLION

Wouldn't it be something if President Trump is removed as well as Vice President Pence then Nancy Pelosi takes over as CEO of the US corporation at which point all the political dissidents who could cause problems for the complete communist takeover of America are either purged (killed off) or sent to Guantanamo?
When it Comes to Guantanamo, Trump is Truly the Builder in Chief
Check the population numbers for the US corporation by 2025. What happened to the roughly 200 million of the American population by 2025 on this CIA Deagel Report?
http://www.deagel.com/country/United-States-of-America_c0001.aspx
________
Source: http://82.221.129.208/.xw5.html
December 2, 2018
Nancy Pelosi really could become President this year
David Hodges did a spooky piece on how Nancy Pelosi could become President, and if Trump does not take action in December he will probably be out of office before July, Pence will probably also be outed in the same time frame (before he can appoint a new Vice President) and Pelosi, as speaker of the house, will become president.
That's the game plan, bet on it.
I laid awake scared for hours over this. If Pelosi becomes president, we're TOAST. Hodges then references the Deagel report, which claims a 200,000,000 population reduction in the United States will happen in the next few years, and claims that Pelosi will likely head this mass killing of Americans.
Could it happen? YEP. You can almost bet on it. And Rush Limbaugh recently stating Trump is toast, because there are too many disloyal fake Republicans in the senate to keep him safe, yes, it could happen. Remember, Mueller was the one who handed over the uranium in the uranium one scandal. Why this creep is around anymore to bother the president escapes all rationality. It simply should not be, yet it is. Bottom line: If Trump does not get rid of Mueller before Christmas, it is GAME OVER for the entire country.
I doubt anything would stop Pelosi as president, the entire deep state infrastructure is still in place, there are still over a billion bullets ready to go to kill everyone, in agencies where they don't belong, and Republicans don't own and won't stop anything – the rigged 2018 mid terms basically spelled the end. Trump has precious little time to do anything, and he seems to be bound in a way that is preventing him from getting it done.
So I laid awake last night for hours scared to death of this scenario, which really could happen.
________
Source: The San Francisco Chronicle
Pelosi won speaker nomination because she worked for it — 1 more vote to go
House Minority Leader Nancy Pelosi has to win one more vote before she becomes speaker of the House. Photo of Matier & Ross
by Matier & Ross • December 2, 2018
Nancy Pelosi's campaign to reclaim her old job as House speaker began two years ago, just days after Donald Trump's stunning presidential win.
It began with Pelosi's own rallying cry to health care advocates, labor unions, veterans and others in the Democratic base to help save the Affordable Care Act.
Even before Trump was sworn in, Pelosi — along with singer Joan Baez and several area politicians — joined in a "Protect Our Health Care" rally on the steps of San Francisco City Hall, as simultaneous events were held in 40 other cities across the country.
Saving health care then became the mantra for Pelosi's drive over the next two years to reclaim the House and speakership.
It culminated in a candidate recruitment drive and fundraising effort that eventually amassed $25.9 million for Democrats in the midterm elections.
Please go to San Francisco Chronicle to read the entire article.
________
Source: The Intelligencer
305th Military Police Company Deploys to Guantanamo Bay
December 2, 2018
WHEELING — More than 100 members of the 305th Military Police Company of Wheeling were deployed to Guantanamo Bay, Cuba, Saturday, following an official ceremony at Triadelphia Middle School's gymnasium.
The 400-day deployment is in support of Operation Enduring Freedom, according to Sgt. First Class Reginald Pickett, with the 305th. He said the troops will be performing various military police duties during this period. Several speakers, including Lt. Col. Jonathan Bennett, commander of the 400th Military Police Battalion, spoke to the troops and their families about the hardships involved with a long deployment.
"Thank you to every one of you guys and gals who are standing here today who answered the call — because that's what you've done and you have distinguished yourselves in doing so in taking that responsibility," Bennett said, before going on to thank the families for their sacrifice as well.
"You are the ones that are doing double duty. You are the ones that are left behind and are keeping things going for us while we're gone doing our mission. So I really want to say 'thank you' to both the soldiers and the families for all that they do in making this possible," he added.
Please go to The Intelligencer to read the entire article.
________
Come on General Mattis, really? More Russian bashing as the US is slowly and continuously kicked out of the Middle East. How many countries has Russia attacked in the proceeding 17 years compared to one country after another the US has militarily attacked including Afghanistan where the US continues today to bomb Taliban targets to "force them to the negotiating table?" Hillary Clinton through the Clinton Foundation along with Robert Mueller in the material published above, are alleged to have provided the Russians with enriched uranium and General Mattis here is condemning Russia for its aggressive military activity and that Vladimir Putin is a "slow learner"? Really General Mattis? Just exactly who are the slow learners and fast learners here? And yes, Bret Baier of Fox News and Defense Secretary James Mattis, just love the red and blue patriotic neckties with white shirts. Nice touch.
And now it is becoming clear in Crimea with the Kerch straight incident that this was a NATO military clandestine operation to push Ukraine into becoming a NATO member country. Yet, General Mattis claims "NATO has been forced to build up because of Russia's military aggression". And General Mattis, you just had the commander of US naval forces in the Middle East, Vice Adm. Scott Stearney, found dead at his residence in Bahrain. Within hours the US Navy investigating the Fifth Fleet chief's death said "no foul play?" So rather than accusing Russia of all sorts of military aggression, isn't it time the US military had a purge to find out exactly what is going on and what would cause the alleged "suicide" as is now being reported of US Navy Admiral Scott Stearney? "Iranian mischief"? Did Vice Admiral Scott Stearney oppose some type of a false flag operation ("initiating crisis") as is being alleged in some circles to implicate Iran to kick off a shooting war as has been advocated for by the Brookings Institute for years?
Mattis on Putin's aggression, Iranian mischief, Khashoggi

Further reading:
The U.S. Never Dropped As Many Bombs On Afghanistan As It Did In 2018 [Infographic]
Just a reminder:
WATCH Russia firing off upgraded nuke interceptor
Related:
FBI raids home of whistleblower who had 'dirt' on Clinton Foundation, Mueller
Treason! Hillary AND Robert Mueller Both Sold Uranium to Putin
________
2936 Total Views
3 Views Today