Kelly 71 – Rothschild's Raytheon IFF, Clinton's Stand-Down War-Game Bridge, Serco's Demon Pentagon Bomb
Field McConnell, USMC 0116513
Abel Danger Global Private Intel
P O Box 39
Plum City WI 54761
The Honorable John F. Kelly
White House Chief of Staff
Washington, D.C. 20528
Open letter from the Cloud Centric Crime Scene Investigators of Abel Danger
August 26, 2017
Dear General Kelly:
Please accept Brief 71 from Field McConnell – United States Marine and Global Operations Director of Abel Danger (AD) – on the late Victor Rothschild's apparent transfer to Raytheon in 1961 of UK MOD wartime developments in the various radar, navigational aids, and, identification, friend or foe (IFF) systems which John Deutch, Bill Clinton's treasonous-but-pardoned former CIA director and Raytheon consultant allegedly incorporated into A-3 Skywarrior bombers in support of an attempted coup d'état during the war games of 9/11.
McConnell believes that on 9/11, the UK MOD used its root key access to IFF systems on the federal bridge certification authority to allow Deutch's and former patent lawyer Hillary Clinton's aides to stand down the Pentagon's defenses against a Skywarrior bomb attack in which a Red-team foe flew as a Blue-team friend.
McConnell believes that the UK MOD used funds from Serco's investment banker N M Rothschild to equip Clinton "actors" with fake identities from Serco's Demon face-recognition software so they could stand down the Pentagon's automatic fire control system with a "friendly" transponder beacon and release the rocket-boosted guided hard-target penetrator (US 6276277 B1) bomb from the modified Skywarrior which appears to have taken out the Pentagon's U.S. Navy Command Center at Sept 12, 2001 17:37:19!
You are quoted as telling White House staff that you expect them to "put country first, the president second, and their own needs and priorities last" and that you have warned them "Even if it may seem innocuous to pass along some bit of classified information to someone without a clearance it's a crime."
McConnell believes that he and his Marine Corps colleagues will need witness protection if they are to reveal classified information showing how the UK MOD appears to have used Rothschild funds, Raytheon IFF systems and Serco's Demon software to stand down the Pentagon on 9/11 and kill duty watch Captain Gerald DeConto and his fellow workers with bunker-buster bomb technology derived from WWII!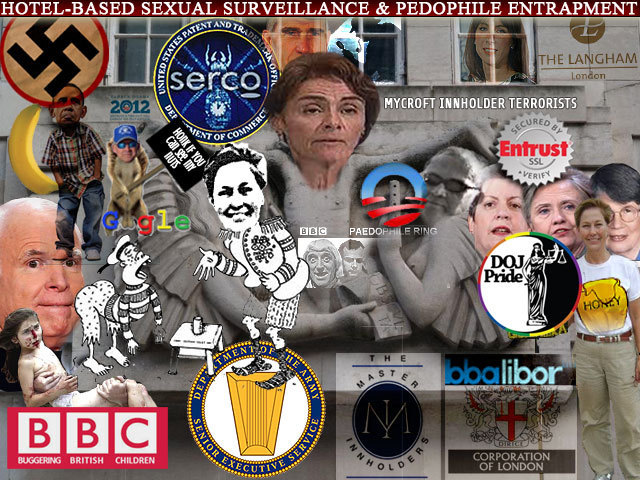 SERCO GROUP PLC: List of Subsidiaries AND Shareholders! (Mobile Playback Version)

Yours sincerely,
Field McConnell
USMC 0116513
P O Box 39
Plum City WI 54761
+001-715-307-8222
"9/11 — An Inside Job,"
by
Paul Andrew Mitchell,
B.A., M.S.,
Private Attorney General, 18 U.S.C. 1964
(3/18/2010)
There is a HUGE amount of evidence of an inside job on 9/11.
For example, our Executive Summary to the U.S. Coast Guard achieved positive identification of the Pentagon murder weapons:
An A-3 Skywarrior hit just after an AGM missile was fired from under its port wing, to soften an entrance hole for the fuselage. A key debris photo shows 2 planar fuselage sections, one of which has a telltale re-fueling line along its horizontal length.
Very few jet aircraft have rectangular fuselages; and, of those only one has an external re-fueling line. All photos of A-3s that we have seen do show this external re-fueling line on every A-3 we have examined.
That A-3 was reportedly modified at a private airfield in Loveland, Colorado, using different crews to do different retrofits, e.g. avionics, weapons, remote-control, transponder beacon, etc.
It had been purchased as part of a fleet of A-3s now owned by Raytheon, a major DOD contractor.
One USAF pilot I know told me that Captain Gerald F. DeConto was on the telephone to Gordon England, Secretary of the Navy, requesting authorization to engage the incoming, because
the Pentagon's automatic fire control system had been fooled by a "friendly" transponder beacon.
http://www.arlingtoncemetery.net/gfdeconto.htm
As the highest ranking officer in the Naval Command Center, DeConto and his staff must have been tracking that incoming on their in-house radar systems, and realized that the incoming jet had a friendly transponder, because the fire control system had NOT activated itself.
While England kept Captain DeConto on the telephone, evidently stalling him, DeConto and his staff were killed by the missile warhead and subsequent impact of the A-3.
The Boeing 757 seen by many eyewitnesses was timed to fly over the Pentagon at precisely the moment of the A-3's impact. It landed at National, into the waiting arms of 94 ground crew who had infiltrated Dulles and National airports.
They were later deported for falsifying Social Security applications and violating immigration laws [as arranged by Serco's 'foreign faction' team in the National Visa Center since 1994]"
"Contemporary Press Report: September 20, 2001
As director of the current operations and plans branch of the Navy Command Center, Captain Gerald F. DeConto, 44, was organizing the Navy's response to the World Trade Center attack when he died in the crash at the Pentagon.
The weekend before he died, DeConto drove his green Ford Explorer — with the license tag "FISH79," for his nickname at the U.S. Naval Academy — to a family reunion at his brother's home in East Lyme, Connecticut. The family ate clam chowder, sausage and flank steaks and played badminton and basketball.
DeConto accompanied his mother back to Sandwich, Massachusetts, the seaside town on Cape Cod where he was a high school soccer star, and left for Alexandria Monday afternoon. That night, he sent an e-mail to his mother telling her he had arrived safely. She had just opened an e-mail account, and it was the first — and last — message she would receive from her son.
"We're so lucky we had that weekend all together," Patricia DeConto said.
Gerald DeConto, who was divorced and had no children, stayed in close touch with his mother, two brothers and two sisters. He enjoyed sailing, running with his two dogs, and giving his brothers pointers about coaching soccer.
The son of a schoolteacher and town building inspector, DeConto received a physics degree from the Naval Academy, where he played rugby, in 1979. He reported to the USS Excel as a damage control assistant, later serving as engineering officer and executive officer. He became operations officer on the USS Fresno in 1982.
He attended the Naval Postgraduate School in Monterey, California, from 1984 to 1986, receiving a master's degree in mechanical engineering. He was chief engineer on the USS Hewitt from 1986 to 1989 and was then an aide to the assistant chief of naval operations for surface warfare. He was named executive officer on the USS Lake Erie in 1991.
DeConto was assistant operations officer for Carrier Group 7 from 1994 to 1997. He then received a master's degree in national security and strategic studies at the Naval War College. He was commanding officer of the USS Simpson from 1998 to 2000 and chief of staff for the Standing Naval Force Mediterranean from April 2000 until May."
 "Consulting Agreement                                          Raytheon
Name of Consultant                                                Date
Dr. John Deutch                                               1 April 1998
Street Address                                      City    State    Zip Code
51 Clifton Street,                                 Belmont,   MA       02178
Raytheon Technical Contact(s)
Robert A. Skelly
You are hereby appointed a consultant to Raytheon Company, (Executive Offices,
Lexington) (hereinafter called 'Raytheon') to assist Raytheon in its technical
problems, subject to the following terms and conditions:
1.       Terms of Agreement
The term of this agreement shall be from 1 April 1998 to 31 March 1999 subject
to the right of termination as set forth below.
You agree to provide, and Raytheon agrees to accept at least 12 days of
service during the first 12 months of this agreement, together with such
additional consulting services as may from time to time be requested in writing
by Raytheon.
2. Statement of Work: (Use additional pages if necessary and attach.)
Dr. Deutch will consult one day per month and will spend one-half day per month on preparatory work.
3.       Payment: Raytheon agrees to pay you at the rate of $3,000 per day for each day
worked. Fractional parts of a day shall be prorated on the basis of an eight (8)
hour working day. In addition, Raytheon will pay an annual retainer of
$18,000.00 and $10,000.00 annually for administrative support.
Check applicable provision X To the extent authorized, travel expenses including transportation will be
reimbursed at actual costs; provided that such expenses shall not exceed those
allowed for employees of Raytheon.
No travel expenses are authorized under this agreement."
"Rocket-boosted guided hard target penetrator 
US 6276277 B1
ABSTRACT
A target-penetrating aerial bomb includes a penetrator of hard steel or similar material that contains an explosive charge. A rocket motor is formed as an annular chamber and surrounds the penetrator. The bomb includes a guidance and control unit that guides the bomb on a glide path after release from the delivery aircraft, and steers the bomb onto a dive line. Once the bomb is aligned on the dive line, the guidance and control unit fires the rocket booster to accelerate the bomb to the target. A fuse ignites the explosive after target penetration.
"Identification, friend or foe (IFF) is an identification system designed for command and control. …. In 1940, English engineer Frederic Calland Williams began work on the Mark III system at the Telecommunications Research Establishment, which was to become the standard for the Western Allies for most of the war. Mark III transponders were designed to respond to specific 'interrogators', rather than replying directly to received radar signals. The system also allowed limited communication to be made, including the ability to transmit a coded 'Mayday' response. The IFF sets were designed and built by Ferranti in Manchester to Williams' specifications. Equivalent sets were manufactured in the US, initially as copies of British sets, so that allied aircraft would be identified upon interrogation by each other's radar."
"The Disney bomb, also known as the Disney Swish,[4] officially the 4500 lb Concrete Piercing/Rocket Assisted bomb was a rocket-assisted bunker buster bomb developed during the Second World War by the British Royal Navy to penetrate hardened concrete targets, such as submarine pens, that could resist conventional free-fall bombs. Devised by Royal Navy Captain Edward Terrell, the bomb was fitted with solid-fuel rockets to accelerate its descent, giving it an impact speed of 990 mph (1,590 km/h) — substantially beyond the 750 mph (1,210 km/h) gravity-propulsion impact velocity[5] of the 5 tonne Tallboy munition for comparable purposes — and hence the ability to penetrate 16 ft (4.9 m) of solid concrete before detonating. The name is attributed to a propaganda film produced by the Walt Disney Studios, that provided the inspiration for the design.
The Disney bomb saw limited use by the United States Army Air Forces in Europe from February to April 1945. Although technically successful, it initially lacked the pinpoint accuracy required for bunker targets. It was deployed late in the war and had little effect on the Allied bombing campaign against Germany."
"TOP DEFINITION Mendenhall To mount someone from behind while they are in the fetal position on the ground. After the deed is complete, you roll them over and see the humiliation in their eyes. This is best accomplished in front of a large audience. That chick was so hot I pretended to trip and totally Mendenhalled her. #dry hump#bareback#doggy#mount#steelers by GoPack! January 25, 2011"
"Since I entered politics, I have chiefly had men's views confided to me privately. Some of the biggest men in the United States, in the field of commerce and manufacture, are afraid of something. They know that there is a power somewhere so organized, so subtle, so watchful, so interlocked, so complete, so pervasive, that they better not speak above their breath when they speak in condemnation of it." ― Woodrow Wilson, The New Freedom
"Investigators find Internet porn hits on ex-CIA director's home computer
TOM RAUM
Associated Press Writer
Published Thursday, February 03, 2000
WASHINGTON — Former CIA Director John Deutch stored some of the nation's most sensitive national security secrets on a home computer that also was used to access pornographic Internet sites and to routinely receive and send e-mail.
That's the conclusion of CIA investigators in a case that is generating alarm among congressional intelligence overseers and throughout the intelligence community.
CIA Director George Tenet, in a public hearing on Wednesday before the Senate Intelligence Committee and later in a private session with members, said there was no evidence that Deutch's unsecured home computer had been hacked into by foreign adversaries.
But neither was there any sure way to tell that it hadn't been, given that the technology exists for such intrusions, he said.
"There was enormously sensitive material on this computer, at the highest levels of classification," Tenet conceded at the public session."
"Dr. John M. Deutch, Ph.D., MIT serves as the Chairman of Scientific Advisory Board of Sun Catalytix Corporation. Dr. Deutch was a Member of Science Advisory Board of First Green Partners and was previously its Director. Dr. Deutch serves as Member of Advisory Board of Axiom Venture Partners, L.P. Dr. Deutch served as an Independent Director of Cheniere Energy, Inc. since December 15, 2006 until June 11, 2015. He has been a Director of NextLine Manufacturing Corp. since January 2014. He serves as a Director of Cummins Engine Company, Inc. He has been Director of Citigroup Finance Canada Inc. since 1996. Dr. Deutch serves as a Member of Strategic Advisory Board of NGP Energy Technology Partners. He served as a Director of Xometry Inc and Defense Group Inc., until August 15, 2016. He serves as a Member of Advisory Board of Albridge Solutions Inc., and Scent Detection Technologies, Ltd. Dr. Deutch served as a Director of Citicorp. since 1996. He served as a Director of Raytheon Company from 1998 to May 30, 2013. He served as Director of Schlumberger Ltd. since 1997. He served as Director of Citigroup, Inc. from 1996 to April 20, 2010. He served as Director of Cummins Inc., from 1997 to May 13, 2008 and Citigroup Inc. or predecessor from 1996 to April 20, 2010. He was a U.S. Deputy Secretary of Defense from 1994 to 1995 and also served as Undersecretary of Defense for Acquisition and Technology from 1993 to 1994. He also served as an Acting Assistant Secretary for Energy Technology. Dr. Deutch was an Under Secretary of U.S. Department of Energy from 1979 to 1980. He was a Director of Energy Research for the U.S.A. Department of Energy since 1978. He served as a Director of Ariad Pharmaceuticals Inc., Perkin-Elmer and CMS Energy Corp. He served as Member of the Advisory Board at Intelligent Medical Devices, Inc. He served as a Non-Executive Director of ZF Wind Power Antwerpen NV since July 12, 2009. He served as a Director of Citibank, N.A. from 1987 to 1993 and Citibank, National Association until July 2009. Dr. Deutch served as a Director of Central Intelligence Agency from 1995 to 1996. He has been an Institute Professor since 1990 at the Massachusetts Institute of Technology, where he has a 27-year career as a Professor and Administrator, Provost and Director of Science."
"In 1969, Bill Clinton was a 23-year-old Rhodes scholar at Oxford University when he was accused of sexual assault by a fellow student, an English woman named Eileen Wellstone, 19, after the two met at a local pub. Bill acknowledged that he had sex with this woman, but insists it was a consensual encounter. Read more at http://www.patheos.com/blogs/frenchrevolution/2016/07/27/top-11-times-bill-clinton-was-accused-of-sexual-assault-or-rape-an-antidote-for-his-speech-inspired-nostalgia/#zW0PbLDFS7BSMvCC.99"
"A pegboy was a young man kept on pirate ships by pirates. This young man was forced to sit on a large wooden peg…all the time. Anyway, this was done so that whenever a pirate wanted to drop his anchor (so to speak) he'd have no problem. Come here pegboy, I want some of those sweet cheeks. by Dirty Sanchez August 27, 2003"
"Digital Fires Instructor Serco – Camp Pendleton, CA  Uses information derived from all military disciplines (e.g., aviation, ground combat, command and control, combat service support, intelligence, and opposing forces) to determine changes in enemy capabilities, vulnerabilities, and probable courses of action."
"From: Paul Andrew Mitchell
Jul 7, 2009
So, I went about collecting nothing more than raw images,
and that effort produced a collection numbering about
1,200 digital photos in all.
http://www.supremelaw.org/cc/gwbush/pentagon/
Of course, the Pentagon's 5 cctv frames were exceedingly
important. And, because I am a published author
in computer graphics (Harvard Laboratory, 1977),
I was able to use some simple graphics software
to examine closely the pixel patterns in the one cctv frame
which appears to show the attack jet's vertical tail section:
That analysis immediately resulted in confirming evidence
that the jet's fuselage, forward of the visible tail section,
had been "air brushed" with a purple color which had been taken
from a completely different region of that one frame:
Proving that this color was "foreign" to the pixels where
the fuselage would have been visible, was quite easy:
all that we needed to do was examine subsequent frames,
which showed a dissipating missile exhaust plume, then
the distant background which was covered mostly by
green-colored vegetation growing on a highway embankment
there:
Of course, given the terminal velocity of the attack jet,
its fuselage was not and would not have been visible at all
in any of those subsequent frames.
Once we had confirmed these "air brushed" pixel alterations,
we then theorized that the purple-colored pixels actually
did obliterate the fuselage, and very little else:
therefore, the air-brushed pixels turned out to
outline the fuselage almost perfectly!!
Also, it is quite plausible that the Pentagon personnel,
who did these alterations to evidence of a murder weapon,
were in a big hurry, and didn't stop to consider fully the
extent and manner of those alterations. For example,
a 757's nose would have protruded further to the left
than the left-most purple pixels visible in that cctv frame!
Thus, the first element of our hypothesis was a somewhat
rough estimate of the overall dimensions of the attack jet,
based in part on the area outlined by those purple pixels
forward of the visible tail section.
From there, we turned our attention to the photos of the
Pentagon that were taken after the crash and before the
roof collapsed. Of course, the roof collapse resulted
in destroying or concealing plenty of valuable forensic
evidence. But, there were enough photos taken before
the roof collapsed, for us to make a reasonable estimate
of the attack jet's "imprint" on the Pentagon's exterior
facade:
Then, we had a breakthrough when we discovered the localized
damages on the diesel generator which had been parked
just outside of the Pentagon's exterior wall: after its
fire was extinguished, that diesel generator was not
moved for quite some time, so it appears in lots of
photos taken both before and after the roof collapsed:
It was most interesting that the specific damages to that
generator came very close to matching the geometry of
an A-3's starboard engine and starboard missile pylon.
The starboard under-wing geometry of a 757 is very different!
[Moreover, the instantaneous impact of the starboard engine
with the left end of that diesel generator helps to explain
why the attack jet hit with a slight roll to the port side.
Its forward-looking radar may have also attempted to
avoid a collision with that diesel generator, but
its avionics failed to roll the jet quickly enough.]
Also, there were relatively few indications of direct
impact above the first floor of the Pentagon, except
of course the main entrance hole, and except for
one localized area which matched quite neatly
the point at which the right wing tip must have hit.
Those damages where the right wing tip hit were also
superficial, as compared to where the starboard engine
demolished 3 reinforced concrete bearing columns.
Then, things started to fall into place quite nicely,
because the damages to the bearing columns also lined
up with the starboard engine, which would have had
maximum kinetic energy and would have been the first
high-density aircraft component to hit the Pentagon.
[Formula for Kinetic energy is K = 1/2 mv**2 ]
And, using simple physics, the impact of the starboard engine
resulted in significantly reducing the attack jet's overall incident
kinetic energy, so much so that the port engine ended up
hitting with much less kinetic energy. And, if you know
where to look, you can see where the 12″+ thick concrete
ceiling above the first floor was chipped away,
most probably when the port engine hit right at that point.
Another big breakthrough occurred when, somewhat later in my
search for photos, I came upon the one showing a crane
lifting two planar sections of metal, one of which exhibits
a severe compression gash at one end. Also visible on the
other planar section is a conduit, or tube-like device,
running the horizontal length of that planar section.
Well, the A-3 Skywarrior is quite unique for having
a rectangular fuselage and an external re-fueling line
attached to the port-side fuselage. A Boeing 757,
on the other hand, has a distinctly cylindrical fuselage
and no external re-fueling lines whatsoever.
That compression gash in the shorter metal section
most probably resulted when the fuselage collided
with the ceiling above the first floor, at an incident
angle of about 50 degrees off the building line.]
This "geometric" approach did result in producing
the best overall "fit" between an A-3 Skywarrior
and the damages evident on the Pentagon before the
roof collapsed.
There were other anomalies which this "best fit" approach
did not explain directly: for example, debris was
later identified as components from other aircraft,
not from an A-3. Although we don't have any really
convincing proof of the following explanation,
it has been suggested — by me and by several others —
that those other parts were either stowed in the A-3's
bomb bay and/or those other parts were placed in the
Pentagon prior to the crash — to confuse forensic
investigators.
All of this analysis would have been much easier, of course,
if all video evidence had been promptly published of the
attack jet's final approach, and if all of the debris
had been assembled in a single NTSB hangar, which is
SOP whenever a commercial jet crash has occurred,
in order to attempt mandatory accident reconstruction.
Nevertheless, coupled with other, secondary evidence
of which I am aware, some of it admittedly circumstantial,
we have informed the U.S. Coast Guard of our conclusions
that an unmanned, remotely controlled A-3 Skywarrior
hit the Pentagon, immediately after an air-to-ground ("AGM")
missile was launched from under the port wing, in order to
soften an entrance hole for the A-3's main fuselage.
The timing of the warhead's explosion was not quite
"perfect" however, and the shock wave resulted
in partially disintegrating the A-3 into pieces,
some of which came to rest outside the Pentagon.
I am a qualified Federal Witness, and I am competent
to testify, under oath, as to the facts and conclusions
summarized above.
Thank you.
Sincerely yours,
/s/ Paul Andrew Mitchell, B.A., M.S.
Private Attorney General, 18 U.S.C. 1964(a)
Criminal Investigator and Federal Witness: 18 U.S.C. 1510, 1512-13"
"Intel Jobs Serco is a trust provider of national security and intelligence solutions in the areas of program management, cyber security, system development and intelligence analysis.  Our teams assist the Intelligence Community in all dimensions of program management, including acquisition strategy development, requirements development, budget formulation and execution and program oversight.  Our teams are always on the lookout for knowledgeable and qualified Project and Program Managers; Systems Engineers; Financial Managers; Business Managers and Acquisition Professional Experts to provide executive-level systems engineering and technical assistance (SETA).
We need cybersecurity experts that understand today's modern threats and develop end-to-end security solutions that protect our nation's mission critical infrastructure.  Our experts maintain their edge by participating in a corporate-wide Cyber Center of Excellence, a center that promotes collaboration, education and transfer of best practices.  Today, we are looking for security engineers that can deliver robust services to our customers, including risk assessment, vulnerability analysis, certification and accreditation, information assurance and security architecture, engineering & development. 
We are also looking for qualified software engineers, programmers, systems engineers, and system integrators, from journeymen to expert experience levels, to meet rapidly changing information technology requirements for system development, modification, deployment and support.
In addition, we provide All-Source Intelligence Analysts for multi-discipline support and assistance to the government.  Analysts provide timely, objective, and cogent military intelligence to warfighters, defense planners, and defense and nation security policy makers at locations in the Washington DC Metro area and throughout the US."
 "The National Crime Squad co-ordinated arrests of suspected paedophiles across 19 separate countries on 28 November using information supplied by Demon Internet.
The Internet service provider was approached by the National Crime Squad and agreed to allow officers to access its servers. This led to the recovery of data showing the activity of nearly 1,500 newsgroups during a two-week period.
From this data, officers established that almost 10,000 Internet Protocol (IP) addresses had accessed more than 30 of the Web sites carrying paedophilia. For operational reasons this number was whittled down to just over 400 addresses of those specifically distributing paedophiliac images.
The information was then distributed via Interpol to the countries identified with the suspects, and evidence packs on each of the targets were distributed to the relevant police forces
Detective Superintendent Peter Spindler, leading the investigation for the National Crime Squad, said: "With the assistance of Demon Internet and the support and guidance of the National High-Tech Crime Unit, we are able to show that those accessing these newsgroups did so regularly and with purpose.
"We also learnt, not surprisingly, that those abusing the Internet have learnt from recent police successes how best to protect their true identities," he added.
The National Crime Squad and Serco, its IT partner, have developed facial mapping software that they hope to use to identify the abused children featured on the paedophiliac sites."
"Group Starwood Hotels Group, owner of some of the world's most prestigious hotels, has appointed Serco as preferred bidder for a £7m contract to provide a range of support services to the Sheraton Grand in Edinburgh, the Westin in Dublin and the 5 star Turnberry resort on Scotland's west coast. The contract, which has a 5 year term, is an extension to services already provided to other hotels in the Starwood Group and includes buildings maintenance and security, engineering support and help desk services."
"Please find below the key company advisors to Serco:
Auditors
Principal Bankers
Investment Bankers
N M Rothschild & Sons Limited
New Court
St Swithin's Lane
London
EC4N 8AL
Tel: +44 20 7280 5000
Fax: +44 20 7929 1643
www.rothschild.com"
"SERCO: 'The biggest company you've never heard of'
JULY 7, 2013 BY 21WIRE
21st Century Wire says…
As politicians asset-strip the public's portfolio of properties, infrastructure and services, one multinational corporation has grown as a result – and its scope and reach may shock many people who have not been paying attention.
All around the globe, our governments are busy outsourcing public-sector services like health, education, police, prisons, money delivery and military – to the esteemed private sector. It's sold to the public as a solution to avoiding higher taxes, while retaining better services. But it's simply an accountancy shell game, where the government kicks the can down the road by spreading the bill to the taxpayer over a longer period of time, in order to avoid any large upfront payments – all the while, allowing a private corporation to extend its influence over society. This, by definition, is fascism.
They are called SERCO, and they run countries…
The Biggest Company You've Never Heard Of

As well as thanking God for his success, CEO Chris Hyman is a Pentecostal Christian who has released a gospel album in America and fasts every Tuesday. Coincidentally he was in the World Trade Centre on 9/11 on the 47th floor addressing shareholders."
2588 Total Views
4 Views Today
Please follow and like us: