Kelly 69 – Rothschild's Rhodes & Clinton War Games, Serco's Demon Pegboy Navy, Marcy's Mendenhalled McCain
Field McConnell, USMC 0116513
Abel Danger Global Private Intel
P O Box 39
Plum City WI 54761
The Honorable John F. Kelly
White House Chief of Staff
Washington, D.C. 20528
Open letter from the Cloud Centric Crime Scene Investigators of Abel Danger
August 24, 2017
Dear General Kelly:
Please accept Brief 69 from Field McConnell – United States Marine and Global Operations Director of Abel Danger (AD) – on investment banker N M Rothschild's apparent use of the Rhodes scholarship scheme and Teachers' pension funds to recruit, entrap and blackmail the likes of the former U.S. President Bill Clinton and the former Director of Central Intelligence James Woolsey and control the outcomes of and/or investigations into various off-site war games conducted over decades past by alumni or faculty of the Naval War College.
McConnell believes that Serco, formerly RCA GB 1929, and its investment banker N M Rothschild used former Rhodes Scholar Thomas Mendenhall – the first occupant of the academic chair in 1953 at the Naval War College – and Bill Clinton to develop off-site war games where enemy (?) naval officers would rather stand down than be exposed as peg-boy rapists by Serco's Demon face recognition software.
McConnell believes that Serco equipped his sister Kristine "Con Air" Marcy, founder of the U.S. Senior Executive Service, and her aides in the Department of Navy (DON) Mentor-Protégé Program with the GPS and Demon systems needed to Mendenhall (cyber ram?) the USS John S. McCain and the USS Fitzgerald with merchant vessels and ensure a peg-boy cover up of the murders of 17 U.S. Navy sailors.
You are quoted as telling White House staff that you expect them to "put country first, the president second, and their own needs and priorities last" and that you have warned them "Even if it may seem innocuous to pass along some bit of classified information to someone without a clearance it's a crime."
McConnell believes that he and his Marine Corps colleagues will need witness protection if they are to reveal classified information showing how Serco, N M Rothschild and the former Rhodes scholar Bill Clinton may have used Demon face recognition software to blackmail John McCain, a former Senate Liaison Office within the Navy's Office of Legislative Affairs, and secure a cover up for the phony Global Guardian war game and "the first live-broadcast mass-snuff film in human history" on 9/11.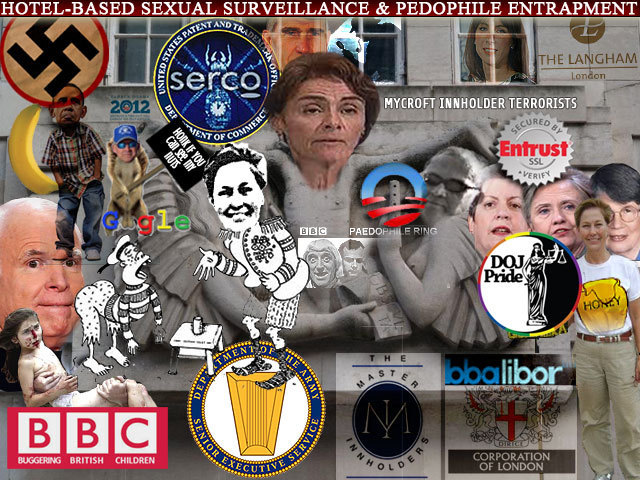 SERCO GROUP PLC: List of Subsidiaries AND Shareholders! (Mobile Playback Version)

Yours sincerely,
Field McConnell
USMC 0116513
P O Box 39
Plum City WI 54761
+001-715-307-8222
"TOP DEFINITION Mendenhall To mount someone from behind while they are in the fetal position on the ground. After the deed is complete, you roll them over and see the humiliation in their eyes. This is best accomplished in front of a large audience. That chick was so hot I pretended to trip and totally Mendenhalled her. #dry hump#bareback#doggy#mount#steelers by GoPack! January 25, 2011″
"In 1969, Bill Clinton was a 23-year-old Rhodes scholar at Oxford University when he was accused of sexual assault by a fellow student, an English woman named Eileen Wellstone, 19, after the two met at a local pub. Bill acknowledged that he had sex with this woman, but insists it was a consensual encounter. Read more at http://www.patheos.com/blogs/frenchrevolution/2016/07/27/top-11-times-bill-clinton-was-accused-of-sexual-assault-or-rape-an-antidote-for-his-speech-inspired-nostalgia/#zW0PbLDFS7BSMvCC.99"
"A pegboy was a young man kept on pirate ships by pirates. This young man was forced to sit on a large wooden peg…all the time. Anyway, this was done so that whenever a pirate wanted to drop his anchor (so to speak) he'd have no problem. Come here pegboy, I want some of those sweet cheeks. by Dirty Sanchez August 27, 2003″
"Digital Fires Instructor Serco – Camp Pendleton, CA Uses information derived from all military disciplines (e.g., aviation, ground combat, command and control, combat service support, intelligence, and opposing forces) to determine changes in enemy capabilities, vulnerabilities, and probable courses of action."
"Could hackers be behind the U.S. Navy collisions?
Elizabeth Weise, USATODAY Published 5:50 p.m. ET Aug. 23, 2017 | Updated 12:27 a.m. ET Aug. 24, 2017
The Navy said it had lost confidence in Vice Adm. Joseph Aucoin's "ability to command" the U.S. 7th Fleet. Video provided by Newsy Newslook
SAN FRANCISCO — Was a hack attack behind two separate instances of Navy ships colliding with commercial vessels in the past two months? Experts say it's highly unlikely, but not impossible — and the Navy is investigating.
Rumors on Twitter and in computer security circles have been swirling about the possibility that cyber attacks or jamming were involved in the collisions. Speculation has been fueled by four accidents involving a U.S. warship this year, two of which were fatal, the highly-computerized nature of modern maritime navigation, and heightened concern over global cyberattacks — especially attacks against U.S. government entities.
Chief of naval operations Admiral John Richardson said in a tweet on Monday there was no indication of the possibility of cyber intrusion or sabotage but the "review will consider all possibilities." It had been retweeted over 830 times by Wednesday.
Experts in the technology say there are certainly scenarios they can imagine in which GPS hacks could have been used to foil ships' navigations systems, but emphasize there's no evidence such attacks took place in the case of the Navy collisions.
"The balance of the evidence still leads me to believe that it was crew negligence as the most likely explanation — and I hate to say that because I hate to think that the Navy fleet was negligent," said University of Texas at Austin aerospace professor Todd Humphreys, who studies GPS security issues."
"Navy Mentor-Protégé Program
The Department of Navy (DON) Mentor-Protégé Program assists small businesses (protégés) to successfully compete for prime contract and subcontract awards by partnering with large companies (mentors) under individuals, project-based agreements. The Department of Defense (DoD) Pilot Mentor-Protégé Program (MPP) was established under Section 831 of Public Law 101-510, the National Defense Authorization Act for Fiscal Year 1991 (10 U.S.C. 2302 note). The program has been extended for new agreements.
The DoN Program is currently looking for agreements with focus in the following Developmental Assistance Areas:
Manufacturing
Environmental Remediation
ISO 9001-2000
GPS Technology
Lean Manufacturing
CMMI"
"Welcome to Research and Gaming
Center for Naval Warfare Studies
In 1981, almost a century after Stephen B. Luce founded the Naval War College as "a place of original research on all questions relating to war and to statesmanship connected with war, or the prevention of war," the Center for Naval Warfare Studies was established within the College as a nexus for broadly based, advanced research on the naval contribution to a national strategy.Working in close conjunction with the teaching departments, this revitalized research arm of the College has thus fulfilled Luce's vision of the institution as a center of both scholarship and original research–an academic establishment which would serve as the home of theory and in-depth thinking for the naval profession in the United States. e is to foster critical and innovating thinking on current and evolving operational challenges of importance for the Navy.
The Center directly complements the curriculum at the Naval War College by providing a place for researching important professional issues which, in turn, inform and stimulate the faculty and students in the classroom. Moreover, from its very beginning, the Center has linked the Naval War College to the fleet and policymakers in Washington by serving as a focal point, stimulus, and major source of strategic and campaign thought, by integrating strategic, campaign, and tactical concepts, by linking strategic concerns with technological developments, and finally, by testing and evaluating concepts through war gaming.
The War Gaming Department is the world's premier gaming organization, conducting approximately 50 games yearly in support of internal College needs and externally generated requests from various branches of the Defense and Navy departments, operational commands and civilian agencies, including the Office of the Vice President of the United States, the Joint Chiefs of Staff, and the Secretary of the Navy. To support the objectives of each game's sponsor, the War Gaming Department employs a wide variety of gaming techniques ranging from complex, multi-sided, computer-assisted games to simpler, single-sided seminar games, and game foci can range from broad national strategies to the specifics of tactics. Most games take place at the College, but some are conducted off site."
"Robert James "Jim" Woolsey Jr. (born September 21, 1941) is a national security and energy specialist and former Director of Central Intelligence who headed the Central Intelligence Agency from February 5, 1993, until January 10, 1995. …. Woolsey was born in Tulsa, Oklahoma, the son of Clyde (Kirby) and Robert James Woolsey, Sr.[1] He graduated from Tulsa's Tulsa Central High School. In 1963, he received his BA from Stanford University (Phi Beta Kappa), and in 1965 his MA from Oxford University, where he was a Rhodes Scholar, and an LLB from Yale Law School in 1968.
Woolsey was founder and president of Yale Citizens for Eugene McCarthy for President from 1967 to 1968. He was prominently active in the anti-Vietnam War movement.[2] Woolsey was CIA director when Aldrich Ames was arrested for treason and spying against the United States. The CIA was criticized for not focusing on Ames sooner, given the obvious increase in Ames' standard of living;[5] and there was a "huge uproar" in Congress when Woolsey decided that no one in the CIA would be dismissed or demoted at the agency. Woolsey declared: "Some have clamored for heads to roll in order that we could say that heads have rolled…Sorry, that's not my way." Woolsey abruptly resigned on Dec 28, 1994.[6]"
"Thomas Corwin Mendenhall II (July 10, 1910 in Madison, Wisconsin – July 18, 1998 on Martha's Vineyard, Massachusetts) was a professor of history at Yale University, the sixth President of Smith College, and the leading authority on the history of collegiate rowing in the United States.
.. Awarded a Rhodes Scholarship, he attended Balliol College, Oxford in 1935-36, earning a B.Litt. degree. While at Oxford, he was captain of the Balliol Boats. Mendenhall returned to Yale, where he wrote his doctoral dissertation on the Welsh wool trade in the 16th and 17th centuries, receiving his Ph.D. in history in 1938. As a graduate student, he rowed on the Berkeley College (Yale) intramural crew.
In 1951-52, he became the first occupant of the academic chair at the United States Naval War College that in 1953 would be named and carry the title of Ernest J. King Professor of Maritime History. While teaching in the Yale History Department between 1937 and 1959, he served on the University's Rowing Committee and for thirty years was a reporter on rowing events for the Yale Alumni Magazine. He also wrote numerous articles on the history of crew and collegiate rowing for The Oarsman.
In 1959, he was named Professor of History and President of Smith College, retaining that post until his retirement in 1975."
"Pentagon to review contracts with Norsat after Chinese takeover
The U.S. defence department will review all its business dealings with Norsat International Inc. after the Vancouver-based satellite technology company closed a deal that will allow it to be swallowed up by a Chinese telecom giant.
ROBERT FIFE AND STEVEN CHASE
OTTAWA
JUNE 27, 2017 JUNE 26, 2017
The U.S. defence department will review all its business dealings with Norsat International Inc. after theVancouver-based satellite technology company closed a deal that will allow it to be swallowed up by a Chinese telecom giant.
The Pentagon's re-evaluation could have serious repercussions for Norsat and its new Chinese owner, Hytera Communications Corp. of Shenzhen, China. Norsat sells communications equipment to branches of the U.S. military and the North Atlantic Treaty Organization.
"Current contracts already awarded will be reviewed on a case-by-case basis and appropriate measures will be taken, in accordance with the terms of those contracts and consistent with U.S. laws and department regulations and policies," defence department spokesman Lieutenant-Colonel Roger Cabiness said on Monday in a statement to The Globe and Mail.
Read more: Norsat shareholders vote to approve Hytera takeover
Read more: Andrew Scheer says Ottawa wants to 'appease' China ahead of free-trade agreement talks
Lt.-Col. Cabiness said the "department reviews the implications of the transfer of ownership of any firms that the department has contracts for equipment and or services."
The Liberal government has taken heavy criticism in Parliament and from members of the U.S. House of Representatives Armed Services Committee and a congressional watchdog for approving the Norsat takeover without conducting a comprehensive national security review.
Prime Minister Justin Trudeau has defended the decision to forgo a full review, saying Canada consulted Washington before concluding Hytera's takeover does not pose any national security risks. He has refused to say who was consulted in the Trump administration or whether the Americans had objected to the sale.
The U.S. embassy in Ottawa has declined to comment on whether Washington was consulted and whether it had any national security concerns.
Lt.-Col. Cabiness did not directly criticize Ottawa's decision to approve the Norsat deal, but he noted the way Washington handles potential national security concerns with any takeover of U.S. high-tech firms by Chinese investors.
"Within the [U.S. government] foreign investment review process, the department emphasizes that transfers of sensitive technologies and capabilities should be carefully vetted to mitigate potential risks to U.S. and allied security interests," he said in an earlier statement to The Globe.
Conservative public safety critic Tony Clement said the Pentagon review casts in doubt the government's repeated assertions in Parliament that it takes national security seriously when it involves China.
"This is going to have huge repercussions for Norsat. It also raises the question of whether NATO should be reviewing its contracts with the company," Mr. Clement said. "It also begs the larger question of why the Canadian government did not foresee this when they gave the green light to the takeover in the first place."
Shareholders of Norsat on June 22 voted in favour of the Hytera takeover after the company turned down a competing bid from a U.S. hedge fund. Norsat said in a statement last week that it expects the sale will close by the third quarter of 2017.
Concerns about the deal include the transfer of sensitive technology to China's military-industrial complex as well as the fact that the company was sued by Motorola Solutions over allegations it stole patents and trade secrets.
Last week, Congressman Walter Jones, who sits on the House of Representatives Armed Forces Committee, called on the Pentagon to review all its contracts with Norsat.
"The United States cannot stop Canada from allowing the Chinese takeover of Norsat," Mr. Jones told The Globe. "We can, and should, however, re-evaluate any business dealing that potentially affects our defence initiatives."
Michael Wessel, a member of the U.S.-China Economic and Security Review Commission, which reports to Congress, also called for a Pentagon review, saying "the sale of Norsat to a Chinese entity raises significant national security concerns for the United States as the company is a supplier to our military."
Mac Thornberry, chairman of U.S. House of Representatives Armed Services Committee, urged Ottawa last week to be "more vigilant" in approving Chinese investor takeovers of Canadian high-tech firms that specialize in military hardware.
Norsat's customers include the U.S. Department of Defence, the U.S. Marine Corps, the U.S. Army, the giant aircraft manufacturer Boeing, NATO, the Irish Department of Defence, the Taiwanese army, and major media companies such as CBS News and Reuters. Norsat says its technology is also used by NAV Canada, operator of the country's civil air navigation service.
Two former directors of the Canadian Security Intelligence Service – Richard Fadden and Ward Elcock – have said the Norsat transaction should have been subjected to a full-scale security review.
Mr. Trudeau has offered a changing storyline when pressed to defend his government's handling of the Norsat deal since The Globe first reported on the lack of a formal security review in early June. At one point, he said the deal had undergone a national security review when it, in fact, had gone through a much less thorough security screening. He later told Parliament the Americans were consulted, but refused to answer when asked to whom the government talked. The Prime Minister later emphasized how the decision not to hold a review was made on the advice of public officials, and he implied that his opposition critics did not trust the civil service as the Liberals do.
Since the Liberals came to power, they have been much more open than the former Conservative government to investment from China in a number of key sectors.
In February, Ottawa approved the sale of one of British Columbia's biggest retirement-home chains to a Beijing-based insurance titan with a murky ownership structure, giving China-based Anbang Insurance Group a foothold in Canada's health-care sector.
In March, the government approved the takeover of a Montreal high-tech firm, ITF Technologies – which the Conservatives had blocked on the grounds it would undermine a technological edge that Western militaries have over China.
At the time, CSIS had recommended against the takeover, saying the ITF technology transfer would give China access to "advanced military laser technology" and would diminish "Canadian and allied military advantages."
Hytera, which is 52 per cent owned by Chinese billionaire Chen Qingzhou, drew international headlines in March when telecom equipment giant Motorola filed a high-profile lawsuit accusing the Chinese company of large-scale theft of its proprietary technology."
"Commercial Gone are the days of compass navigation and log books. Today's fleets are run by sophisticated server based applications not unlike any other company's core infrastructure.
At Norsat we focus on one main goal – allow you to provide the same level of IT service in the middle of the ocean as you do on land.
Maritime Communication Equipment
VSAT – Ku, Ka, C, X
INMARSAT
IRIDIUM
Telematics
Network Design
Global coverage
VPN, MPLS, Microwave, etc..
Infrastructure Leveraging
End to End solutions
Telephony – VoIP, Multiplexing, Fax, Video, PBX
Video Streaming
Crew Morale and Welfare
Norsat has over 30 years experience simplifying mission critical communications in some of the harshest environments.
Contact us today to see how we can help simplify the way you view your fleet's communications."
"Intel Jobs Serco is a trust provider of national security and intelligence solutions in the areas of program management, cyber security, system development and intelligence analysis. Our teams assist the Intelligence Community in all dimensions of program management, including acquisition strategy development, requirements development, budget formulation and execution and program oversight. Our teams are always on the lookout for knowledgeable and qualified Project and Program Managers; Systems Engineers; Financial Managers; Business Managers and Acquisition Professional Experts to provide executive-level systems engineering and technical assistance (SETA).
We need cybersecurity experts that understand today's modern threats and develop end-to-end security solutions that protect our nation's mission critical infrastructure. Our experts maintain their edge by participating in a corporate-wide Cyber Center of Excellence, a center that promotes collaboration, education and transfer of best practices. Today, we are looking for security engineers that can deliver robust services to our customers, including risk assessment, vulnerability analysis, certification and accreditation, information assurance and security architecture, engineering & development.
We are also looking for qualified software engineers, programmers, systems engineers, and system integrators, from journeymen to expert experience levels, to meet rapidly changing information technology requirements for system development, modification, deployment and support.
In addition, we provide All-Source Intelligence Analysts for multi-discipline support and assistance to the government. Analysts provide timely, objective, and cogent military intelligence to warfighters, defense planners, and defense and nation security policy makers at locations in the Washington DC Metro area and throughout the US."
"The National Crime Squad co-ordinated arrests of suspected paedophiles across 19 separate countries on 28 November using information supplied by Demon Internet.
The Internet service provider was approached by the National Crime Squad and agreed to allow officers to access its servers. This led to the recovery of data showing the activity of nearly 1,500 newsgroups during a two-week period.
From this data, officers established that almost 10,000 Internet Protocol (IP) addresses had accessed more than 30 of the Web sites carrying paedophilia. For operational reasons this number was whittled down to just over 400 addresses of those specifically distributing paedophiliac images.
The information was then distributed via Interpol to the countries identified with the suspects, and evidence packs on each of the targets were distributed to the relevant police forces
Detective Superintendent Peter Spindler, leading the investigation for the National Crime Squad, said: "With the assistance of Demon Internet and the support and guidance of the National High-Tech Crime Unit, we are able to show that those accessing these newsgroups did so regularly and with purpose.
"We also learnt, not surprisingly, that those abusing the Internet have learnt from recent police successes how best to protect their true identities," he added.
The National Crime Squad and Serco, its IT partner, have developed facial mapping software that they hope to use to identify the abused children featured on the paedophiliac sites."
"Group Starwood Hotels Group, owner of some of the world's most prestigious hotels, has appointed Serco as preferred bidder for a £7m contract to provide a range of support services to the Sheraton Grand in Edinburgh, the Westin in Dublin and the 5 star Turnberry resort on Scotland's west coast. The contract, which has a 5 year term, is an extension to services already provided to other hotels in the Starwood Group and includes buildings maintenance and security, engineering support and help desk services."
"Please find below the key company advisors to Serco:
Auditors
Principal Bankers
Investment Bankers
N M Rothschild & Sons Limited
New Court
St Swithin's Lane
London
EC4N 8AL
Tel: +44 20 7280 5000
Fax: +44 20 7929 1643
www.rothschild.com"
"SERCO: 'The biggest company you've never heard of'
JULY 7, 2013 BY 21WIRE
21st Century Wire says…
As politicians asset-strip the public's portfolio of properties, infrastructure and services, one multinational corporation has grown as a result – and its scope and reach may shock many people who have not been paying attention.
All around the globe, our governments are busy outsourcing public-sector services like health, education, police, prisons, money delivery and military – to the esteemed private sector. It's sold to the public as a solution to avoiding higher taxes, while retaining better services. But it's simply an accountancy shell game, where the government kicks the can down the road by spreading the bill to the taxpayer over a longer period of time, in order to avoid any large upfront payments – all the while, allowing a private corporation to extend its influence over society. This, by definition, is fascism.
They are called SERCO, and they run countries…
The Biggest Company You've Never Heard Of

As well as thanking God for his success, CEO Chris Hyman is a Pentecostal Christian who has released a gospel album in America and fasts every Tuesday. Coincidentally he was in the World Trade Centre on 9/11 on the 47th floor addressing shareholders."
1849 Total Views
2 Views Today
Please follow and like us: