Kelly 65 – Clinton's JonBenét Mendenhall Rape, Serco's Starnet Demons, Pentagon Bombers' Bridge
Field McConnell, USMC 0116513
Abel Danger Global Private Intel
P O Box 39
Plum City WI 54761
The Honorable John F. Kelly
White House Chief of Staff
Washington, D.C. 20528
Open letter from the Cloud Centric Crime Scene Investigators of Abel Danger
August 19, 2017
Dear General Kelly:
Please accept Brief 65 from Field McConnell – United States Marine and Global Operations Director of Abel Danger (AD) – on Hillary Clinton's alleged deployment of a small foreign faction of Mendenhall rapists to film the sadomasochistic killing of JonBenét Ramsey on Christmas Day 1996 and provide images for use in blackmailing an emergent supranational government of pedophile elites and world bankers.
McConnell believes that Clinton's White House Travelgate aides outsourced foreign-faction third-party logistics to Serco air traffic controllers and his sister Kristine "Con Air" Marcy, the founder of the U.S. Senior Executive Service in 1979, who allegedly flew in rapists from Canada to kill JonBenét and used Demon face-recognition software to track the associated snuff-film distribution to the international clients of Vancouver-based Starnet Communications.
McConnell believes that Serco used Marcy's cross-border ICE agents and Starnet operatives to stage time-zone parties at which blackmailed hotel guests and paroled prisoners could watch films of Mendenhall victims being sodomized and strangled at a B.C. pig farm, for example, or switch to online death betting on the bombing of the Khobar Towers in Saudi Arabia on June 25, 1996 for example when 19 U.S. servicemen and a Saudi local were murdered and 498 people of many nationalities injured.
McConnell believes that Serco's Digital Fires Instructors linked Demon face recognition software, Starnet online gaming systems, the Navy/Marine Corps Intranet and the federal bridge certification authority for the synchronized bombing attacks on the Pentagon on 9/11 where Clinton's alleged online-death betting conspiracy is revealed by images showing date and time stamps as Sep. 12, 2001 17:37:19.
You are quoted as telling White House staff that you expect them to "put country first, the president second, and their own needs and priorities last" and that you have warned them "Even if it may seem innocuous to pass along some bit of classified information to someone without a clearance it's a crime."
McConnell believes that he and his Marine Corps colleagues including yourself will need witness protection if they are to reveal classified information showing how associates of the Clinton Foundation and various banking and government shareholders in Serco may have equipped Mendenhall rapists with the Navy/Marine Corps Intranet and the federal bridge to bet on the time of deaths of tortured children at private parties or of adult victims at "the first live-broadcast mass-snuff film in human history" on 9/11.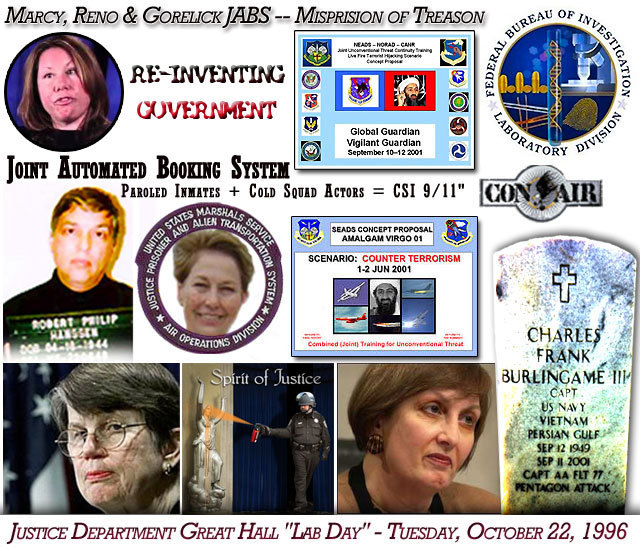 Yours sincerely,
Field McConnell
USMC 0116513
P O Box 39
Plum City WI 54761
+001-715-307-8222
"Ramsey Friend, Member of "Small Foreign Faction", Was Never Investigated
The Boulder Police Department failed to investigate, nor did they even know about, a Ramsey family friend who belonged to a suspicious foreign-oriented organization. The friend regularly provided care for JonBenet Ramsey, the six-year-old pageant beauty queen murdered on Christmas night of 1996 in Boulder, Colorado.
The perpetrators of the brutal rape, murder, and possible torture of JonBenet had left a three-page ransom note in the Ramsey house in which they identified themselves as representing a "small foreign faction". The murder has gone unsolved, with no viable suspects.
However, it has been learned that Colorado University student Nathan Inouye, who was a member of what would be considered a "small foreign faction", regularly baby-sat and drove JonBenet to school in 1996. Inouye belonged to the 29-member Asian Pacific American Coalition, called APAC, at Colorado University in Boulder.
APAC at Colorado was a liberal pro-active group of students who suspiciously disbanded their campus organization just weeks after JonBenet was murdered. APAC's stated goals were to advance the social and political well-being of Asian Americans. However, among the organization's concerns was its perception that violence and other serious crimes, including rape and murder, against Asian-American women were going unsolved and unpunished in the U.S.
For example, in reporting its list of activities and accomplishments to the University for the year of 1996, it wrote "Later that year APAC held a day of rememberance for Thingh Minh Lyh, a Vietnamese student in California who was a victim of racial violence. APAC members wore and passed out gray ribbons, and passed out flyers which described the incident."
Nathan Inouye, who in 1996 lived at the home of Glen and Susan Stine, had been hired by the Stines to provide care for their son Doug while the parents worked. The Stines, who were close friends of the Ramseys, were employed at Colorado University — Glen as vice president, and Susan as a director. Their son Doug and Burke Ramsey, JonBenet's older brother, were also best friends. The Stines and the Ramseys lived five blocks apart in the upscale neighborhood and both houses were within walking distance of the University.
Inouye regularly helped baby-sit the Ramsey children, especially when the parents were out of town. He also regularly drove nine-year-old Doug, nine-year-old Burke, and six-year-old JonBenet to school as part of a carpool which included taking turns driving among the two mothers and himself.
Nevertheless, and despite what it called a thorough investigation of possible suspects not living in the Ramsey's house following the 1996 murder of JonBenet, the Boulder police, at least as of the year 2000, had apparently never even heard of Nathan Inouye nor the Asian Pacific American Coalition. These allegations are substantiated by the questions and responses between the Ramseys and a team of law enforcement investigators sent from Colorado to Georgia to interview the Ramseys in Atlanta in August of 2000. The Ramseys had moved to Atlanta in 1997."
"Starnet investors bet on gambling
Internet gaming-technology firm's stock-market value has rocketed to an astounding $665 million on OTC trading.
David Baines Vancouver Sun
Bloomberg / Starnet Communications: The billion dollar gamble.
Stock-market investors are taking a billion-dollar gamble on Starnet Communications International Inc., a Vancouver-based company that hopes to become the world's leading purveyor of Internet gaming technology.
On Friday, Starnet's share price climbed 75 cents to $22.25 US on the over-the-counter bulletin board in the United States. Volume was a robust 343,400 shares.
With 30 million shares outstanding (assuming exercise of all options and warrants), the company's total stock-market value is now $665 million US, or $1 billion Cdn.
The market capitalization is astounding considering that Starnet's book value was only $3 million US as of Jan. 31, and earnings for the nine month period were only $1.2 million or five cents per share.
"If you want to compare us to General Motors and MacMillan Bloedel and apply real-world [price-earnings] multiples, obviously none of this stuff makes sense," Starnet chief executive officer Mark Dohlen said in an interview Friday .
"If you put us into an Internet context, and compare apples to apples, we still feel that at this stage, we are under-valued in the Internet marketplace."
Starnet has been licensing its gaming technology to dozens of private and public companies, which pay upfront fees and on-going royalties based on a percentage of total wagering.
The upfront fees helped boost Starnet's revenues to nearly $6 million during the nine months ending Jan. 31, but the company is looking to continuing fees to close the gap between market expectations and actual performance.
"We estimate that one-time fees will only be two to three per cent of the over-all value of the contracts," said Dohlen.
Starnet is planning, through its 46 licencees, to ride what they expect will be a tsunami of bettors washing through the Internet.
However, the list of licencees does not exactly read like a Who's Who in the gaming world. For the most part, they are newly-minted private companies registered in offshore jurisdictions such as Antigua or St. Kitts in the Caribbean.
Dohlen refuses to provide any information on the private licencees, making it difficult to determine whether they have the financial or managerial capacity to create viable gaming companies.
A half-dozen of the licencees are public companies that trade on the loosely-regulated OTC bulletin board or the Vancouver Stock Exchange. Disclosure documents show they have dubious track records, casting doubt on their long-term value to Starnet.
Dohlen says he is talking to large Las Vegas gaming operators and some European lottery operators, including the Dutch government.
"I think over the next six months, you will see some names that you recognize," he said in an interview from New York.
Dohlen was in New York to try to generate some big-league analyst coverage, which has been noticeably absent to date. Among his stops were Deutsche Bank, Morgan Stanley Dean Witter, Goldman Sachs and Salomon Smith Barney,
"Everybody says get off the bulletin board and we'll cover you," he said.
Starnet applied for a more respectable Nasdaq listing a couple of months ago, but Dohlen said Nasdaq officials want to see the company's audited year-end results, to be released Thursday, before they approve the listing.
Meanwhile, he said, N***itt Burns in New York has agreed to underwrite a $30-million private placement. To help market the issue, Starnet will be conducting a road show during the first two weeks of August.
The rapid rise in the company's share price has been attracting attention from short-sellers, who view the stock as being wildly over-priced.
Short-sellers borrow stock and sell it into the market. Their bet is that the share price will decline, so they can replace the borrowed stock at a lower price.
Because the bulletin board does not track short positions, it is impossible to quantify the short interest in Starnet.
However, during the past few weeks The Sun has received several calls from well-known short-sellers in Toronto and New York seeking information on the company. Several indicated they have sold the stock short.
One area the short-sellers are delving into is the ownership of Murray Partners (BVI) Inc., the British Virgin Islands company that owns 10 million of Starnet's nearly 30 million shares.
Starnet has so far disclosed only those officers and/or directors of Starnet that have an interest in Murray Partners. They are Dohlen and chief financial officer Jack Carley, and Mitchell White and Jason Bolduc, both of whom have left the company.
How many shares of Murray Partners they own, or the identity of the other shareholders, has never been disclosed.
Because Starnet's roots are in Internet porn (it broadcasts live pay-per-view sex shows from its office on Carrall Street and the No. 5 Orange strip club in Gastown) there have been rumors that some of Murray Partners' shareholders may be unsavory characters.
During a previous interview, Dohlen said that because some of its prospective licencees are located in Nevada, all the beneficial owners of Murray Partners had to be disclosed to the Nevada Gaming Control Board, "and we all passed the scrutiny."
However, in a written response to one short-seller, the Gaming Control Board reported on July 9 it had no record of either Starnet or any of its subsidiaries, or Murray Partners or any of its shareholders.
Dohlen maintained that "the people we were working with said, 'We can continue our discussions because Nevada said it was okay to work with you guys.' "
He said the relevant information may be contained in files that the board maintains on those companies, rather than a file on Starnet."
"TOP DEFINITION Mendenhall To mount someone from behind while they are in the fetal position on the ground. After the deed is complete, you roll them over and see the humiliation in their eyes. This is best accomplished in front of a large audience. That chick was so hot I pretended to trip and totally Mendenhalled her. #dry hump#bareback#doggy#mount#steelers by GoPack! January 25, 2011″
"Digital Fires Instructor Serco – Camp Pendleton, CA Uses information derived from all military disciplines (e.g., aviation, ground combat, command and control, combat service support, intelligence, and opposing forces) to determine changes in enemy capabilities, vulnerabilities, and probable courses of action."
"The Khobar Towers bombing was a terrorist attack on part of a housing complex in the city of Khobar, Saudi Arabia, located near the national oil company (Saudi Aramco) headquarters of Dhahran and nearby King Abdulaziz Air Base on June 25, 1996. At that time, Khobar Towers was being used as quarters for Coalition forces who were assigned to Operation Southern Watch, a no-fly zone operation in southern Iraq, as part of the Iraqi no-fly zones.
A truck bomb was detonated adjacent to Building #131, an eight-story structure housing members of the United States Air Force's 4404th Wing (Provisional), primarily from a deployed rescue squadron and deployed fighter squadron. In all, 19 U.S. servicemen and a Saudi local were killed and 498[1] of many nationalities were wounded. The official June 25, 1996 statement by the United States named members of Hezbollah Al-Hejaz (English: Party of God in the Hijaz)[2][3] as responsible. In 2006, a U.S. court found Iran and Hezbollah guilty of orchestrating the attack.[4]"
"The ICE Foundation is a non-profit organization that supports the mission and the 20,000-plus employees worldwide who comprise US Immigration and Customs Enforcement (ICE), in part, through financial aid, awareness campaigns and scholarships. We also strive to assist victims of immigration- and customs-related crimes, such as human trafficking, through educational scholarships for college and vocational training."
"Kristine Marcy
Board Director
The National Academy of Public Administration (NAPA)
Kristine M. Marcy served as President and CEO of the National Academy of Public Administration, a non-profit organization chartered by Congress and dedicated to improving Government from January 2011 to June 30, 2011 at the unanimous request of the Board of Directors. Ms. Marcy is a retired federal executive with over 30 years of experience in ten federal departments and agencies including Small Business Administration, Department of Justice Immigration and Naturalization Service, DOJ U.S. Marshals Service, and DOJ Office of the Deputy Attorney General. During her career, Ms. Marcy blended deep technical knowledge with extensive hands-on experience to assist agencies in both operational and leadership positions. Post retirement, Ms. Marcy was an executive consultant for McConnell International, a Government Relations consulting firm, and brought her considerable network of contacts and her direct knowledge of many US federal agencies to help private sector clients develop business strategies."
'"Now You Can Be Both' Mother, Professional
By Judy Mann August 8, 1979
Kristine Mary, now a supergrade in the Office of Personnel Management, had her first chile 2 1/2 years ago, when she was a budget examiner in the Office of Management and Budget. At nights she was finishing up her law degree at George Washington University.
"My baby was due the 17th of December. My last exam was on the 15th. I went to work, took off a little early, took my exam, went home,wondering why I felt so bad. Imimmediately, I went into labor. It blew everybody's mind that I could wrap up everything at work, wrap up everything at school and have my baby. That was of the all-time coup."
…..
"I was very conscious that all the men whe worked for me would go home and ask their wives what it's like, so they would know how to deal with me. I assumed that. I don't know that any of them did. I tried to keep my pregnancy secret as long as possible and have them find out I've been pregnant for four months and hadn't behaved any differently."
Mendenhall's baby was due in early August. [????] "I now work from about 8 a.m. to 6 p.m. Everybody at work has so afraid of being offensive, that they ignore it."
"I think the whole society has turned around a great deal, intensively, in the last five years," says Kristine Marcy, who sees changes in men's attitudes towards their jobs as well as women's."
"We are grateful to The Washington Post, The New York Times, Time magazine and other great publications whose directors have attended our meetings and respected their promises of discretion for almost forty years. … It would have been impossible for us to develop our plan for the world if we had been subject to the bright lights of publicity during those years. But, the world is now much more sophisticated and prepared to march towards a world government. The supranational sovereignty of an intellectual elite and world bankers is surely preferable to the national auto-determination practiced in past centuries.
Purported remarks at a Bilderberg Group meeting in Baden-Baden, Germany in June 1991, as quoted in Programming, Pitfalls and Puppy-Dog Tales (1993) by Gyeorgos C. Hatonn, p. 65 and various nationalist tracts. The ultimate source for the quotation (i.e. the person who passed it on to the public) is never identified."
"Intel Jobs Serco is a trust provider of national security and intelligence solutions in the areas of program management, cyber security, system development and intelligence analysis. Our teams assist the Intelligence Community in all dimensions of program management, including acquisition strategy development, requirements development, budget formulation and execution and program oversight. Our teams are always on the lookout for knowledgeable and qualified Project and Program Managers; Systems Engineers; Financial Managers; Business Managers and Acquisition Professional Experts to provide executive-level systems engineering and technical assistance (SETA).
We need cybersecurity experts that understand today's modern threats and develop end-to-end security solutions that protect our nation's mission critical infrastructure. Our experts maintain their edge by participating in a corporate-wide Cyber Center of Excellence, a center that promotes collaboration, education and transfer of best practices. Today, we are looking for security engineers that can deliver robust services to our customers, including risk assessment, vulnerability analysis, certification and accreditation, information assurance and security architecture, engineering & development.
We are also looking for qualified software engineers, programmers, systems engineers, and system integrators, from journeymen to expert experience levels, to meet rapidly changing information technology requirements for system development, modification, deployment and support.
In addition, we provide All-Source Intelligence Analysts for multi-discipline support and assistance to the government. Analysts provide timely, objective, and cogent military intelligence to warfighters, defense planners, and defense and nation security policy makers at locations in the Washington DC Metro area and throughout the US."
"To: Mephistopheles who wrote (6187) 8/24/1999 9:36:00 AM
A new piece from today's Vancouver Sun. … Starnet took bets, warrants disclose
Police information also details lurid images of sado-masochism and degradation pulled from Starnet's sites.
David Baines, Sun Business Reporter Vancouver Sun
On Nov. 3, Eric Wickberg bet $15 that the New York Rangers would beat the point spread over the New Jersey Devils. He lost.
But winning was not the point of the exercise. Wickberg was a Vancouver police detective assigned to the Coordinated Law Enforcement Unit, which was conducting a covert investigation into Internet gaming sites operated by Vancouver-based Starnet Communications International Inc.
The bet was one of dozens placed by Wickberg and his CLEU colleagues, as outlined in a 61-page information document filed by police to obtain a warrant to search Starnet's Carrall's Street office and the homes of 15 Starnet officers, directors and associates.
However, Starnet has said that due to the uncertain legality of Internet gambling in Canada and the United States, the company does not accept bets from residents of those countries.
The same search warrant information details in lurid detail the images of sado-masochism and degradation that police officers pulled from Starnet's pornography Web sites.
Police further allege that a consultant to Starnet told them he been given a "staff-demo access code," enabling him to access, through the Sizzle site, images of child pornography. No details were provided.
The allegations shocked investors, who had taken comfort in Starnet's assurances that, in an effort to attract institutional investors, it was getting out of the porn business.
Even the New York office of mainstream brokerage firm Nesbitt Burns, a subsidiary of the venerable Bank of Montreal, was considering a possible $30-million US share offering.
But Starnet's share price, which was riding the hot air of Internet gaming mania, crashed Friday when local police, accompanied by a SWAT team and computer specialists from the U.S. Internal Revenue Service and the U.S. Customs Service, invaded Starnet's Carrall Street office and seized equipment and records.
"Insiders Threaten To Expose "Alleged" Pedophile Sex Ring!!!
Posted on October 31, 2016 by Angie
… All of the following information was given to us by our insiders who have specific first-hand knowledge of the Hillary Email scandal. It seems that things are about to heat up. We are told that of the 662,871 emails lifted from Weiner's computer, 11,112 emails are Huma… and pay to play- including Saudis and Israeli's. Meaning Huma was the one Hillary USED to communicate with foreign leaders via email for inside information and deals via Huma's computer.
It has been established through many avenues, but mainly through Wikileaks, that the Clinton Foundation was just a farce set up in order to perform Pay-to-Play games with multiple entities, including foreign nations. Pay-to-play nations include: Israel, Saudis, Turks, Qatar, kazakhstan, and the Ukraine.
Futhermore, we are told by one of our insiders that one email unequivocally confirms Isis was created by CIA and Israeli Secret Intelligence service, with help from Joe Lieberman, John McCain and Lindsay Graham!
A third file, I'm sure Hillary definitely DOES NOT want released was a file labeled "Intimate" … according to this NYPD insider, this file contained x rated photos of Huma and Hillary with a TEENAGER.
NYPD detectives were sickened by what they saw, according to our insider, and they have threatened FBI field agents that they would leak this information, if the FBI did not "step up and take off the kids gloves". At that point, 13 of the FBI agents in NYC are also threatening to leak the information."
"The National Crime Squad co-ordinated arrests of suspected paedophiles across 19 separate countries on 28 November using information supplied by Demon Internet.
The Internet service provider was approached by the National Crime Squad and agreed to allow officers to access its servers. This led to the recovery of data showing the activity of nearly 1,500 newsgroups during a two-week period.
From this data, officers established that almost 10,000 Internet Protocol (IP) addresses had accessed more than 30 of the Web sites carrying paedophilia. For operational reasons this number was whittled down to just over 400 addresses of those specifically distributing paedophiliac images.
The information was then distributed via Interpol to the countries identified with the suspects, and evidence packs on each of the targets were distributed to the relevant police forces
Detective Superintendent Peter Spindler, leading the investigation for the National Crime Squad, said: "With the assistance of Demon Internet and the support and guidance of the National High-Tech Crime Unit, we are able to show that those accessing these newsgroups did so regularly and with purpose.
"We also learnt, not surprisingly, that those abusing the Internet have learnt from recent police successes how best to protect their true identities," he added.
The National Crime Squad and Serco, its IT partner, have developed facial mapping software that they hope to use to identify the abused children featured on the paedophiliac sites."
"Group Starwood Hotels Group, owner of some of the world's most prestigious hotels, has appointed Serco as preferred bidder for a £7m contract to provide a range of support services to the Sheraton Grand in Edinburgh, the Westin in Dublin and the 5 star Turnberry resort on Scotland's west coast. The contract, which has a 5 year term, is an extension to services already provided to other hotels in the Starwood Group and includes buildings maintenance and security, engineering support and help desk services."
"Please find below the key company advisors to Serco:
Auditors
Principal Bankers
Investment Bankers
N M Rothschild & Sons Limited
New Court
St Swithin's Lane
London
EC4N 8AL
Tel: +44 20 7280 5000
Fax: +44 20 7929 1643
www.rothschild.com"
"SERCO: 'The biggest company you've never heard of'
JULY 7, 2013 BY 21WIRE
21st Century Wire says…
As politicians asset-strip the public's portfolio of properties, infrastructure and services, one multinational corporation has grown as a result – and its scope and reach may shock many people who have not been paying attention.
All around the globe, our governments are busy outsourcing public-sector services like health, education, police, prisons, money delivery and military – to the esteemed private sector. It's sold to the public as a solution to avoiding higher taxes, while retaining better services. But it's simply an accountancy shell game, where the government kicks the can down the road by spreading the bill to the taxpayer over a longer period of time, in order to avoid any large upfront payments – all the while, allowing a private corporation to extend its influence over society. This, by definition, is fascism.
They are called SERCO, and they run countries…
The Biggest Company You've Never Heard Of

As well as thanking God for his success, CEO Chris Hyman is a Pentecostal Christian who has released a gospel album in America and fasts every Tuesday. Coincidentally he was in the World Trade Centre on 9/11 on the 47th floor addressing shareholders."
2835 Total Views
3 Views Today
Please follow and like us: