Kelly 61 – Serco's Demon Time-Scene JABS, Marine Corps MH Hacks, Marcy's Con Air Rapes
Field McConnell, USMC 0116513
Abel Danger Global Private Intel
P O Box 39
Plum City WI 54761
The Honorable John F. Kelly
White House Chief of Staff
Washington, D.C. 20528
Open letter from the Cloud Centric Crime Scene Investigators of Abel Danger
August 15, 2017
Dear General Kelly:
Please accept Brief 61 from Field McConnell – United States Marine and Global Operations Director of Abel Danger (AD) – on Serco's apparent use of Demon face recognition software and the DOJ's Joint Automated Booking System (JABS) to position independent agents where they can be activated in Zulu time at widely-separated but carefully-synchronized crime scenes to trick America and its allies into fighting a global war on terror.
McConnell believes that Serco's Digital Fires Instructors at Marine Corps Base Camp Pendleton hacked the Navy/Marine Corps Intranet and allowed JABS assassins on the federal bridge to impute ad hoc way points into Boeing 777 ER aircraft flying as MH Flight 370 and MH Flight 17 in March and July 2014 and to date and time stamp Demon images registering the time of deaths of the MH passengers and crews for Serco in its role as bookmaker to an online death pool.
McConnell believes that Serco – formerly RCA BG 1929 – the world biggest air traffic controller procured the MH killers from his sister Kristine Marcy, the founder of the United States Senior Executive Service in 1979 and founder of the DOJ Prisoner And Alien Transportation System, also known as Con Air, in 1984, who allegedly introduced the United States Bureau of Prisons to a program of 'Mendenhall Rapes' where blackmailed guests at private parties and prisoners on furlough get to produce snuff films of children being sodomized and strangled to death.
You are quoted as telling White House staff that you expect them to "put country first, the president second, and their own needs and priorities last" and that you have warned them "even if it may seem innocuous to pass along some bit of classified information to someone without a clearance it's a crime."
McConnell believes that he and his Marine Corps colleagues including yourself and Robert Mueller will need witness protection if they are to reveal classified information showing how Serco's shareholders, including the UK government, may have used Con Air rapists, Demon software, JABS booking and the Navy/Marine Corps Intranet to kill 537 people on MH Flight 370 and MH Flight 17 in Zulu time in 2014.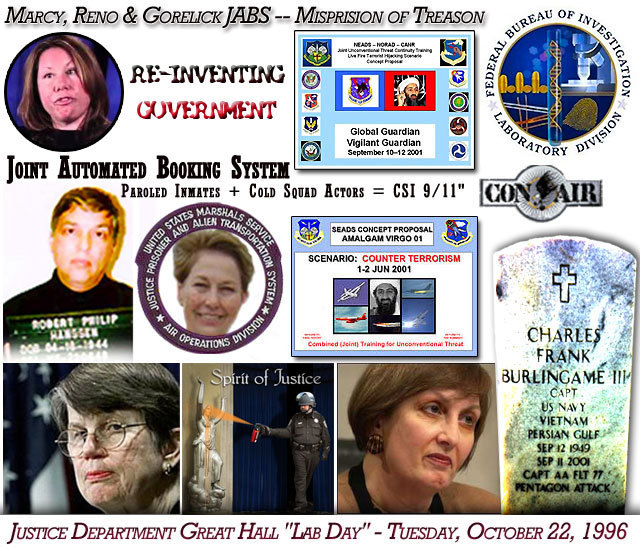 Trailer – Con Air (1997) [Note Field McConnell told his sister Kristine Marcy how to drone future Con Air (JPATS) flights in December 1988!]

Yours sincerely,
Field McConnell
USMC 0116513
P O Box 39
Plum City WI 54761
+001-715-307-8222
"Malaysia Airlines Flight 370(MH370/MAS370)[a], registered as 9M-MRO, was a scheduled international passenger flight that disappeared on 8 March 2014 while flying from Kuala Lumpur International Airport, Malaysia, to its destination, Beijing Capital International Airport in China. The aircraft, a Boeing 777-200ER operated by Malaysia Airlines, last made voice contact with air traffic control at 01:19 MYT, 8 March (17:19 UTC, 7 March) when it was over the South China Sea, less than an hour after takeoff. The aircraft disappeared from air traffic controllers' radar screens at 01:22 MYT. However, Flight 370 was still tracked on military radar as it deviated westwards from its planned flight path and crossed the Malay Peninsula. It left the range of Malaysian military radar at 02:22 while over the Andaman Sea, 200 nautical miles (370 km) north-west of Penang in north-western Malaysia. The aircraft was carrying 12 Malaysian crew members and 227 passengers from 15 nations."
"Malaysia Airlines Flight 17(MH17/MAS17)[a] was a scheduled passenger flight from Amsterdam to Kuala Lumpur that was shot down on 17 July 2014 while flying over eastern Ukraine, killing all 283 passengers and 15 crew on board.[2] Contact with the aircraft, a Boeing 777-200ER, was lost about 50 km (31 mi) from the Ukraine–Russia border and wreckage of the aircraft landed near Torez in Donetsk Oblast, Ukraine, 40 km (25 mi) from the border.[3] The crash occurred in an area controlled by the Donbass People's Militia during the Battle in Shakhtarsk Raion, part of the ongoing war in Donbass.[4] The crash is the deadliest airliner shootdown, eighth-deadliest aviation disaster, and was Malaysia Airlines' second aircraft loss during 2014 after Flight 370 on March 8.[5]"
"Intel Jobs Serco is a trust provider of national security and intelligence solutions in the areas of program management, cyber security, system development and intelligence analysis. Our teams assist the Intelligence Community in all dimensions of program management, including acquisition strategy development, requirements development, budget formulation and execution and program oversight. Our teams are always on the lookout for knowledgeable and qualified Project and Program Managers; Systems Engineers; Financial Managers; Business Managers and Acquisition Professional Experts to provide executive-level systems engineering and technical assistance (SETA).
We need cybersecurity experts that understand today's modern threats and develop end-to-end security solutions that protect our nation's mission critical infrastructure. Our experts maintain their edge by participating in a corporate-wide Cyber Center of Excellence, a center that promotes collaboration, education and transfer of best practices. Today, we are looking for security engineers that can deliver robust services to our customers, including risk assessment, vulnerability analysis, certification and accreditation, information assurance and security architecture, engineering & development.
We are also looking for qualified software engineers, programmers, systems engineers, and system integrators, from journeymen to expert experience levels, to meet rapidly changing information technology requirements for system development, modification, deployment and support.
In addition, we provide All-Source Intelligence Analysts for multi-discipline support and assistance to the government. Analysts provide timely, objective, and cogent military intelligence to warfighters, defense planners, and defense and nation security policy makers at locations in the Washington DC Metro area and throughout the US."
"SecurityStockWatch.com: Thank you for joining us today, Larry. Please give us an overview of your background and your role at Nortel Government Solutions (NGS). Larry Jurcich: NGS has provided a number of Identity Management solutions to Federal clients such as the Social Security Administration, the Drug Enforcement Administration, the FBI, the Department of Justice and the Transportation Security Administration. Below I will characterize a couple of the solutions to depict the breadth and depth of our capability. …. Nortel Government Solutions (NGS) provides software development and operations and maintenance to the Department of Justice Joint Automated Booking System (JABS) Program Management Office for the development and management of the JABS and Civil Applicant System (CAS) programs: JABS is a DOJ enterprise-wide law enforcement information sharing system used to facilitate the rapid identification through an automated booking process of individuals under arrest or detention. These systems interface with biographic data for positive identification with the FBI's Integrated Automated Fingerprint Information System (IAFIS)."
"Digital Fires Instructor Serco – Camp Pendleton, CA Uses information derived from all military disciplines (e.g., aviation, ground combat, command and control, combat service support, intelligence, and opposing forces) to determine changes in enemy capabilities, vulnerabilities, and probable courses of action."
"Insiders Threaten To Expose "Alleged" Pedophile Sex Ring!!!
Posted on October 31, 2016 by Angie
… All of the following information was given to us by our insiders who have specific first-hand knowledge of the Hillary Email scandal. It seems that things are about to heat up. We are told that of the 662,871 emails lifted from Weiner's computer, 11,112 emails are Huma… and pay to play- including Saudis and Israeli's. Meaning Huma was the one Hillary USED to communicate with foreign leaders via email for inside information and deals via Huma's computer.
It has been established through many avenues, but mainly through Wikileaks, that the Clinton Foundation was just a farce set up in order to perform Pay-to-Play games with multiple entities, including foreign nations. Pay-to-play nations include: Israel, Saudis, Turks, Qatar, kazakhstan, and the Ukraine.
Futhermore, we are told by one of our insiders that one email unequivocally confirms Isis was created by CIA and Israeli Secret Intelligence service, with help from Joe Lieberman, John McCain and Lindsay Graham!
A third file, I'm sure Hillary definitely DOES NOT want released was a file labeled "Intimate" … according to this NYPD insider, this file contained x rated photos of Huma and Hillary with a TEENAGER.
NYPD detectives were sickened by what they saw, according to our insider, and they have threatened FBI field agents that they would leak this information, if the FBI did not "step up and take off the kids gloves". At that point, 13 of the FBI agents in NYC are also threatening to leak the information."
"TOP DEFINITION Mendenhall To mount someone from behind while they are in the fetal position on the ground. After the deed is complete, you roll them over and see the humiliation in their eyes. This is best accomplished in front of a large audience. That chick was so hot I pretended to trip and totally Mendenhalled her. #dry hump#bareback#doggy#mount#steelers by GoPack! January 25, 2011″
"The National Crime Squad co-ordinated arrests of suspected paedophiles across 19 separate countries on 28 November using information supplied by Demon Internet.
The Internet service provider was approached by the National Crime Squad and agreed to allow officers to access its servers. This led to the recovery of data showing the activity of nearly 1,500 newsgroups during a two-week period.
From this data, officers established that almost 10,000 Internet Protocol (IP) addresses had accessed more than 30 of the Web sites carrying paedophilia. For operational reasons this number was whittled down to just over 400 addresses of those specifically distributing paedophiliac images.
The information was then distributed via Interpol to the countries identified with the suspects, and evidence packs on each of the targets were distributed to the relevant police forces
Detective Superintendent Peter Spindler, leading the investigation for the National Crime Squad, said: "With the assistance of Demon Internet and the support and guidance of the National High-Tech Crime Unit, we are able to show that those accessing these newsgroups did so regularly and with purpose.
"We also learnt, not surprisingly, that those abusing the Internet have learnt from recent police successes how best to protect their true identities," he added.
The National Crime Squad and Serco, its IT partner, have developed facial mapping software that they hope to use to identify the abused children featured on the paedophiliac sites."
"Group Starwood Hotels Group, owner of some of the world's most prestigious hotels, has appointed Serco as preferred bidder for a £7m contract to provide a range of support services to the Sheraton Grand in Edinburgh, the Westin in Dublin and the 5 star Turnberry resort on Scotland's west coast. The contract, which has a 5 year term, is an extension to services already provided to other hotels in the Starwood Group and includes buildings maintenance and security, engineering support and help desk services."
'"Now You Can Be Both' Mother, Professional
By Judy Mann August 8, 1979
Kristine Mary, now a supergrade in the Office of Personnel Management, had her first chile 2 1/2 years ago, when she was a budget examiner in the Office of Management and Budget. At nights she was finishing up her law degree at George Washington University.
"My baby was due the 17th of December. My last exam was on the 15th. I went to work, took off a little early, took my exam, went home,wondering why I felt so bad. Imimmediately, I went into labor. It blew everybody's mind that I could wrap up everything at work, wrap up everything at school and have my baby. That was of the all-time coup."
…..
"I was very conscious that all the men whe worked for me would go home and ask their wives what it's like, so they would know how to deal with me. I assumed that. I don't know that any of them did. I tried to keep my pregnancy secret as long as possible and have them find out I've been pregnant for four months and hadn't behaved any differently."
Mendenhall's baby was due in early August. [????] "I now work from about 8 a.m. to 6 p.m. Everybody at work has so afraid of being offensive, that they ignore it."
"I think the whole society has turned around a great deal, intensively, in the last five years," says Kristine Marcy, who sees changes in men's attitudes towards their jobs as well as women's."
"Please find below the key company advisors to Serco:
Auditors
Principal Bankers
Investment Bankers
N M Rothschild & Sons Limited
New Court
St Swithin's Lane
London
EC4N 8AL
Tel: +44 20 7280 5000
Fax: +44 20 7929 1643
www.rothschild.com"
"SERCO: 'The biggest company you've never heard of'
JULY 7, 2013 BY 21WIRE
21st Century Wire says…
As politicians asset-strip the public's portfolio of properties, infrastructure and services, one multinational corporation has grown as a result – and its scope and reach may shock many people who have not been paying attention.
All around the globe, our governments are busy outsourcing public-sector services like health, education, police, prisons, money delivery and military – to the esteemed private sector. It's sold to the public as a solution to avoiding higher taxes, while retaining better services. But it's simply an accountancy shell game, where the government kicks the can down the road by spreading the bill to the taxpayer over a longer period of time, in order to avoid any large upfront payments – all the while, allowing a private corporation to extend its influence over society. This, by definition, is fascism.
They are called SERCO, and they run countries…
The Biggest Company You've Never Heard Of

As well as thanking God for his success, CEO Chris Hyman is a Pentecostal Christian who has released a gospel album in America and fasts every Tuesday. Coincidentally he was in the World Trade Centre on 9/11 on the 47th floor addressing shareholders."
6459 Total Views
1 Views Today
Please follow and like us: