Kelly 57 – Clinton Serco Demon Pardon, Marcy's A-3 Bridging Loan, Marine Corps IFF Websense Bomb
Field McConnell, USMC 0116513
Abel Danger Global Private Intel
P O Box 39
Plum City WI 54761
The Honorable John F. Kelly
White House Chief of Staff
Washington, D.C. 20528
Open letter from the Cloud Centric Crime Scene Investigators of Abel Danger
August 10, 2017
Dear General Kelly:
Please accept Brief 57 from Field McConnell – United States Marine and Global Operations Director of Abel Danger (AD) – on former U.S. President Bill Clinton's January 2001 pardon of Raytheon director John Deutch, where the two men appear to be two of thousands of victims of blackmail by pedophile operatives of Serco's Demon face-recognition software.
McConnell believes that the disgraced and pardoned former CIA director Deutch procured a bridging loan from McConnell's sibling Kristine Marcy, the founder of the U.S. Senior Executive Service and author of the DOD's accelerated mentor-protégé loan guarantee program, to finance modifications to Raytheon A-3 SkyWarriors for their participation in the 9/11 attacks in Washington, D.C. during the Global Guardian exercise of 10-12 September 2001.
McConnell also believes that Deutch's unwitting Raytheon colleagues equipped the Navy/Marine Corps Intranet with Websense identification friend or foe (IFF) filters which allegedly allowed the shareholders of Serco, the world's largest air traffic controller, to stand down the Pentagon's defenses against an A-3 target-penetrating aerial bomb (US 6276277 B1) and kill the entire chain of command in the Office of Naval Intelligence in the U.S. Navy Command Center on 9/11.
You are quoted as telling White House staff that you expect them to "put country first, the president second, and their own needs and priorities last" and that you have warned them "Even if it may seem innocuous to pass along some bit of classified information to someone without a clearance it's a crime."
McConnell believes that he and his Marine Corps colleagues including yourself and Robert Mueller will need witness protection if they are to reveal classified information showing how Serco's shareholders, including the UK government and Marcy's SES used Demon software, Websense IFF and the Navy/Marine Corps Intranet to conceal an attempted coup d'état on 9/11.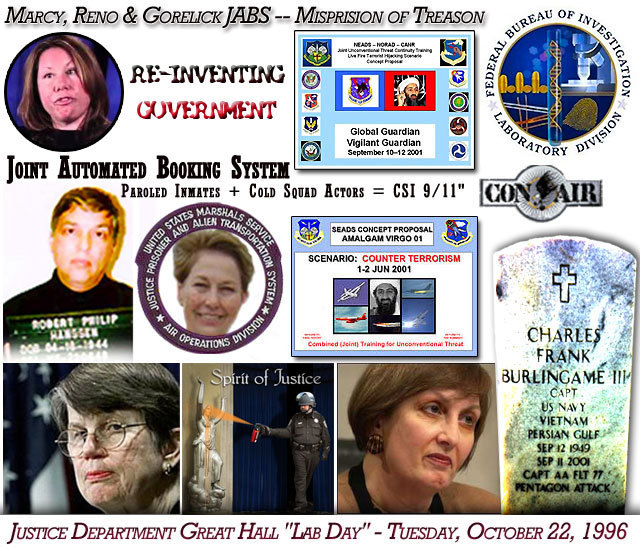 57 SkyWarrior: 9/11 Pentagon Reality Check 17

9/11 Alexander Haig [Founder director of AOL, Special Investor in Salomon CAI's private equity stake in Macdonald Dettwiler the developer of ad hoc waypoint software and Entrust PKI war rooms] Had Inside Knowledge Of The World Trade Center Bombing
Yours sincerely,
Field McConnell
USMC 0116513
P O Box 39
Plum City WI 54761
+001-715-307-8222
"Pentagon Personnel who died in/at Pentagon. These guys, ONI and auditors, were selected to be in that wedge as targets. This aerial photo says to me bombs were pre-placed to insure there were to be no survivors, all files destroyed as well. As near as I can see only two groups, Office of Naval Intelligence, Budget/auditors, and a half-dozen in personel. I can easily see that the entire chain of command ONI was killed. … NAVY PERSONNEL: (Presumed to be all part of the Office of Naval Intelligence–who were likely to have been monitoring the secret War Games, and would have been the first to realize the war games were a ruse in order to attack NYC.) … Capt. Gerald Francis Deconto, 44, Sandwich, Massachusetts director of current operations and plans, was organizing the Navy's response to the WTC attack when he was killed. U.S. Navy"
"Identification, friend or foe (IFF) is an identification system designed for command and control. It enables military and national (civilian air traffic control) interrogation systems to identify aircraft, vehicles or forces as friendly and to determine their bearing and range from the interrogator. IFF may be used by both military and civilian aircraft. IFF was first developed during the Second World War, with the arrival of radar, and early friendly fire incidents."
"Raytheon involved at the Pentagon as well
http://pilotsfor911truth.org/forum/lofiversion/index.php?t5945.html
Content from external source
Flight 77 shot down in mountains of W. Virginia
I just listened to a radio interview with a controller from Boston Center (google video). He states clearly that three of the flights were tracked continuously on 9/11 – on radar – even after two had turned off their transponders. They were NEVER off radar. Flight 77 disappeared from radar over the mountains of W. Virginia. There is only one explanation for this. Flight 77 was SHOT DOWN over the mountains of West Virginia. This was part of the plan. What struck the Pentagon had only been picked up on radar for 60 miles or so as it approached – as evidenced by Norm Mineta's 9/11 Commission testimony, and reinforced by the air traffic controllers interview ("it popped up on radar").
What hit the Pentagon was in fact an A3 Skywarrior from Raytheon's inventory (check their inventory – they're missing one) – painted like an AA jet – powered by a Thiokol solid fuel rocket motor (thus the white smoke in the still frames released by the government), loaded with explosives (thus the smell of cordite evidenced by the hundreds of Pentagon employees present that morning).
…
They are all jet engine components (past and present) on the A-3 Skywarrior twin-turbojet airplane and on older versions of the 737. The USAF only has a few of the A-3s left in operation and what was formerly Hughes Aircraft, now Raytheon, has a fleet of them at Van Nuys, Calif. This type of turbojet engine has never been used on a Boeing 757, so the debate on "type of plane" can end there. This is a jet engine component with fan, not an auxiliary power unit(APU) as some have speculated or dropped into the conversation as disinformation.
What has been interesting is the level of "content blocking" that there is on the Internet where specific information regarding certain "jet engine components" such as those shown at the Pentagon have definitely been blocked. Our team had to take steps to go around the content blocks to get at the photos you are seeing regarding these rotor hub components.
That part has a specific UPN (Universal Part Number) and it cannot be found by looking for that UPN. Other measures were needed to find what you are seeing in these photos to circumvent what is apparently intentional content blocking.
​Someone has gone to considerable lengths to make sure that the actual components that were found at the Pentagon could not be found and it took my team over two years to hammer through such blocks to find three of these photos (Praxair and Evergreen) to verify the component.​"
"Rocket-boosted guided hard target penetrator
US 6276277 B1
ABSTRACT
A target-penetrating aerial bomb includes a penetrator of hard steel or similar material that contains an explosive charge. A rocket motor is formed as an annular chamber and surrounds the penetrator. The bomb includes a guidance and control unit that guides the bomb on a glide path after release from the delivery aircraft, and steers the bomb onto a dive line. Once the bomb is aligned on the dive line, the guidance and control unit fires the rocket booster to accelerate the bomb to the target. A fuse ignites the explosive after target penetration. Original Assignee Lockheed Martin Corporation"
"Please find below the key company advisors to Serco:
Auditors
Principal Bankers
Investment Bankers
N M Rothschild & Sons Limited
New Court
St Swithin's Lane
London
EC4N 8AL
Tel: +44 20 7280 5000
Fax: +44 20 7929 1643
www.rothschild.com"
"The National Crime Squad co-ordinated arrests of suspected paedophiles across 19 separate countries on 28 November using information supplied by Demon Internet.
The Internet service provider was approached by the National Crime Squad and agreed to allow officers to access its servers. This led to the recovery of data showing the activity of nearly 1,500 newsgroups during a two-week period.
From this data, officers established that almost 10,000 Internet Protocol (IP) addresses had accessed more than 30 of the Web sites carrying paedophilia. For operational reasons this number was whittled down to just over 400 addresses of those specifically distributing paedophiliac images.
The information was then distributed via Interpol to the countries identified with the suspects, and evidence packs on each of the targets were distributed to the relevant police forces
Detective Superintendent Peter Spindler, leading the investigation for the National Crime Squad, said: "With the assistance of Demon Internet and the support and guidance of the National High-Tech Crime Unit, we are able to show that those accessing these newsgroups did so regularly and with purpose.
"We also learnt, not surprisingly, that those abusing the Internet have learnt from recent police successes how best to protect their true identities," he added.
The National Crime Squad and Serco, its IT partner, have developed facial mapping software that they hope to use to identify the abused children featured on the paedophiliac sites."
"Investigators find Internet porn hits on ex-CIA director's home computer
TOM RAUM
Associated Press Writer
Published Thursday, February 03, 2000
WASHINGTON — Former CIA Director John Deutch stored some of the nation's most sensitive national security secrets on a home computer that also was used to access pornographic Internet sites and to routinely receive and send e-mail.
That's the conclusion of CIA investigators in a case that is generating alarm among congressional intelligence overseers and throughout the intelligence community.
CIA Director George Tenet, in a public hearing on Wednesday before the Senate Intelligence Committee and later in a private session with members, said there was no evidence that Deutch's unsecured home computer had been hacked into by foreign adversaries.
But neither was there any sure way to tell that it hadn't been, given that the technology exists for such intrusions, he said.
"There was enormously sensitive material on this computer, at the highest levels of classification," Tenet conceded at the public session.
Tenet was to testify today before the Senate Armed Services Committee, and he seemed likely to be grilled further on disclosures that are turning out to be a major embarrassment for the intelligence agency.
Congressional and intelligence community sources familiar with the investigation, who spoke on the condition of anonymity, said among the e-mail messages sent to Deutch was one from Europe from an individual who identified himself as former Russian scientist.
As to the e-mail supposedly from a former Russian scientist, investigators determined that the e-mail was incoming, and not solicited or answered by Deutch, the sources said.
CIA investigators studied data on the hard drive of the home computer used by Deutch and were able to identify various pieces of e-mail and Internet addresses that had been accessed by Deutch and members of his household through an America Online account, the sources said.
The sources said there was no evidence that Deutch himself had visited any of the pornographic sites, and that some of the times that had been logged did not match up with times when Deutch was at home.
Tenet was among those delivering the sharpest criticism of his predecessor.
"He was sloppy in what he did. He worked around the clock. He didn't think about what he was doing," Tenet told the Senate committee.
"Nevertheless, as director, I believe he should have known better," Tenet added. "We talk about electronic means of getting into our databases. Now it's shown that this is an important issue that we're all paying attention to. And, you know, one man's mistake is another man's stupidity. Of course it's troubling that we're in this situation."
Tenet stripped Deutch of his security clearances in August 1999, even though the CIA investigation into his alleged mishandling of classified materials began in December 1996, the month Tenet became acting director.
Tenet had been Deutch's deputy. Tenet was sworn in as CIA director in July 1997 after serving as acting director during the transition.
An internal report by the CIA's inspector general faults Tenet and other senior CIA officials for waiting too long before notifying the Justice Department or congressional intelligence oversight committees of the case.
But Tenet denied he deliberately delayed an investigation into Deutch's computer practices. However, he conceded, "The internal investigation took too long. The process was not perfect."
Tenet agreed the CIA was slow in notifying appropriate officials and lawmakers. "There was no excuse for that," he said at Wednesday's hearing.
Deutch has apologized. Although the CIA eventually referred the case to the Justice Department, Deutch has not been prosecuted."
"Websense to Go Private in $900 Million Buyout by Vista Equity Partners
By: Robert Lemos | May 22, 2013
A private equity firm, Vista Equity Partners, will buy Websense, which makes Internet content-security systems.
Websense, a content-security provider, has agreed to be purchased by private equity firm Vista Equity Partners in a cash-for-stock deal worth approximately $907 million, the companies said in an announcement on May 20.
The planned sale continues a trend among many technology companies—including Blue Coat Systems, BMC Software, and SonicWall—to return to private management. Vista will pay $24.75 for each share of Websense stock held by investors, a price that is 29 percent more than the stock's closing price as of Friday, May 17, and 53 percent more than the average closing price over the past two months, Websense stated in its announcement.
"Vista shares a similar vision for the company, including a dedication to developing and delivering best-in-class cyber-security to our customers," Websense CEO John McCormack said in the announcement. "Vista brings an operational discipline that will enable us to continue to invest in the business and technology innovation."
Websense is not the first security firm to be taken private by an investor. In 2010, network security firm SonicWall was taken private by investment firm Thoma Bravo for $717 million and, according to The Wall Street Journal, sold two years later for $1.2 billion to computer-technology company Dell.
Further reading
Oracle Partners With SafeLogic to Improve OpenSSL
12 Security Startups Raised New Funding in July
In early 2012, Thoma Bravo bought up Blue Coat Systems in a $1.3 billion stock purchase. And earlier this month, two investment firms took information-technology management firm BMC Software private in a deal worth $6.9 billion.
Even prominent computer-technology company Dell is attempting to go private in a controversial move that would quadruple founder Michael Dell's holdings of the company and leave it in greater debt.
Websense started in 1994 as a security reseller, NetPartners, changing its name to Websense in 1999, following the success of its software that helps companies manage employee Web use. In 2000, the company went public at $18 a share, generating $65.7 million in its initial public offering, and announced a 2-for-1 stock split in 2006.
While the company started off focusing on Web content, it transformed itself into a content-security firm throughout the past decade. In 2010, the company launched its Triton data-security platform, which accounts for an increasing portion of its revenues. In the first quarter of this year, the company announced profits of $2.8 million, compared with a loss in the same quarter a year earlier, and two-thirds of the revenue came from Triton sales and subscriptions.
Vista Equity Partners launched in 2000, the same year that Websense went public. Founded by two alumni of Goldman Sachs, Vista focuses on a small number of investments each year, looking to make specific operational improvements that can turn a company into a high cash-flow business.
"We are long-term investors in enterprise software and data companies that are committed to being leaders in their markets," Robert F. Smith, CEO and founder of Vista Equity Partners, said in the announcement.
The deal to take Websense private is not expected to change the senior management structure at the firm, the companies said."
"NMCI consolidated roughly 6,000 networks—some of which could not e-mail, let alone collaborate with each other—into a single integrated and secure IT environment. HP updated more than 100,000 desktop and laptop PCs in 2007.[13] The program also consolidated an ad hoc network of more than 8,000 applications to 500 in four years and 15,003 logistics and readiness systems to 2,759 over a two-year period.[14]
Sub-contractors to HP include:
Apple Inc., Cisco, Dell, McAfee, Microsoft, Oracle Corporation, Sun Microsystems, and Symantec[15]
Harris Corporation (which acquired Multimax formerly known as Netco Government Services and WAM!NET), which provided enterprise network infrastructure design and support until its contract expired in 2014.[16]
Verizon, which provides wide area network (WAN) connectivity.
HP also provides the security services once provided by Raytheon.
HP also has worked with more than 400 small businesses, with 5 percent for small disadvantaged businesses, 5 percent for women-owned small businesses and 1.5 percent for HUBZone small businesses. Since its inception, NMCI has exceeded the minimum 40% small business objective set for the contract.[17]
NMCI quickly suffered some widely publicized setbacks, including rollout delays that caused HP financial losses.[18] Today, NMCI is described in documents from the Navy's chief information officer as "the core enterprise network for Navy and Marine Corps forces in the United States and Japan, providing secure access to integrated voice, video and data communications."[19]
In 2009 NMCI became the first network to deploy the Global Address List (GAL), a multiservice address list that increases interoperability by enabling Navy and Marine Corps users to access the Defense Information Systems Agency's Joint Enterprise Directory Services (JEDS) contact list.[20]
Additional improvements to network performance are also underway with the deployment of the Network Operations Common Operating Picture (NetOps COP). The tool helps provide enhanced situational awareness via increased information sharing and collaboration to commanders by giving them a common picture of network performance. Commanders can see scheduled maintenance tasks and other issues impacting the network, giving them the option to defer work that might affect the flow of critical information from the battlefield.[21]
Work in 2008 has increased NMCI's ability to respond to security issues and the program was the first network to implement fully the Department of Defense information assurance standards in both classified and unclassified environments. Among the enhancements were the deployment of Websense content filtering, an information assurance tool designed to inspect and block inbound Web traffic containing malicious code with little impact to the user. According to NMCI public affairs, "Websense allows the Network Operational Commands to set a tailored blocking policy by content such as gambling, hate speech or adult content, rather than blocking specific sites or URLs only. This allows the network operators to block sites much more efficiently and outsources the fight against the growing amount of inappropriate content."[22]
According to the Navy, Websense enables users to block or unblock sites, based on emerging and/or dynamic threats. The NMCI blocking policy is determined by various operational commands, such as the Naval Network Warfare Command, and enforced by the Global Network Operations Center, based in Norfolk. Blocked sites are redirected to a notification page which then links to a page on NMCI's homeport Web site. On this site, a user can submit a request that a site be unblocked in order to support mission requirements.[22]"
"SERCO: 'The biggest company you've never heard of'
JULY 7, 2013 BY 21WIRE
21st Century Wire says…
As politicians asset-strip the public's portfolio of properties, infrastructure and services, one multinational corporation has grown as a result – and its scope and reach may shock many people who have not been paying attention.
All around the globe, our governments are busy outsourcing public-sector services like health, education, police, prisons, money delivery and military – to the esteemed private sector. It's sold to the public as a solution to avoiding higher taxes, while retaining better services. But it's simply an accountancy shell game, where the government kicks the can down the road by spreading the bill to the taxpayer over a longer period of time, in order to avoid any large upfront payments – all the while, allowing a private corporation to extend its influence over society. This, by definition, is fascism.
They are called SERCO, and they run countries…
The Biggest Company You've Never Heard Of

As well as thanking God for his success, CEO Chris Hyman is a Pentecostal Christian who has released a gospel album in America and fasts every Tuesday. Coincidentally he was in the World Trade Centre on 9/11 on the 47th floor addressing shareholders."
8-10-2017 KELLY 57 – CLINTON SERCO DEMON PARDON

1849 Total Views
3 Views Today
Please follow and like us: