Kelly 56 – Rothschild's Demon Serco Bankers, Marine Corps Websense Block, Clinton Pedo-Bridge Of Nukes
Field McConnell, USMC 0116513
Abel Danger Global Private Intel
P O Box 39
Plum City WI 54761
The Honorable John F. Kelly
White House Chief of Staff
Washington, D.C. 20528
Open letter from the Cloud Centric Crime Scene Investigators of Abel Danger
August 9, 2017
Dear General Kelly:
Please accept Brief 56 from Field McConnell – United States Marine and Global Operations Director of Abel Danger (AD) – on N M Rothschild & Sons Limited's alleged use of Serco's Demon face-recognition software to track Serco's shareholders and bankers through the DOD Mentor-Protégé loan-guarantee program; block targeted users of the Navy/Marine Corps Intranet with Websense filters and allow pedophile associates of, and donors to, the Clinton Foundation to inject fake news of nuclear threats into the federal bridge certification authority network.
McConnell believes that his sibling Kristine Marcy, author of the DOD's accelerated mentor-protégé loan program, together with former N M Rothschild banker Wilbur Ross used Serco's Digital Fires Instructors to block parts of the Marines' Intranet on 9/11 and track former FBI counter-terrorism chief John O'Neill into a fatal ambush by Serco death-pool bankers on the 47th floor of WTC1 (North Tower).
McConnell believes that v shareholders including Goldman Sachs, HSBC and the British and Saudi Arabian governments used the Marines' Intranet to run blocks on a Pentagon continuity-of-government exercise (Global Guardian) on September 10-12, 2001; load nukes onto intercontinental bombers in North Dakota, Missouri, and Louisiana; fly President Bush on Air Force One into a war game and extort government pedophiles to choose between a nuclear attack or a surrender of the United States to Clinton's donors and Marcy's Senior Executive Service.
You are quoted as telling White House staff that you expect them to "put country first, the president second, and their own needs and priorities last" and that you have warned them "Even if it may seem innocuous to pass along some bit of classified information to someone without a clearance it's a crime."
McConnell believes that he and his Marine Corps colleagues including Robert Mueller, will need witness protection if they are to reveal classified information showing how Serco's investment banker N M Rothschild and Marcy's SES used Demon software, Websense blocks and the Navy/Marine Corps Intranet to conceal an attempted coup d'état on 9/11 and, more recently, to inject the news which has tricked President Trump into believing that North Korea has developed miniaturized nuclear warheads for imminent delivery by its intercontinental ballistic missiles.
North Korea Is now making nuclear warheads for missiles

Spot the former N M Rothschild banker and the artists of virtual deception.
Aftermath of a Marine One coup d'etat?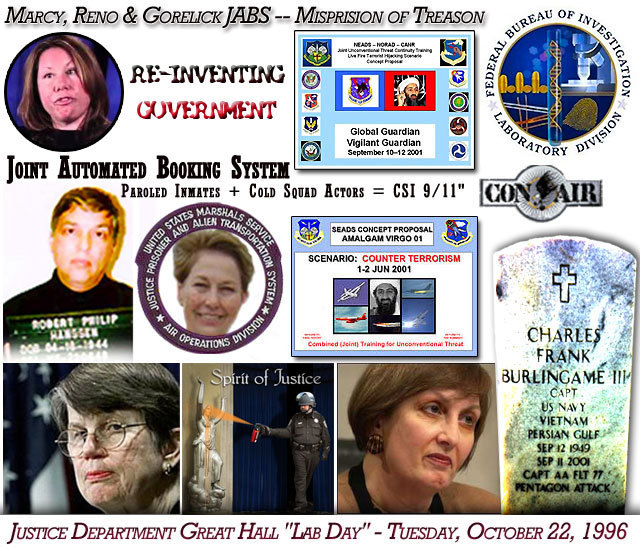 9/11 Alexander Haig [Special Investor in Salomon CAI's private equity stake in Macdonald Dettwiler the developer of ad hoc waypoint software and Entrust PKI war rooms] Had Inside Knowledge Of The World Trade Center Bombing
BBC Reports 911, WTC 7 Collapse BEFORE it Happens

Zulu Time [Check Quebec New York 2001!]

Yours sincerely,
Field McConnell
USMC 0116513
P O Box 39
Plum City WI 54761
+001-715-307-8222
Abel Danger – global network dedicated to uncovering treasonous acts against humanity
"Trump promises North Korea 'fire and fury' over nuke threat
By Jim Sciutto, Barbara Starr and Zachary Cohen, CNN
Updated 4:06 AM ET, Wed August 9, 2017
Washington (CNN)President Donald Trump issued an extraordinary ultimatum to North Korea on Tuesday warning Pyongyang not to make any more threats against the United States or they will "face fire and fury like the world has never seen," during a photo op at the Trump National Golf Club in Bedminster, New Jersey.
"North Korea best not make any more threats to the United States. They will be met with fire and fury like the world has never seen… he has been very threatening beyond a normal state. They will be met with fire, fury and frankly power the likes of which this world has never seen before," he said.
TRUMP, KIM RAMP UP RHETORIC
Trump's harsh words come as US intelligence analysts have assessed that North Korea has produced a miniaturized nuclear warhead, according to multiple sources familiar with the analysis of North Korea's missile and nuclear program.
Soon after Trump's comments, North Korea issued a statement saying it was "examining the operational plan" to strike areas around the US territory of Guam in the Pacific, including the Andersen Air Force base."
"Please find below the key company advisors to Serco:
Auditors
Principal Bankers
Investment Bankers
N M Rothschild & Sons Limited
New Court
St Swithin's Lane
London
EC4N 8AL
Tel: +44 20 7280 5000
Fax: +44 20 7929 1643
www.rothschild.com"
"AWE is formed of three equal shareholders – Lockheed Martin, Serco and Jacobs Engineering Group in a contract that extends until March 2025.
AWE has been central to the defence of the United Kingdom for more than 50 years and provides and maintains the warheads for the country's nuclear deterrent, Trident.
AWE's role is to manufacture and sustain the warheads for the Trident system, ensuring optimum safety and performance, but also to maintain a capability to produce a successor system should the Government require one in the future.
The work at AWE covers the entire life cycle of nuclear warheads; from initial concept, assessment and design, through to component manufacture and assembly, in-service support, and finally decommissioning and disposal."
"Super Serco bulldozes ahead
By Daily Mail Reporter
UPDATED: 00:00 BST, 2 September 2004
SERCO has come a long way since the 1960s when it ran the 'four-minute warning' system to alert the nation to a ballistic missile attack. … Michael Morris, at broker Arbuthnot, says they are 'a play on UK government spend' which is rising fast. Share or comment on this article Read more: http://www.thisismoney.co.uk/money/news/article-1506060/Super-Serco-bulldozes-ahead.html#ixzz4pAyxT8Cs Follow us: @MailOnline on Twitter | DailyMail on Facebook"
"Company Announcements
Serco Group PLC
Admission of Nil Paid Rights
MARCH 31, 2015Source: RNS
RNS Number : 8732I
……
J.P. Morgan Securities plc, which conducts its UK investment banking businesses as J.P. Morgan Cazenove, Merrill Lynch International, HSBC Bank plc, Barclays Bank PLC and Crédit Agricole Corporate and Investment Bank (together, the "Underwriters"), which are authorised in the UK by the Prudential Regulatory Authority and regulated in the UK by the Prudential Regulatory Authority and the Financial Conduct Authority, are acting exclusively for Serco and no one else in connection with the Rights Issue and will not regard any other person as their respective clients in relation to the Rights Issue and will not be responsible to any person other than Serco for providing the protections afforded to clients of the Underwriters, nor for providing advice in relation to the Rights Issue, the contents of this announcement or any transaction, arrangement or any other matters referred to herein.
N M Rothschild & Sons Limited ("Rothschild"), which is authorised by the Prudential Regulation Authority and regulated by the Financial Conduct Authority and the Prudential Regulation Authority in the United Kingdom, is acting exclusively for Serco and for no one else in connection with the Rights Issue and will not be responsible to anyone other than Serco for providing the protections afforded to clients of Rothschild nor for providing advice in relation to the Rights Issue."
"Wilbur Louis Ross Jr. (born November 28, 1937) is an American investor and government official who is the current United States Secretary of Commerce. On November 24, 2016, the Associated Press reported that President-elect Donald Trump would nominate Ross to be United States Secretary of Commerce.[2][3] On February 27, 2017, the Senate confirmed Ross as United States Secretary of Commerce by a margin of 72-27.[4] He was sworn into office on February 28, 2017.
Before he was appointed as Secretary of Commerce, Ross was a banker known for restructuring failed companies in industries such as steel, coal, telecommunications, foreign investment and textiles. He specializes in leveraged buyouts and distressed businesses. In February 2017, Forbes magazine reported that Ross has a net worth of $2.5 billion.[1] He is often called the "King of Bankruptcy" because of his experience in buying bankrupt companies, primarily in the manufacturing and steel industries, and later selling them for a large profit after operations improve.[5]
Rothschild Investments[edit]
In the late 1970s, Ross began his 24 year career at the New York City office of N M Rothschild & Sons, where he ran the bankruptcy-restructuring advisory practice.[6][8]
Representation of investors in casinos owned by Donald Trump[edit]
In the 1980s, Donald Trump was in financial trouble because of his casinos in Atlantic City. His three casinos in Atlantic City were under foreclosure threat from lenders. Ross, who was then the Senior Managing Director of Rothschild Inc., represented investors in the casino. Along with Carl Icahn, Ross convinced bondholders to strike a deal with Trump that allowed Trump to keep control of the casinos.[8][9]"
"Websense to Go Private in $900 Million Buyout by Vista Equity Partners
By: Robert Lemos | May 22, 2013
A private equity firm, Vista Equity Partners, will buy Websense, which makes Internet content-security systems.
Websense, a content-security provider, has agreed to be purchased by private equity firm Vista Equity Partners in a cash-for-stock deal worth approximately $907 million, the companies said in an announcement on May 20.
The planned sale continues a trend among many technology companies—including Blue Coat Systems, BMC Software, and SonicWall—to return to private management. Vista will pay $24.75 for each share of Websense stock held by investors, a price that is 29 percent more than the stock's closing price as of Friday, May 17, and 53 percent more than the average closing price over the past two months, Websense stated in its announcement.
"Vista shares a similar vision for the company, including a dedication to developing and delivering best-in-class cyber-security to our customers," Websense CEO John McCormack said in the announcement. "Vista brings an operational discipline that will enable us to continue to invest in the business and technology innovation."
Websense is not the first security firm to be taken private by an investor. In 2010, network security firm SonicWall was taken private by investment firm Thoma Bravo for $717 million and, according to The Wall Street Journal, sold two years later for $1.2 billion to computer-technology company Dell.
Further reading
Oracle Partners With SafeLogic to Improve OpenSSL
12 Security Startups Raised New Funding in July
In early 2012, Thoma Bravo bought up Blue Coat Systems in a $1.3 billion stock purchase. And earlier this month, two investment firms took information-technology management firm BMC Software private in a deal worth $6.9 billion.
Even prominent computer-technology company Dell is attempting to go private in a controversial move that would quadruple founder Michael Dell's holdings of the company and leave it in greater debt.
Websense started in 1994 as a security reseller, NetPartners, changing its name to Websense in 1999, following the success of its software that helps companies manage employee Web use. In 2000, the company went public at $18 a share, generating $65.7 million in its initial public offering, and announced a 2-for-1 stock split in 2006.
While the company started off focusing on Web content, it transformed itself into a content-security firm throughout the past decade. In 2010, the company launched its Triton data-security platform, which accounts for an increasing portion of its revenues. In the first quarter of this year, the company announced profits of $2.8 million, compared with a loss in the same quarter a year earlier, and two-thirds of the revenue came from Triton sales and subscriptions.
Vista Equity Partners launched in 2000, the same year that Websense went public. Founded by two alumni of Goldman Sachs, Vista focuses on a small number of investments each year, looking to make specific operational improvements that can turn a company into a high cash-flow business.
"We are long-term investors in enterprise software and data companies that are committed to being leaders in their markets," Robert F. Smith, CEO and founder of Vista Equity Partners, said in the announcement.
The deal to take Websense private is not expected to change the senior management structure at the firm, the companies said."
"Windows on the World was destroyed when the North Tower collapsed during the terrorist attacks of September 11, 2001. That morning, the restaurant was hosting regular breakfast patrons and the Risk Waters Financial Technology Congress.[4] World Trade Center lessor Larry Silverstein was regularly holding breakfast meetings in Windows on the World with tenants as part of his recent acquisition of the Twin Towers from the Port Authority, and was scheduled to be in the restaurant on the morning of the attacks. However, his wife insisted he go to a dermatologist's appointment that morning,[5] whereby he avoided death. Everyone present in the restaurant when American Airlines Flight 11 penetrated the North Tower perished that day, as all stairwells leading to below the impact zone were blocked immediately. Victims trapped in Windows on the World died either from smoke inhalation from the fire, jumping or falling to their deaths, or the eventual collapse of the North Tower 102 minutes later.
There were 72 restaurant staff present in the restaurant, including acting manager Christine Anne Olender, whose desperate calls to Port Authority police represented the restaurant's final communications.[6] 16 Incisive Media-Risk Waters Group employees, and 76 other guests/contractors were also present.[7] The last people to leave the restaurant before Flight 11 collided with the North Tower at 8:46 AM were Michael Nestor, Liz Thompson, Geoffrey Wharton, and Richard Tierney. They departed at 8:44 AM and survived the attack.[8]After about 9:40 AM, no further distress calls from the restaurant were made."
"Secrets of 9/11: New Details of Chaos, Nukes Emerge
by WILLIAM M. ARKIN and ROBERT WINDREM
… Perhaps the biggest newly uncovered secret is that on the morning of 9/11, when Al Qaeda struck New York and Washington, the Pentagon's annual "Global Guardian" war game was in full swing. Three dozen real nuclear weapons had been loaded onboard intercontinental bombers in North Dakota, Missouri, and Louisiana.
When Bush left Florida on Air Force One amid fears that terrorists would try take down the presidential plane, he flew right into the middle of the war game.
Air Force One had climbed out of Sarasota airport 51 minutes after American Airlines Flight 11 plowed into the North tower of the World Trade Center and 12 minutes after the Pentagon was struck. The fourth and final hijacked passenger plane, United Flight 93, was still aloft over Pennsylvania.
…..
Beyond problems with the succession, the events of 9/11 also exposed another weakness in the system. A senior official who had been the Pentagon's continuity manager noted that if one of the hijacked planes had flown to the Capitol building, where Congress was in session, it could have led to constitutional crisis.
Under law, if a majority of congressmen and women were killed, the House of Representatives would not be able to deliberate because it would have lacked a quorum. And unlike the Senate, members of the House can only be released through a special election. The House, moreover, is charged with selecting a president if there is no available constitutional successor.
Who would have been in charge and what would have happened remains a nightmare that still drives close to a billion dollars a year in preparation just in case.
And as for the man who could have been king — Hastert — he entered the Federal Medical Center prison in Rochester, Minnesota, in June 2016."
"NMCI consolidated roughly 6,000 networks—some of which could not e-mail, let alone collaborate with each other—into a single integrated and secure IT environment. HP updated more than 100,000 desktop and laptop PCs in 2007.[13] The program also consolidated an ad hoc network of more than 8,000 applications to 500 in four years and 15,003 logistics and readiness systems to 2,759 over a two-year period.[14]
Sub-contractors to HP include:
Apple Inc., Cisco, Dell, McAfee, Microsoft, Oracle Corporation, Sun Microsystems, and Symantec[15]
Harris Corporation (which acquired Multimax formerly known as Netco Government Services and WAM!NET), which provided enterprise network infrastructure design and support until its contract expired in 2014.[16]
Verizon, which provides wide area network (WAN) connectivity.
HP also provides the security services once provided by Raytheon.
HP also has worked with more than 400 small businesses, with 5 percent for small disadvantaged businesses, 5 percent for women-owned small businesses and 1.5 percent for HUBZone small businesses. Since its inception, NMCI has exceeded the minimum 40% small business objective set for the contract.[17]
NMCI quickly suffered some widely publicized setbacks, including rollout delays that caused HP financial losses.[18] Today, NMCI is described in documents from the Navy's chief information officer as "the core enterprise network for Navy and Marine Corps forces in the United States and Japan, providing secure access to integrated voice, video and data communications."[19]
In 2009 NMCI became the first network to deploy the Global Address List (GAL), a multiservice address list that increases interoperability by enabling Navy and Marine Corps users to access the Defense Information Systems Agency's Joint Enterprise Directory Services (JEDS) contact list.[20]
Additional improvements to network performance are also underway with the deployment of the Network Operations Common Operating Picture (NetOps COP). The tool helps provide enhanced situational awareness via increased information sharing and collaboration to commanders by giving them a common picture of network performance. Commanders can see scheduled maintenance tasks and other issues impacting the network, giving them the option to defer work that might affect the flow of critical information from the battlefield.[21]
Work in 2008 has increased NMCI's ability to respond to security issues and the program was the first network to implement fully the Department of Defense information assurance standards in both classified and unclassified environments. Among the enhancements were the deployment of Websense content filtering, an information assurance tool designed to inspect and block inbound Web traffic containing malicious code with little impact to the user. According to NMCI public affairs, "Websense allows the Network Operational Commands to set a tailored blocking policy by content such as gambling, hate speech or adult content, rather than blocking specific sites or URLs only. This allows the network operators to block sites much more efficiently and outsources the fight against the growing amount of inappropriate content."[22]
According to the Navy, Websense enables users to block or unblock sites, based on emerging and/or dynamic threats. The NMCI blocking policy is determined by various operational commands, such as the Naval Network Warfare Command, and enforced by the Global Network Operations Center, based in Norfolk. Blocked sites are redirected to a notification page which then links to a page on NMCI's homeport Web site. On this site, a user can submit a request that a site be unblocked in order to support mission requirements.[22]"
"SERCO: 'The biggest company you've never heard of'
JULY 7, 2013 BY 21WIRE
21st Century Wire says…
As politicians asset-strip the public's portfolio of properties, infrastructure and services, one multinational corporation has grown as a result – and its scope and reach may shock many people who have not been paying attention.
All around the globe, our governments are busy outsourcing public-sector services like health, education, police, prisons, money delivery and military – to the esteemed private sector. It's sold to the public as a solution to avoiding higher taxes, while retaining better services. But it's simply an accountancy shell game, where the government kicks the can down the road by spreading the bill to the taxpayer over a longer period of time, in order to avoid any large upfront payments – all the while, allowing a private corporation to extend its influence over society. This, by definition, is fascism.
They are called SERCO, and they run countries…
The Biggest Company You've Never Heard Of

As well as thanking God for his success, CEO Chris Hyman is a Pentecostal Christian who has released a gospel album in America and fasts every Tuesday. Coincidentally he was in the World Trade Centre on 9/11 on the 47th floor addressing shareholders."
1474 Total Views
2 Views Today
Please follow and like us: