Kelly 55 – Serco's Few Minutes Warning, Marine Corps In The Middle, O'Neill's Windows On The World
Field McConnell, USMC 0116513
Abel Danger Global Private Intel
P O Box 39
Plum City WI 54761
The Honorable John F. Kelly
White House Chief of Staff
Washington, D.C. 20528
Open letter from the Cloud Centric Crime Scene Investigators of Abel Danger
August 5, 2017
Dear General Kelly:
Please accept Brief 55 from Field McConnell – United States Marine and Global Operations Director of Abel Danger (AD) – on the Serco shareholders, including Goldman Sachs and British and Saudi Arabian government agents, who allegedly gave former Serco CEO Chris Hyman a few minutes warning of a man-in-the-middle attack on the Navy/Marine Corps Intranet during the Pentagon's phony continuity-of-government exercise (Global Guardian) on September 10-12, 2001.
McConnell believes that his sibling Kristine Marcy and Serco's Digital Fires Instructors used SBA protégé companies embedded in the Marine Corps' Intranet to track former FBI counter-terrorism chief John O'Neill from the Windows of the World restaurant at 9 pm on Monday 10th September 2010 into a 9/11 death-pool where the prospective whistle-blower was allegedly murdered on the 47th Floor of WTC1 (North Tower) a few minutes before the 'Zulu Time' demolition at 10:28 am.
McConnell believes that Serco, its AWE partner Lockheed Martin and various unwitting Marines loaded three dozen nuclear weapons onto intercontinental bombers in North Dakota, Missouri, and Louisiana before flying President George Bush on Air Force One into the middle of the 9/11 war game where he was allegedly given a few minutes warning to choose between a nuclear attack or a surrender to Marcy's colleagues in the United States Senior Executive Service.
You are quoted as telling White House staff that you expect them to "put country first, the president second, and their own needs and priorities last" and that you have warned them "Even if it may seem innocuous to pass along some bit of classified information to someone without a clearance it's a crime."
McConnell believes that he and his Marine Corps colleagues including Robert Mueller will need witness protection if they are to reveal classified information which will allegedly prove that Serco shareholders and Marcy's Senior Executive Service used a man-in-the-middle attack on the Navy/Marine Corps Intranet to kill John O'Neill and conceal an attempted coup d'état on 9/11.
911 Resolution Trilogy · Volume III · Pattern of the Times part 1 of 4

Aftermath of a Marine One coup d'etat?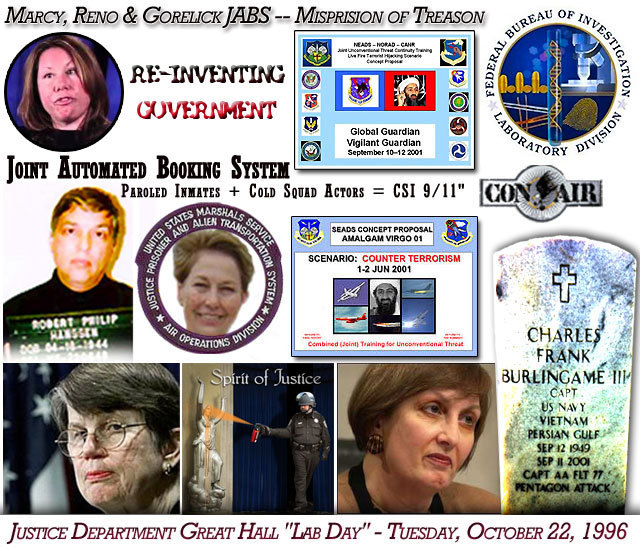 9/11 Alexander Haig [Special Investor in Salomon CAI's private equity stake in Macdonald Dettwiler the developer of ad hoc waypoint software and Entrust PKI war rooms] Had Inside Knowledge Of The World Trade Center Bombing
BBC Reports 911, WTC 7 Collapse BEFORE it Happens

Zulu Time [Check Quebec New York 2001!]

Yours sincerely,
Field McConnell
USMC 0116513
P O Box 39
Plum City WI 54761
+001-715-307-8222
Abel Danger – global network dedicated to uncovering treasonous acts against humanity
"Super Serco bulldozes ahead
By Daily Mail Reporter
UPDATED: 00:00 BST, 2 September 2004
SERCO has come a long way since the 1960s when it ran the 'four-minute warning' system to alert the nation to a ballistic missile attack.
…
Michael Morris, at broker Arbuthnot, says they are 'a play on UK government spend' which is rising fast.
Share or comment on this article
Read more: http://www.thisismoney.co.uk/money/news/article-1506060/Super-Serco-bulldozes-ahead.html#ixzz4pAyxT8Cs
Follow us: @MailOnline on Twitter | DailyMail on Facebook"
"Windows on the World was destroyed when the North Tower collapsed during the terrorist attacks of September 11, 2001. That morning, the restaurant was hosting regular breakfast patrons and the Risk Waters Financial Technology Congress.[4] World Trade Center lessor Larry Silverstein was regularly holding breakfast meetings in Windows on the World with tenants as part of his recent acquisition of the Twin Towers from the Port Authority, and was scheduled to be in the restaurant on the morning of the attacks. However, his wife insisted he go to a dermatologist's appointment that morning,[5] whereby he avoided death. Everyone present in the restaurant when American Airlines Flight 11 penetrated the North Tower perished that day, as all stairwells leading to below the impact zone were blocked immediately. Victims trapped in Windows on the World died either from smoke inhalation from the fire, jumping or falling to their deaths, or the eventual collapse of the North Tower 102 minutes later.
There were 72 restaurant staff present in the restaurant, including acting manager Christine Anne Olender, whose desperate calls to Port Authority police represented the restaurant's final communications.[6] 16 Incisive Media-Risk Waters Group employees, and 76 other guests/contractors were also present.[7] The last people to leave the restaurant before Flight 11 collided with the North Tower at 8:46 AM were Michael Nestor, Liz Thompson, Geoffrey Wharton, and Richard Tierney. They departed at 8:44 AM and survived the attack.[8]After about 9:40 AM, no further distress calls from the restaurant were made."
"Secrets of 9/11: New Details of Chaos, Nukes Emerge
by WILLIAM M. ARKIN and ROBERT WINDREM
… Perhaps the biggest newly uncovered secret is that on the morning of 9/11, when Al Qaeda struck New York and Washington, the Pentagon's annual "Global Guardian" war game was in full swing. Three dozen real nuclear weapons had been loaded onboard intercontinental bombers in North Dakota, Missouri, and Louisiana.
When Bush left Florida on Air Force One amid fears that terrorists would try take down the presidential plane, he flew right into the middle of the war game.
Air Force One had climbed out of Sarasota airport 51 minutes after American Airlines Flight 11 plowed into the North tower of the World Trade Center and 12 minutes after the Pentagon was struck. The fourth and final hijacked passenger plane, United Flight 93, was still aloft over Pennsylvania.
…..
Beyond problems with the succession, the events of 9/11 also exposed another weakness in the system. A senior official who had been the Pentagon's continuity manager noted that if one of the hijacked planes had flown to the Capitol building, where Congress was in session, it could have led to constitutional crisis.
Under law, if a majority of congressmen and women were killed, the House of Representatives would not be able to deliberate because it would have lacked a quorum. And unlike the Senate, members of the House can only be released through a special election. The House, moreover, is charged with selecting a president if there is no available constitutional successor.
Who would have been in charge and what would have happened remains a nightmare that still drives close to a billion dollars a year in preparation just in case.
And as for the man who could have been king — Hastert — he entered the Federal Medical Center prison in Rochester, Minnesota, in June 2016."
"NMCI consolidated roughly 6,000 networks—some of which could not e-mail, let alone collaborate with each other—into a single integrated and secure IT environment. HP updated more than 100,000 desktop and laptop PCs in 2007.[13] The program also consolidated an ad hoc network of more than 8,000 applications to 500 in four years and 15,003 logistics and readiness systems to 2,759 over a two-year period.[14]
Sub-contractors to HP include:
Apple Inc., Cisco, Dell, McAfee, Microsoft, Oracle Corporation, Sun Microsystems, and Symantec[15]
Harris Corporation (which acquired Multimax formerly known as Netco Government Services and WAM!NET), which provided enterprise network infrastructure design and support until its contract expired in 2014.[16]
Verizon, which provides wide area network (WAN) connectivity.
HP also provides the security services once provided by Raytheon.
HP also has worked with more than 400 small businesses, with 5 percent for small disadvantaged businesses, 5 percent for women-owned small businesses and 1.5 percent for HUBZone small businesses. Since its inception, NMCI has exceeded the minimum 40% small business objective set for the contract.[17]
NMCI quickly suffered some widely publicized setbacks, including rollout delays that caused HP financial losses.[18] Today, NMCI is described in documents from the Navy's chief information officer as "the core enterprise network for Navy and Marine Corps forces in the United States and Japan, providing secure access to integrated voice, video and data communications."[19]
In 2009 NMCI became the first network to deploy the Global Address List (GAL), a multiservice address list that increases interoperability by enabling Navy and Marine Corps users to access the Defense Information Systems Agency's Joint Enterprise Directory Services (JEDS) contact list.[20]
Additional improvements to network performance are also underway with the deployment of the Network Operations Common Operating Picture (NetOps COP). The tool helps provide enhanced situational awareness via increased information sharing and collaboration to commanders by giving them a common picture of network performance. Commanders can see scheduled maintenance tasks and other issues impacting the network, giving them the option to defer work that might affect the flow of critical information from the battlefield.[21]
Work in 2008 has increased NMCI's ability to respond to security issues and the program was the first network to implement fully the Department of Defense information assurance standards in both classified and unclassified environments. Among the enhancements were the deployment of Websense content filtering, an information assurance tool designed to inspect and block inbound Web traffic containing malicious code with little impact to the user. According to NMCI public affairs, "Websense allows the Network Operational Commands to set a tailored blocking policy by content such as gambling, hate speech or adult content, rather than blocking specific sites or URLs only. This allows the network operators to block sites much more efficiently and outsources the fight against the growing amount of inappropriate content."[22]
According to the Navy, Websense enables users to block or unblock sites, based on emerging and/or dynamic threats. The NMCI blocking policy is determined by various operational commands, such as the Naval Network Warfare Command, and enforced by the Global Network Operations Center, based in Norfolk. Blocked sites are redirected to a notification page which then links to a page on NMCI's homeport Web site. On this site, a user can submit a request that a site be unblocked in order to support mission requirements.[22]"
"SERCO: 'The biggest company you've never heard of'
JULY 7, 2013 BY 21WIRE
21st Century Wire says…
As politicians asset-strip the public's portfolio of properties, infrastructure and services, one multinational corporation has grown as a result – and its scope and reach may shock many people who have not been paying attention.
All around the globe, our governments are busy outsourcing public-sector services like health, education, police, prisons, money delivery and military – to the esteemed private sector. It's sold to the public as a solution to avoiding higher taxes, while retaining better services. But it's simply an accountancy shell game, where the government kicks the can down the road by spreading the bill to the taxpayer over a longer period of time, in order to avoid any large upfront payments – all the while, allowing a private corporation to extend its influence over society. This, by definition, is fascism.
They are called SERCO, and they run countries…
The Biggest Company You've Never Heard Of

As well as thanking God for his success, CEO Chris Hyman is a Pentecostal Christian who has released a gospel album in America and fasts every Tuesday. Coincidentally he was in the World Trade Centre on 9/11 on the 47th floor addressing shareholders."
"Profiles
January 14, 2002 Issue
The Counter-Terrorist
John O'Neill was an F.B.I. agent with an obsession: the growing threat of Al Qaeda.
By Lawrence Wright
The legend of John P. O'Neill, who lost his life at the World Trade Center on September 11th, begins with a story by Richard A. Clarke, the national coördinator for counter-terrorism in the White House from the first Bush Administration until last year. On a Sunday morning in February, 1995, Clarke went to his office to review intelligence cables that had come in over the weekend. One of the cables reported that Ramzi Yousef, the suspected mastermind behind the first World Trade Center bombing, two years earlier, had been spotted in Pakistan. Clarke immediately called the F.B.I. A man whose voice was unfamiliar to him answered the phone. "O'Neill," he growled.
"Who are you?" Clarke said.
"I'm John O'Neill," the man replied. "Who the hell are you?"
O'Neill had just been appointed chief of the F.B.I.'s counter-terrorism section, in Washington. He was forty-two years old, and had been transferred from the bureau's Chicago office. After driving all night, he had gone directly to headquarters that Sunday morning without dropping off his bags. When he heard Clarke's report about Yousef, O'Neill entered the F.B.I.'s Strategic Information Operations Center (sioc) and telephoned Thomas Pickard, the head of the bureau's National Security Division in New York. Pickard then called Mary Jo White, the United States Attorney for the Southern District of New York, who had indicted Yousef in the bombing case.
One of O'Neill's new responsibilities was to put together a team to bring the suspect home. It was composed of agents who were working on the case, a State Department representative, a medical doctor, a hostage-rescue team, and a fingerprint expert whose job was to make sure that the suspect was, in fact, Ramzi Yousef. Under ordinary circumstances, the host country would be asked to detain the suspect until extradition paperwork had been signed and the F.B.I. could place the man in custody. There was no time for that. Yousef was reportedly preparing to board a bus for Peshawar. Unless he was apprehended, he would soon cross the Khyber Pass into Afghanistan, where he would be out of reach. There was only one F.B.I. agent in Pakistan at the time, along with several agents from the Drug Enforcement Administration and the State Department's diplomatic-security bureau. "Our Ambassador had to get in his car and go ripping across town to get the head of the local military intelligence," Clarke recalled. "The chief gave him his own personal aides, and this ragtag bunch of American law-enforcement officials and a couple of Pakistani soldiers set off to catch Yousef before he got on the bus." O'Neill, working around the clock for the next three days, coördinated the entire effort. At 10 a.m. Pakistan time, on Tuesday, February 7th, sioc was informed that the World Trade Center bomber was in custody.
During the next six years, O'Neill became the bureau's most committed tracker of Osama bin Laden and his Al Qaeda network of terrorists as they struck against American interests around the world. Brash, ambitious, often full of himself, O'Neill had a confrontational personality that brought him powerful enemies. Even so, he was too valuable to ignore. He was the point man in the investigation of the terrorist attacks in Saudi Arabia, East Africa, and Yemen. At a time when the Clinton Administration was struggling to decide how to respond to the terrorist threat, O'Neill, along with others in the F.B.I. and the C.I.A., realized that Al Qaeda was relentless and resourceful and that its ultimate target was America itself. In the last days of his life, after he had taken a new job as the chief of security for the World Trade Center, he was warning friends, "We're due."
…
After the millennium roundup, O'Neill suspected that Al Qaeda had sleeper cells buried in America. "He started pulling the strings in Jordan and in Canada, and in the end they all led back to the United States," Clarke said. "There was a general disbelief in the F.B.I. that Al Qaeda had much of a presence here. It just hadn't sunk through to the organization, beyond O'Neill and Dale Watson"—the assistant director of the counter-terrorism division. Clarke's discussions with O'Neill and Watson over the next few months led to a strategic plan called the Millennium After-Action Review, which specified a number of policy changes designed to root out Al Qaeda cells in the United States. They included increasing the number of Joint Terrorism Task Forces around the country; assigning more agents from the Internal Revenue Service and the Immigration and Naturalization Service to monitor the flow of money and personnel; and creating a streamlined process for analyzing information obtained from wiretaps.
…
The World Trade Center had become a symbol of America's success in fighting terrorism, and in September, 2000, the New York Joint Terrorism Task Force celebrated its twentieth anniversary in the Windows on the World restaurant. The event was attended by representatives of seventeen law-enforcement agencies, including agents from the F.B.I. and the C.I.A., New York City and Port Authority policemen, United States marshals, and members of the Secret Service. Mary Jo White praised the task force for a "close to absolutely perfect record of successful investigations and convictions." White had served eight years as the United States Attorney for the Southern District, and she had convicted twenty-five Islamic terrorists, including Yousef, six other World Trade Center bombers, the blind cleric Sheikh Omar Abdel Rahman, and nine of Rahman's followers, who had planned to blow up the Lincoln and Holland Tunnels, the United Nations headquarters, and the F.B.I. offices.
…
In July, O'Neill heard of a job opening in the private sector which would pay more than twice his government salary—that of chief of security for the World Trade Center. Although the Justice Department dropped its inquiry into the briefcase incident, the bureau was conducting an internal investigation of its own. O'Neill was aware that the Times was preparing a story about the affair, and he learned that the reporters also knew about the incident in New Jersey involving James and had classified information that probably came from the bureau's investigative files.The leak seemed to be timed to destroy O'Neill's chance of being confirmed for the N.S.C. job. He decided to retire.
O'Neill suspected that the source of the information was either Tom Pickard or Dale Watson. The antagonism between him and Pickard was well known. "I've got a pretty good Irish temper and so did John," Pickard, who retired last November, told me. But he insisted that their differences were professional, not personal. The leak was "somebody being pretty vicious to John," but Pickard maintained that he did not do it. "I'd take a polygraph to it," he said. Watson told me, "If you're asking me who leaks F.B.I. information, I have no idea. I know I don't, and I know that Tom Pickard doesn't, and I know that the director doesn't." For all the talk about polygraphs, the bureau ruled out an investigation into the source of the leak, despite an official request by Barry Mawn, in New York.
Meanwhile, intelligence had been streaming in concerning a likely Al Qaeda attack. "It all came together in the third week in June," Clarke said. "The C.I.A.'s view was that a major terrorist attack was coming in the next several weeks." On July 5th, Clarke summoned all the domestic security agencies—the Federal Aviation Administration, the Coast Guard, Customs, the Immigration and Naturalization Service, and the F.B.I.—and told them to increase their security in light of an impending attack.
On August 19th, the Times ran an article about the briefcase incident and O'Neill's forthcoming retirement, which was to take place three days later. There was a little gathering for coffee as he packed up his office.
When O'Neill told ABC's Isham of his decision to work at the Trade Center, Isham had said jokingly, "At least they're not going to bomb it again." O'Neill had replied, "They'll probably try to finish the job." On the day he started at the Trade Center—August 23rd—the C.I.A. sent a cable to the F.B.I. saying that two suspected Al Qaeda terrorists were already in the country. The bureau tried to track them down, but the addresses they had given when they entered the country proved to be false, and the men were never located.
…
On September 10th, O'Neill called Robert Tucker, a friend and security-company executive, and arranged to get together that evening to talk about security issues at the Trade Center. Tucker met O'Neill in the lobby of the north tower, and the two men rode the elevator up to O'Neill's new office, on the thirty-fourth floor. "He was incredibly proud of what he was doing," Tucker told me. Then they went to a bar at the top of the tower for a drink. Afterward, they headed uptown to Elaine's, where they were joined by their friend Jerry Hauer. Around midnight, the three men dropped in on the China Club, a night spot in midtown. "John made the statement that he thought something big was going to happen," Hauer recalled. …
Valerie James waited up for O'Neill. He didn't come in until 2:30 a.m. "The next morning, I was frosty," she recalled. "He came into my bathroom and put his arms around me. He said, 'Please forgive me.'" He offered to drive her to work, and dropped her off at eight-thirteen in the flower district, where she had an appointment, and headed to the Trade Center.
At 8:46 a.m., when American Airlines Flight 11 crashed into the north tower, John P. O'Neill, Jr., was on a train to New York, to install some computer equipment and visit his father's new office. From the window of the train he saw smoke coming from the Trade Center. He called his father on his cell phone. "He said he was O.K. He was on his way out to assess the damage," John, Jr., recalled.
At nine-twenty-five, Anna DiBattista, who was driving to Philadelphia on business, received a call from O'Neill. "The connection was good at the beginning," she recalled. "He was safe and outside. He said he was O.K. I said, 'Are you sure you're out of the building?' He told me he loved me. I knew he was going to go back in."
Wesley Wong, an F.B.I. agent who had known O'Neill for more than twenty years, raced over to the north tower to help set up a command center. "John arrived on the scene," Wong recalled. "He asked me if there was any information I could divulge. I knew he was now basically an outsider. One of the questions he asked was 'Is it true the Pentagon has been hit?' I said, 'Gee, John, I don't know. Let me try to find out.' At one point, he was on his cell phone and he was having trouble with the reception and started walking away. I said, 'I'll catch up with you later.'"
Wong last saw O'Neill walking toward the tunnel leading to the second tower. Lawrence Wright has been a staff writer at The New Yorker since 1992.
Read more
"Jerome Hauer is best known for being the director of the Office of Emergency Management (OEM) when he made the decision to build a $13 million crisis center on the 23rd floor at 7 World Trade Center.[2] This crisis center was unveiled in June 1999, and became the subject of tension between the agency and the police department, whose own command center at 1 Police Plaza had until then been the focus of emergency preparedness operations.
As the first director of the new crisis center, "one of Hauer's first tasks was to find a home for an emergency command center to replace the inadequate facilities at police headquarters," according to the Times. The site selected, was immediately controversial because it was part of the World Trade Center complex (although not in one of the Twin Towers), which had already been the location of a truck bomb attack in 1993. City officials, though, including Mr. Hauer, have long defended their decision, even after the command center had to be evacuated during the 2001 terror attack. The Emergency Operation Center was widely hailed as the finest such facility in the nation, receiving visitors from around the world and serving as a model for others. A memo revealed by Chris Wallace on Fox news showed that Hauer wanted to put the command center in Brooklyn but was forced by Guilliani to put the facility within walking distance of city hall.
The center was destroyed when the 47-story tower collapsed at about 5:25 p.m. on 9-11.
"Mueller was nominated for the position of FBI director by George W. Bush on July 5, 2001.[20] At the time, he and two other candidates, Washington lawyer George J. Terwilliger III and veteran Chicago prosecutor and white-collar crime defense lawyer Dan Webb, were up for the job, but Mueller was always considered the front runner.[21]
Terwilliger and Webb both pulled out from consideration around mid-June. Confirmation hearings for Mueller before the Senate Judiciary Committee were quickly set for July 30, only three days before his prostate cancer surgery.[22][23] The vote on the Senate floor on August 2, 2001, passed unanimously, 98–0.[24] He served as acting deputy attorney- general of the United States Department of Justice for several months before officially becoming the FBI director on September 4, 2001, just one week before the September 11 attacks against the United States.[7]"
"Mueller enlisted in the United States Marine Corps in 1968, attending training at Parris Island, Officer Candidate School, Army Ranger School, and Army jump school.[16]
"Mueller enlisted in the United States Marine Corps in 1968, attending training at Parris Island, Officer Candidate School, Army Ranger School, and Army jump school.[16] In July 1968, he was sent to South Vietnam where he served as a rifle platoon commander with Second Platoon, H Company, 2nd Battalion, 4th Marines, 3rd Marine Division;[7][17] he eventually became aide-de-camp to 3rd Marine Division's commanding general.[16] In April 1969, he received an enemy gunshot wound in the thigh, recovered, and returned to lead his platoon until June 1969.[18] For his service in and during the Vietnam War, his military decorations and awards include: the Bronze Star Medal with Combat "V", Purple Heart Medal, two Navy and Marine Corps Commendation Medalswith Combat "V", Combat Action Ribbon, National Defense Service Medal, Vietnam Service Medal with three  3⁄16″ bronze stars, Republic of Vietnam Gallantry Cross, Republic of Vietnam Campaign Medal, and Parachutist Badge.[7][19]"
"Thomas J. Pickard (born January 6, 1950) was an acting Director of the Federal Bureau of Investigation for 71 days in the summer of 2001 following the tenure of Director Louis Freeh. … In 1989, Pickard was selected for the FBI's Senior Executive Service and was transferred to FBI Headquarters, where he oversaw the FBI's finance operations and subsequently its personnel operations. In 1993, Pickard was transferred to the New York City Office once again, to serve as the Special Agent in Charge of the National Security Division, supervising such matters as the trials of the 1993 World Trade Center bombing defendants, the trial of Omar Abdel-Rahman and his co-conspirators, the Manila Air conviction of Ramzi Yousef and his associates, and the July 1996, TWA Flight 800 explosion.
On September 10, 1996, FBI Director Louis Freeh named Pickard to the position of Assistant Director in Charge of the Washington field office. During his tenure there, Pickard supervised such matters as the investigation and arrest of FBI Special Agent Earl Pitts for espionage and the capture of convicted CIA killer Mir Amir Kansi.
The FBI's bureaucracy, and Pickard in particular, has been implicated as an opponent of FBI agent John P. O'Neill. Among other disruptions of O'Neill's career was a leak to The New York Times; in the PBS Frontline documentary The Man Who Knew. O'Neill's significant other said O'Neill suspected Pickard might have leaked information to the Times, but when confronted Pickard assured O'Neill that he had not. The Times story was seen as a final signal by O'Neill that he should leave the FBI."
"So who are the ultimate controllers? To begin with, the circumstantial evidence seems to point to an operative clique primarily based out of New York City and the State of Florida. I stress the word "operative", as this clique appears to consist of subservient agents involved in laying the preparations. Once again, John O'Neill serves as an effective Rosetta Stone in interpreting the raw outlines of this operative clique (which is by no means a "rogue" clique). The FBI and CIA elements involved in counterterrorism have a checkered past. For one, Oliver North in the 1980's served as Counterterrorism Chief while he used his office as a cover to deal with such narco-terrorists as Monzar al-Kassar (who figures in the crash at Lockerbie – also investigated by Cannistraro). In the late '90's, O'Neill was transferred from the federal office of Counterrorism to the New York Counterrorism Office of the FBI – and it was the New York branch which was then designated as the primary investigator of all overseas investigations involving bin Laden. Moreover, this branch was also involved in the somewhat suspect investigation of TWA 800 – investigated by O'Neill and reported upon by ABC's John Miller, who was formerly the Deputy Police Commissioner of Public Relations for the NYPD before he joined up with ABC.
As regards New York, there is another element involved in germ warfare operations. Actually, a multi-million dollar bunker – serving as a command and control center in the event of a biological attack – was set up at 7 World Trade Center at the direction of Rudolph Giuliani, who also oversaw the mass spraying of malathion over the boroughs of New York City when the West Nile Virus hit town a few summers previously. The man Giuliani placed in charge of that operation, Jerry Hauer, also happened to be the man who found John O'Neill the position at the World Trade Center, as well as being the one who – by his own admission – identified O'Neill's body."
"Perhaps a government official from the CIA, Department of Defense, the IRS, the SEC branch investigating the infamous Wall Street corporate fraud cases, the Secret Service, or New York City's Office of Emergency Management (OEM) knows something about Building 7's odd collapse. All of those agencies strangely had offices in Building 7. The presence of OEM is particularly disturbing. They occupied a recently reinforced bunker-like space on the 23rd floor. Equipped with bulletproof windows, bomb-proof walls, and hurricane resistant windows, the office housed a sophisticated command center with top of the line military communication and logistical equipment. Perhaps Building 7 was a command center of a different kind, used as the true Ground Zero for the operation carried out on 9/11. A command center that became a crime scene after 8:46 a.m. that morning. A command center that needed to be destroyed."
"Serco Executive Maureen Baginski Receives FBI Intelligence Analysts Association Award
June 7, 2011
Serco Executive Maureen Baginski Receives FBI Intelligence Analysts Association Award
5/2/2011
RESTON, VIRGINIA – May 2, 2011 – Serco Inc., a provider of professional, technology, and management services to the federal government, is proud to announce that Maureen Baginski, Vice President of Serco's Intelligence Services, received the FBI Intelligence Analysts Association (IAA) Award. The first annual event and ceremony was held on April 12 in Washington, DC.
Ms. Baginski was recognized for her work from 2003 to 2005, when she served as the FBI's Executive Assistant Director for Intelligence. In that position, she was responsible for establishing and managing the FBI's first-ever intelligence program. She adapted FBI intelligence capabilities with information technologies to create an intelligence-sharing operation that could identify threats before they became attacks.
During the awards ceremony, James Mackey, a former FBI supervisory intelligence analyst, had these words to say about Ms. Baginski, "Ladies and gentlemen, this person, Maureen Baginski immediately established credibility through hard work the old fashioned way. She became one of the Director's tugboats, and again, through hard work…she established the FBI directorate for domestic intelligence and brought about fundamental change in the FBI, not only for you, but for the American people."
Prior to her role with the FBI, Ms. Baginski served at the National Security Agency (NSA) for 23 years, where she held a variety of positions, including Signals Intelligence (SIGINT) Director, Senior Operations Officer in the National Security Operations Center; Executive Assistant to the Director of NSA/Central Security Service, Chief Officer of the Director; Assistant Deputy Director of Technology and Systems; and lead analyst for the Soviet Union. As SIGINT Director, Ms. Baginski successfully established and directed a unified program to exploit encrypted or denied information on global networks. Leading the NSA's Signals Intelligence Directorate, the Nation's high technology cryptology organization, she managed a complex and geographically dispersed distributed information production enterprise.
"We are truly proud of Maureen and this great honor she received. She has brought to Serco the same can-do attitude she exuded while working for the FBI and she continues to lead her team here at Serco with pride and respect," said Ed Casey, Chairman and Chief Executive Officer at Serco."
1400 Total Views
2 Views Today
Please follow and like us: