Kelly 110: Wilbur Greeks' 8(a) Death Pool, Con Air Marcy's Serco Demons, BBC's Fake News On Paddock Bridge
General John F. Kelly
White House Chief of Staff
Washington, D.C. 20528
Open letter from the Cloud Centric Crime Scene Investigators of Abel Danger
October 13, 2017
Dear General Kelly:
Please accept Brief 110 from Field McConnell – the United States Marine whistle-blower and Global Operations Director of Abel Danger (AD) – on Wilbur Ross's Greek Life (Kappa Beta Phi) and CAI private-equity associates who allegedly provide death-pool bookmaker services where the times of death of victims are pre-determined by contracts with 8(a) companies through the DOD mentor-protégé program.
McConnell claims that his sister Kristine "Con Air" Marcy established a data base of blackmailed prisoners or family members who could be tracked as pedophile actors in snuff-film productions by Serco's Demon face recognition software; embedded in 8(a) companies and transported to crime scenes where they kill their victims in contracted Zulu times before, in some cases, being killed themselves on the basis that "Dead Men Tell No Tales".
McConnell claims that Marcy, the founder of the United States Senior Executive Service in 1978 and the former COO of the Small Business Administration, launched an accelerated loan guarantee program for up to 7,000 of Ross's 8(a) bankers in January 2001 where an accelerated turnaround of under 60 minutes would allow the lending banks to fund an ad hoc assassination or mass-casualty event and liquidate any evidence of 8(a) company protégés or death-pool actors present at the crime scene.
McConnell claims that Ross used Serco's 8(a) logistics companies to provide scripts to the BBC actors, television crews and journalists who framed the late Gen. Alexander Haig with foreknowledge of the Bin Laden Group attack on the World Trade Complex on 9/11 and inject fake news of the controlled demolitions of WTC #1, 2 and 7 where the BBC announced WTC7 had collapse 20 minutes before it was actually demolished.
McConnell claims that Serco's 8(a) logistics companies provided evidence needed by BBC actors, television crews and journalists to frame the late Stephen Paddock – an alleged death-pool pedophile gambler, former USPS letter carrier and former IRS/DOD auditor – for the October 1, 2017 shooting deaths at the Route 91 Harvest Music Festival near the Mandalay Bay Hotel and Casino in Las Vegas.
McConnell claims that Serco's Marine Corps Digital Fires Instructors used federal bridge certification authority networks to equip an 8(a) Serco SWAT team to transmit BBC news injects for the moment police burst into Room 135 of the 32nd Floor where the team leader declares "We got one suspect down, multiple firearms. This is definitely the point where he was firing into the crowd."
McConnell alleges that Ross's Greeks used Serco logistics companies to track probably-blackmailed presidents such as Bill Clinton and George H. W. Bush (both Phi Beta Kappa) or probably-blackmailed first ladies such as Michelle Demon and the late Eleanor Roosevelt (Alpha Kappa Alpha) through elite hotels such as The Trump Turnberry Hotel (Scotland), St. Regis Hotel (New York) or The Blackstone ("Hotel of Presidents") Hotel in Chicago and establish presidential alibis for 8(a) murder for hire.
McConnell believes that Ross's Greek-Life and private-equity groups see you and your fellow Marine Corps generals as a threat to death pool contracts where Serco extorts global control of business leaders in "Banking & Financial Services, Travel, Transportation & Hospitality, Healthcare, Logistics, Utility, Retail & Manufacturing, Telecom, IT & Online services, Media, Education and Entertainment.".
Call Field McConnell to find out how his sister's Senior Executive Service colleagues recruited the late Stephen Paddock through the Office of Personnel Management in 1978 and deployed 8(a) SWAT teams on October 1, 2017 to set up the BBC with fake news of Paddock's timelines and his bump-stock killing capability.
Las Vegas shooting: Moment police burst into gunman's room – BBC News

Las Vegas shooting: Rate of fire – inside America's arsenal – BBC News

BBC Reports 911, WTC 7 Collapse BEFORE it Happens

Kristine Marcy's Role in Shadow Government · Clipper Chip · Child Abduction

General Kelly wake up!Where is the Red Switch stand down phone General Kelly? Do your job – please!
They're Bigger Assholes Than You Ever Thought | Wall Street Secret Society Infiltrated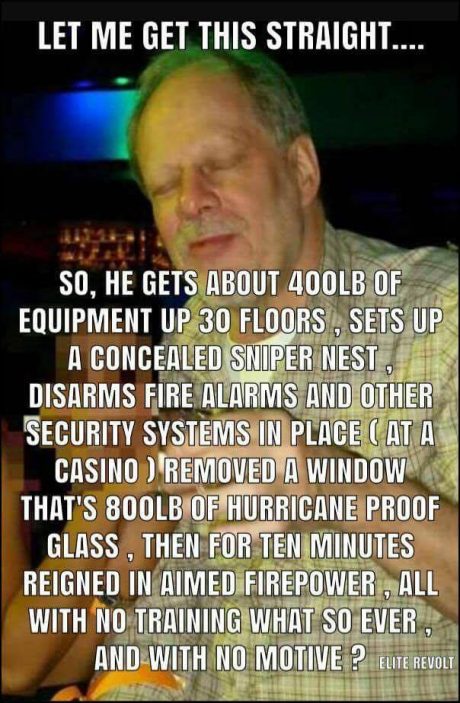 Stephen Paddock Modified His Semi-Automatic Into A Machine Gun

Las Vegas Gunman Grew Up In LA, Attended Cal State Northridge

All Pledging Activities Terminated At CSUN After Possible Hazing Incident

SERCO GROUP PLC: List of Subsidiaries AND Shareholders! [Note agents for Northern Trust and the Teachers (TIAA) Pension Fund would have met with agents of the government of Saudi Arabia on the 47th floor of WTC 1 on 9/11]

Yours sincerely,
Field McConnell
USMC 0116513
P O Box 39
Plum City WI 54761″
+001-715-307-8222
"Digital Fires Instructor Serco – [Marine Corps Base] Camp Pendleton, CA Uses information derived from all military disciplines (e.g., aviation, ground combat, command and control, combat service support, intelligence, and opposing forces) to determine changes in enemy capabilities, vulnerabilities, and probable courses of action."
"BBC Stephen Paddock: Vegas suspect a high-roller and 'psychopath'
5 October 2017
From the section US & Canada
Las Vegas concert gunman Stephen Paddock was a wealthy former accountant and high-stakes gambler who appeared to be living in quiet retirement with his girlfriend in a desert community.
The 64-year-old, of Mesquite, Nevada, had pilot's and hunting licences and no criminal record, said authorities.
One former neighbour said twice-divorced Paddock was "weird".
But his brother described him as a regular guy who liked playing video poker, live music and eating burritos.
Paddock has been identified by police as the man behind the deadliest mass shooting in modern US history, with the death toll surpassing the 49 killed at a nightclub in Orlando, Florida, in June 2016.
He opened fire from the Mandalay Bay Hotel and Casino on Sunday night, killing 58 people and wounding almost 500 others, before turning the gun on himself as police closed in, said officials.
Stephen Paddock had a troubled childhood, with a bank robber for a father, who regularly beat him, and a mother who struggled to bring him and his three brothers up, according to reports.
One of the gunman's brothers, Eric Paddock, told reporters the family were stunned.
"He liked to play video poker," he said. "He went on cruises. He sent his mother cookies."
Their father was once on the FBI's 10 Most Wanted list.
Twenty-three weapons were found in the 32nd-floor hotel room that Paddock checked into last Thursday.
Police found "in excess of" 19 firearms and thousands of rounds of ammunition in his Mesquite home, within a quiet retirement community 80 miles (130km) north-east of Las Vegas.
They also found several pounds of an explosive called tannerite, and ammonium nitrate, a type of fertiliser used as an explosive, in his car.
Stephen Paddock
From 1976 to 1985 worked as a postman, an Internal Revenue Service agent and an auditor for the Defense Contract Audit Agency
Worked for the predecessor company of Lockheed Martin in the 80s
Maintained relations with his younger brother Eric but estranged from older brothers Bruce and Patrick
Grew up in Sun Valley, California, and attended California State University in Northridge
He was married twice and had no children
Sources: US media reports
Police said no manifesto or anything else had been discovered to explain Paddock's actions.
"I can't get into the mind of a psychopath at this point," Sheriff Joseph Lombardo said.
The FBI said its agents had established no connection between Paddock and any overseas terrorist group, despite so-called Islamic State describing him as a "soldier of the caliphate".
Paddock only previous known brush with the law was a routine traffic violation.
David Famiglietti, of the New Frontier Armory, told the BBC that Paddock had purchased firearms at his store in north Las Vegas last spring, meeting all state and federal requirements, including an FBI background check.
However, the shotgun and rifle Paddock bought would not have been "capable of what we've seen and heard in the video without modification", Mr Famiglietti said.
Five reasons US gun control won't happen
Two gun stocks were found in the hotel room, AP news agency reported, which can enable a weapon to fire hundreds of shots per minute.
According to NBC News, Paddock recently made several gambling transactions in the tens of thousands of dollars, but it was unclear if those bets were wins or losses.
Bruce Paddock told NBC his brother was a multi-millionaire property investor.
Exit player
Media captionTrump on Las Vegas shooting: 'It was an act of pure evil'
He had shown no sign of financial problems and reports said he owned a number of properties that he rented out.
Separately, Eric Paddock said that Stephen came up with the cash to ensure that family members – including their elderly mother – were provided for.
"Steve took care of the people he loved. He helped make me and my family wealthy. He's the reason I was able to retire. This is the Steve we know, we knew. The people he loved and took care of," Eric Paddock said in a news conference, according to CBS News.
He described his brother as "intelligent" and "successful."
Stephen Paddock moved to his two-storey house in Mesquite from Reno, Nevada, in June 2016.
He lived in the property in Babbling Brook Court with his girlfriend Marilou Danley, 62.
What do we know about Marilou Danley?
Police have ruled out any involvement by Ms Danley, who was overseas at the time of the massacre but has now returned to the US, where she is facing questioning.
She is an Australian citizen who moved to Nevada 20 years ago, the government in Canberra said.
A former neighbour, Diane McKay, 79, told the Washington Post the couple always kept the blinds closed at home.
"He was weird," she said. "Kept to himself. It was like living next to nothing.
"You can at least be grumpy, something. He was just nothing, quiet."
Elsewhere the newspaper quoted neighbours in "several states" where Paddock owned retirement homes, describing him as "surly, unfriendly and standoffish".
But those who lived close to a house he owned in Melbourne, Florida, have described him as "very friendly".
According to US media, Paddock had a licence to fly small planes and owned two aircraft.
In 2012, he filed a negligence lawsuit against The Cosmopolitan hotel in Las Vegas, after a fall he said was caused by an "obstruction" on the floor, the Las Vegas Review Journal reported.
The legal action was reportedly dropped in 2014.
The relative lack of red flags in Paddock's personal history has only heightened the sense of bewilderment as a shocked nation asks: Why?"
"Serco's Office of Partner Relations (OPR) helps facilitate our aggressive small business utilization and growth strategies. Through the OPR, Serco mentors four local small businesses under formal Mentor Protégé Agreements: Three sponsored by DHS (Base One Technologies, TSymmetry, Inc., and HeiTech Services, Inc.,) and the fourth sponsored by GSA (DKW Communications, Inc.). Serco and HeiTech Services were awarded the 2007 DHS Mentor Protégé Team Award for exceeding our mentoring goals."
"Mentor-Protégé Program
Since 1991, the Department of Defense (DoD) Mentor-Protégé Program (MPP) has offered substantial assistance to small disadvantaged businesses. Helping them to expand the overall base of their marketplace participation has produced more jobs and increased national income.
ABOUT THIS PROGRAM
The DoD Mentor-Protégé Program assists small businesses (protégés) successfully compete for prime contract and subcontract awards by partnering with large companies (mentors) under individual, project-based agreements.
Traditionally, these partnerships have delivered a variety of products and services specialized in: environmental remediation, engineering services, information technology, manufacturing, telecommunications, and health care. Recently, new Mentor-Protégé agreements have focused on corrosion engineering, information assurance, robotics, circuit board and metal component manufacturing. The DoD hopes that future Agreements will focus on new technology areas such as radio frequency identification devices and enhanced security assurance.
Many Mentor firms have made the program an integral part of their sourcing plans; while the protégé firms have used their involvement in the program to develop much needed business and technical capabilities to diversify their customer base. Our protégé participants have established long-term business relationships with providers of government and commercial goods and services.
Successful mentor-protégé agreements provide a winning relationship for the protégé, the mentor, and the DoD."
"AOL (formerly a company known as AOL Inc., originally known as America Online, and stylized as Aol) is a web portal and online service provider based in New York. It is a brand marketed by Oath, a subsidiary of Verizon Communications. AOL was one of the early pioneers of the Internet in the mid-1990s, and the most recognized brand on the web in the U.S. It originally provided a dial-up service to millions of Americans, as well as providing a web portal, e-mail, instant messaging and later a web browser following its purchase of Netscape. At the height of its popularity, it purchased the media conglomerate Time Warner in the largest merger in U.S. history. AOL rapidly declined thereafter, partly due to the decline of dial-up to broadband.[2] AOL was eventually spun off from Time Warner in 2009, with Tim Armstrong appointed the new CEO. Under his leadership, the company invested in media brands and advertising technologies. On June 23, 2015, AOL was acquired by Verizon Communications for $4.4 billion.[3][4] In the following months, AOL also made a deal with Microsoft and acquired several tech properties, including Millennial Media and Kanvas to bolster their mobile ad-tech capabilities."
"CAI's relationship with MDA dates back to the early 1990′s when, in 1994, CAI and MDA held discussions regarding a potential acquisition of MDA by CAI. However, in 1995, MDA was subsequently sold to US-based Orbital Sciences Corporation. Nevertheless, for years following the sale of MDA to Orbital, CAI continued to explore potential investment opportunities with MDA, both as a potential partner and a prospective shareholder. In late 1999, Orbital began experiencing significant liquidity problems unrelated to MDA and was evaluating strategic alternatives to raise cash, including the sale of certain non-core assets, one of which was MDA. Due to CAI's existing familiarity with MDA and its business, CAI became management's preferred and exclusive partner to pursue and negotiate a transaction with Orbital that would satisfy Orbital's very tight time constraints. Consequently, in December 1999, CAI and one of its limited partners together acquired a 33.3% equity position in MDA from Orbital."
"Entrust has been a pioneer in the Internet security marketplace since 1994 and continues to lead the market. The company develops solutions built on enhanced security services that enable government agencies, financial institutions and Global 1000 enterprises to conduct more trusted transactions over the Internet. Entrust solutions provide identification, entitlements, verification, privacy and security management capabilities that are easier for organizations to deploy, manage and use. These capabilities help to provide a secure transaction environment, enabling greater reach, speed and return for business and government operations. Entrust pioneered public-key infrastructure (PKI) and was the first to integrate Privilege Management Infrastructure (PMI) technologies with PKI. Entrust extends this capability across multiple applications and platforms, for a variety of wired and wireless devices, and with other innovations. The company's marquee client roster boasts more than 1,200 customers, including US Dept. of State, US Dept. of Energy, US Dept of Justice, the State of Illinois, NASA, JPMorgan Chase, the U.S. Coast Guard, the UK and U.S. postal services, Lloyd's TSB, Merrill Lynch, the Government of Canada, and many more. No other Internet security enabler is better equipped to provide solutions built on the enhanced security services required for governments and businesses to move transactions online and deliver efficient and convenient e-government, e-procurement and e-commerce services"
"MGM Mirage announced today that Gen. Alexander M. Haig, Jr. has resigned from the company's board of directors. Gen. Haig has served as a director and consultant for the company since May 1990.
"We are tremendously honored that Gen. Haig has played a key role in the direction of our company for the past 19 years," said MGM Mirage chairman and chief executive officer James J. Murren. "His knowledge and expertise have been instrumental in the success and development of MGM Mirage, and we are deeply indebted to him for his contributions to our company."
Gen. Haig is chairman of Worldwide Associates, Inc., an international business advisory firm, and formerly served as the host of "World Business Review." a TV show that aired worldwide on CNBC TV.
Gen. Haig formerly held positions as vice chief of staff of the US Army (1973), White House chief of staff under Presidents Nixon and Ford (1973-74), Supreme Allied Commander of NATO Forces (1974-79), and the 59th Secretary of State under President Reagan (1981-82). He was a candidate for the Republican nomination of President of the US during 1986-1988.
Gen. Haig is also a former director of Metro-Goldwyn-Mayer, Inc., America Online, Inc. and Interneuron Pharmaceuticals, Inc".
"Base One Technologies
Expertly researches, designs, and develops information security policies that protect your data and manage your firm's information technology risk at levels acceptable to your business. Performs architectural assessments and conducts both internal and external penetration testing. The results of these efforts culminate in an extensive risk analysis and vulnerabilities report. Develops and implements multi-layer Information Security Solutions, practices and procedures. We deploy Intrusion Detection Systems (IDS) and IP Security with VPN solutions using Cisco routers, Frame Relay, firewalls, address and port translation, obscurity standards and authentication technologies (AAA, 3DES, TACACS, etcŠ), to enhance and meet the level of Data Security required for global organizations. Conducts IT Security and Risk Assessment in Federal government as well as security testing, implementing security for multiple platforms and operating systems around the world. Ability to conduct business process analysis to provide technical security countermeasures, risk management and data communications security planning for large organizations. Provides computer security integration for web server and traditional client-server based applications. We secure environments up to as many layers as required by our clients' policies, industry practices, and regulating bodies – including the desktop and user experience as required. Develops, implements and supports Information Security Counter measures such as honey-pots and evidence logging and incident documentation processes and solutions."
"111 Eighth Avenue New York, NY 10011 Description Base One Technologies, Ltd. is a DOMESTIC BUSINESS CORPORATION, located in New York, NY and was formed on Feb 15, 1994. This file was obtained from the Secretary of State and has a file number of 1795583. This business was created 7,695 days ago in the New York SOS Office and the registered agent is C T Corporation System that does business at 111 Eighth Avenue , New York in New York. Principals Liza R Zaneri Chief Executive Officer 15 Irving Place New Rochelle, NY 10801 Registered Agent C T Corporation System 111 EIGHTH AVENUE NEW YORK, NY 10011″
"SOURCE: Base One Technologies September 02, 2008 09:00 ET Base One Technologies, Inc. Continues Operations in Government Space NEW ROCHELLE, NY–(Marketwire – September 2, 2008) – Base One Technologies, Inc. is pleased to announce that it has sold its affiliate, Base One Technologies Ltd., to Apptis Inc. Base One Technologies, Inc. will continue to compete in the government space as an 8(a), HubZone and Woman Owned Small Disadvantage Company. Base One Technologies, Inc. is an IT Engineering and Technical Services company founded in 1994. Base One has a Top Secret Facilities Clearance and specializes in: Enterprise Architecture, Network Infrastructure Support, Data Security, Software & Database Services, Disaster Recovery & Contingency Planning, and Independent Validation & Verification. Base One is a privately-held organization with headquarters in New Rochelle, NY. For more information visit: www.base-one.com. Contact Information: Liza R. Zaneri Base One Technologies 914 633-0200 x205 "www.base-one.com"
"Serco Combined Resilience Exercising
http://www.epcollege.com/EPC/media/MediaLibrary/Downloads/Gold-Standard.pdf
Types of Exercise Workshop Exercises These are structured discussion events where participants can explore issues in a less pressurized environment.
They are an ideal way of developing solutions, procedures and plans rather than the focus being on decision making. Table Top Exercises These involve a realistic scenario and will follow a time line, either in real-time or with time jumps to concentrate on the more important areas. The participants would be expected to be familiar with the plans and procedures that are being used although the exercise tempo and complexity can be adjusted to suit the current state of training and readiness. Simulation and media play can be used to support the exercise. Table-top exercises help develop teamwork and allow participants to gain a better understanding of their roles and that of other agencies and organisations.
Command/Control Post Exercises These are designed primarily to exercise the senior leadership and support staff in collective planning and decision making within a strategic grouping. Ideally such exercises would be run from the real command and control locations and using their communications and information systems. This could include a mix of locations and varying levels of technical simulation support. The GoldStandard system is flexible to allow the tempo and intensity to be adjusted to ensure maximum training benefit, or to fully test and evaluate the most important aspects of a plan. Such exercises also test information flow, communications, equipment, procedures, decision making and coordination.
Simulation and Media Support The method of delivering an exercise is flexible and will be designed with the client to meet their requirements with options ranging from simple paper-based delivery through to full use of their real communications systems [Red Switch Network and Hawkeye onion router surveillance aircraft] and advance computer simulation [In Trump's death pool and war room suites]. In addition, media play can also be added in the form of news injects and the provision of experienced journalists and television crews to help test procedures and also assist in training key staff.
Gold Standard Emergency Planning College The Hawkhills, Easingwold, York North Yorkshire, YO61 3EG +44(0) 1347 821406 enquiries@emergencyplanningcollege.com www.epcollege.com"
"[CAI Private Equity Special Investor] John H. McArthur Emeritus Professor John H. McArthur was Dean of the Faculty of Harvard Business School from 1980 through 1995. Since then he has been the George F. Baker Professor of Business Administration Emeritus and Dean Emeritus. He was a member of the School's faculty from 1962, where he taught courses in corporate finance and related fields in several HBS programs while also engaging in research and course development in Europe and North America. In 1973, McArthur was appointed the Sylvan C. Coleman Professor of Financial Management, and in 1980, the George F. Baker Professor of Business Administration. From 1995 to 2005 he served as Senior Advisor to the President of The World Bank. He is currently Chair of the Asia Pacific Foundation of Canada. A native of Vancouver, British Columbia, McArthur earned the Bachelor of Commerce degree in Forestry from the University of British Columbia in 1957. At the Harvard Business School, he completed the MBA degree in 1959 and earned a doctorate there in business administration in 1963."
"Please find below the key company advisors to Serco:
Investment Bankers
N M Rothschild & Sons Limited
New Court
St Swithin's Lane
London
EC4N 8AL
Tel: +44 20 7280 5000
Fax: +44 20 7929 1643
www.rothschild.com"
"Rothschild Investments [edit]
In the late 1970s, Ross began his 24 year career at the New York City office of N M Rothschild & Sons, where he ran the bankruptcy-restructuring advisory practice.[6][8]
Representation of investors in casinos owned by Donald Trump[edit]
In the 1980s, Donald Trump was in financial trouble because of his casinos in Atlantic City. His three casinos in Atlantic City were under foreclosure threat from lenders. Ross, who was then the Senior Managing Director of Rothschild Inc., represented investors in the casino. Along with Carl Icahn, Ross convinced bondholders to strike a deal with Trump that allowed Trump to keep control of the casinos.[8][9]
Establishment of WL Ross & Co.[edit]
In the late 1990s, Ross started a $200 million fund at Rothschild to invest in distressed assets. As the U.S. bubble began to burst, he decided he wanted to invest more and advise less. In 2000, the 62-year-old banker raised $450 million to buy out the fund from Rothschild and make further investments in distressed assets.[6] The new firm was named WL Ross & Co.[8][6] Staff included four top managers who, along with Ross, make up the firm's investment committee: David H. Storper, who runs trading; David L. Wax, a longtime workout specialist; Stephen J. Toy, an Asia expert; and Pamela K. Wilson, a J.P. Morgan & Co. veteran.[7] WL Ross & Co. was acquired by Amvescap (now Invesco) in 2006.[10] In August 2016, Ross agreed to reimburse investors $11.8 million and pay a fine of $2.3 million to settle a Securities and Exchange Commission probe into the overcharging of fees by WL Ross & Co. The company had self-reported the issue to the SEC and did not admit any liability.[11]"
"CAI and our investee companies benefit from the participation of our SPECIAL INVESTORS, a group of seasoned leaders, most of whom have spent their careers running large and diverse businesses. Collectively, they have served as directors of over one hundred leading North American companies. They assist CAI and our portfolio companies by identifying and creating opportunities for investment and growth as well as, on occasion, serving on the boards of those companies.
Ralph M. Barford
Larry I. Bell
Jalynn H. Bennett
Roy F. Bennett
Peter J. G. Bentley
Richard S. Braddock
Paul G. S. Cantor
Thomas P. D'aquino
L. Yves Fortier, Q.C.
Raymond Garneau
Alexander M. Haig, Jr.
Graham O. Harrison
David L. Johnston
Pierre Lortie
Hon. Donald S. Macdonald
John H. McArthur
Hon. Frank McKenna
W. Darcy McKeough
Joseph J. Meleone
J. Edward Newall
Larence G. Pathy
Guy Saint-Pierre
Lynton R. Wilson
Walter B. Wriston
Adam H. Zimmerman"
"The National Crime Squad co-ordinated arrests of suspected paedophiles across 19 separate countries on 28 November using information supplied by Demon Internet.
The Internet service provider was approached by the National Crime Squad and agreed to allow officers to access its servers. This led to the recovery of data showing the activity of nearly 1,500 newsgroups during a two-week period.
From this data, officers established that almost 10,000 Internet Protocol (IP) addresses had accessed more than 30 of the Web sites carrying paedophilia. For operational reasons this number was whittled down to just over 400 addresses of those specifically distributing paedophiliac images.
The information was then distributed via Interpol to the countries identified with the suspects, and evidence packs on each of the targets were distributed to the relevant police forces
Detective Superintendent Peter Spindler, leading the investigation for the National Crime Squad, said: "With the assistance of Demon Internet and the support and guidance of the National High-Tech Crime Unit, we are able to show that those accessing these newsgroups did so regularly and with purpose.
"We also learnt, not surprisingly, that those abusing the Internet have learnt from recent police successes how best to protect their true identities," he added.
The National Crime Squad and Serco, its IT partner, have developed facial mapping software that they hope to use to identify the abused children featured on the paedophiliac sites."
"Serco Inc., a provider of professional, technology, and management services, announced today that the Company has been awarded a new contract to provide state-of-the-art Information Technology (IT) services in support of the U.S. Army Installation Management Command (IMCOM) Child Youth Services program. The contract has a five-year base period and five one-year option periods, and is valued at a total of $140 million, if all options are exercised.
The mission of the U.S. Army Child and Youth Services (CYS) is to deliver crucial technology, safety, and support services to the children and families of our fighting men and women, to ease the burden of ever-changing deployments. Serco will provide program management for engineering, designing, installing and maintaining technology and video surveillance services hardware; deliver Application Library Services, and ensure all accreditation standards for services and systems requirements are met. Serco will support 320 IMCOM facilities at 86 DoD locations across the U.S. and overseas.
"Serco has a 25 year history in providing military family support services and this contract places Serco at the forefront of improving the lives of Army families deployed to military installations around the globe," said Dave Dacquino, Chairman and CEO of Serco Inc. "We are proud to have the opportunity to support our leaders of tomorrow."
CHILD Youth Services. We know SERCO Cares(sarc)"
"VANCOUVER, B.C.–(BUSINESS WIRE)–June 29, 1995–MACDONALD, DETTWILER (TSE,VSE:MDA) MacDonald, Dettwiler and Associates, Ltd. announced that its data communications unit, The PSC Group, has reached an agreement with Northern Telecom Ltd. of Mississauga, Ont. Under the pact, PSC is providing certain services for a new Nortel security product called Entrust.
The PSC-Northern Telecom relationship is part of a new trend, called functional outsourcing, that is helping PSC to achieve rapid growth. Outsourcing allows independent consulting firms like PSC to provide training and other support for the customers of large multinational computer and communications companies.
Over the past two years, PSC has developed its first outsourcing relationship, with computer network equipment manufacturer Cisco Systems Inc. of San Jose, Calif. Under this relationship agreement, PSC has become a leading trainer for customers of Cisco around the world. Cisco itself is growing quickly. Its sales nearly doubled in 1994 to $1.2 billion (U.S.) and customer demand for training is very strong.
The pact with Northern Telecom is PSC's second outsourcing relationship. Under this pact, PSC ensures that Entrust software meets the highest quality standards. In addition, PSC provides post-sales service to Entrust customers worldwide, including product installation, training and ongoing support.
PSC is currently negotiating several other outsourcing pacts, under which it would provide training for other major computer equipment manufacturers. An announcement regarding one of those pacts is anticipated soon.
For the fiscal year ended March 31, 1995, PSC received nearly $6 million of revenue from its Cisco outsourcing relationship. That represented about 5 percent of MacDonald Dettwiler's total revenue of $110 million. With continued growth from Cisco, and with Northern Telecom and other relationships under negotiation, PSC expects its outsourcing revenue to approximately double during the current fiscal year.
With a staff of about 120, PSC specializes in consulting and training related mainly to computer networking. PSC helps customers design and implement networks so that computers can communicate faster and at less cost.
PSC's training is conducted from offices in Toronto, Washington D.C., London and Sydney, Australia. In addition, PSC sends instructors and portable laboratories from city to city to provide courses at locations convenient to customers. PSC has the capacity to teach in English, French, Spanish, Russian and several other languages.
MacDonald, Dettwiler and Associates provides technology-based solutions and services which address basic societal needs in earth observation, air navigation, defence applications and data communications markets.
CONTACT: Alan Bayless
Corporate Communications"
"SERCO: 'The biggest company you've never heard of'
JULY 7, 2013 BY 21WIRE
21st Century Wire says…
As politicians asset-strip the public's portfolio of properties, infrastructure and services, one multinational corporation has grown as a result – and its scope and reach may shock many people who have not been paying attention.
All around the globe, our governments are busy outsourcing public-sector services like health, education, police, prisons, money delivery and military – to the esteemed private sector. It's sold to the public as a solution to avoiding higher taxes, while retaining better services. But it's simply an accountancy shell game, where the government kicks the can down the road by spreading the bill to the taxpayer over a longer period of time, in order to avoid any large upfront payments – all the while, allowing a private corporation to extend its influence over society. This, by definition, is fascism.
They are called SERCO, and they run countries…
As well as thanking God for his success, CEO Chris Hyman is a Pentecostal Christian who has released a gospel album in America and fasts every Tuesday. Coincidentally he was in the World Trade Centre on 9/11 on the 47th floor addressing shareholders."
"Serco Processes 2 Millionth Patent Application for U.S. Patent and Trademark Office
March 19, 2013
RESTON, VIRGINIA – March 18, 2013 – Serco Inc., a leading provider of professional, technology, and management services to the federal government, announced today that their Pre-Grant Publication (PGPubs) Classification Services team recently processed their 2 millionth patent application for the U.S. Patent & Trademark Office (USPTO). Each application was also processed within the contractually required 28-day window."
2226 Total Views
1 Views Today
Please follow and like us: