Kelly 106: Wilbur's Fake Book Demon Greeks, MGM Pig Farm Equity, Paddock's Serco Digital Fires
General John F. Kelly
White House Chief of Staff
Washington, D.C. 20528
Open letter from the Cloud Centric Crime Scene Investigators of Abel Danger
October 7, 2017
Dear General Kelly:
Please accept Brief 106 from Field McConnell – the United States Marine whistle-blower and Global Operations Director of Abel Danger (AD) – on Wilbur Ross's Greek Life associates in Kappa Beta Phi who have allegedly been embedding Serco's Demon face recognition software in the federal bridge certification authority to create fake Facebook identities and attribute long-range assassination or mass-casualty events to patsies.
McConnell alleges that Ross, Serco's former investment banker at N M Rothschild and Sons Ltd., placed the late Gen. Alexander Haig as a director of MGM Mirage and a Special Investor in the CAI Private Equity Group to develop pedophile or cannibal oath-taking ceremonies at a B.C. pig farm (1996-2002) and use face-book images of child pornography or sadomasochistic sex to blackmail actors in Serco's Greek Life extortion racket.
McConnell alleges that Ross authorized Serco's Marine Corps Digital Fires Instructors to seed the MGM Mandalay Bay Hotel crime scenes with bump stock semi-automatic guns and ammo and instructed Facebook COO Sheryl Sanberg (Phi Beta Kappa) to inject fake identities into Facebook and the federal bridge to trick f##k the public into believing the late 64-year old CSUN alumnus Stephen Paddock was responsible for the deadliest mass shooting by a lone gunman in U.S. history.
McConnell alleges that Ross used CAI Special Investors led by the late Gen. Alexander Haig to inject images of Osama Bin Laden into the Global Guardian war game of September 10-12 2001 and trick f##k the public into believing a sick man on a dialysis machine in Dubai, UAE, was responsible for what Dr. Thomas Barnett described as "the first live broadcast mass snuff film in human history" on 9/11
McConnell alleges that Ross's Greek Life and private-equity friends believe you represent a threat to Serco's long-range blackmail and extortion rackets and their deep state's control of various industries including "Banking & Financial Services, Travel, Transportation & Hospitality, Healthcare, Logistics, Utility, Retail & Manufacturing, Telecom, IT & Online services, Media, Education and Entertainment."
Call Field McConnell to learn how to dismantle Ross's Deep State and Serco's Bridge of Demons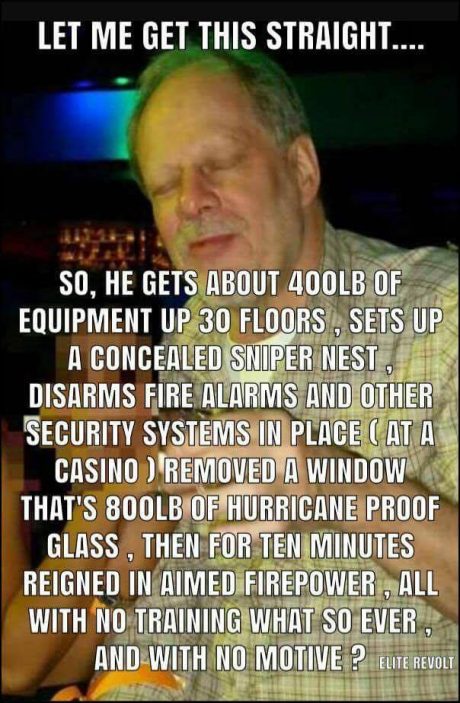 Stephen Paddock Modified His Semi-Automatic Into A Machine Gun

Las Vegas Gunman Grew Up In LA, Attended Cal State Northridge

All Pledging Activities Terminated At CSUN After Possible Hazing Incident

Las Vegas Gunman Stephen Paddock Had At Least 10 Weapons Inside Hotel Room | CNBC

SERCO GROUP PLC: List of Subsidiaries AND Shareholders! [Note agents for Northern Trust and the Teachers (TIAA) Pension Fund would have met with agents of the government of Saudi Arabia on the 47th floor of WTC 1 on 9/11]

General Kelly wake up! Abel Danger wants to know who has custody of the presidential Red Switch terminal.
Yours sincerely,
Field McConnell
USMC 0116513
P O Box 39
Plum City WI 54761″
+001-715-307-8222
"Digital Fires Instructor Serco – [Marine Corps Base] Camp Pendleton, CA Uses information derived from all military disciplines (e.g., aviation, ground combat, command and control, combat service support, intelligence, and opposing forces) to determine changes in enemy capabilities, vulnerabilities, and probable courses of action."
"Jim Murren attended Roger Ludlowe High School in Fairfield, Conn., where he played football and baseball and was a member of the National Honor Society. Murren received his undergraduate degree at Trinity College, where he studied art history and urban studies and attended Cesare Barbieri Center in Rome, Italy. He joined the Wall Street firm of Cyrus J. Lawrence as a securities analyst, and earned the Chartered Financial Analyst certification in 1991. He was elected a member of the firm's Board of Directors, becoming the youngest member ever of the company's board. During his career on Wall Street he brought about a pivotal recapitalization of MGM Grand, Inc. in 1996, and served as a Managing Director and the Director of U.S. equity research for Deutsche Bank."
"Among the company's [MGM's] management ranks, more than 38 percent are minorities and nearly 43 percent are women.[21] The company continues to receive wide recognition for its diversity and inclusion initiatives, such as: 40 Best Companies for Diversity (Black Enterprise Magazine),[22] Top 10 Companies for Latinos (DiversityInc Magazine),[23] Best Places to Work for LGBT Equality (Human Rights Campaign Foundation),[24] Top 10 Regional Companies (DiversityInc)[25] Top 100 Companies for MBA Students (Universum Global) and Top Corporation for Women's Business Enterprises (Women's Business Enterprise National Council).[26] FORTUNE magazine has named MGM Resorts one of the World's Most Admired Companies.[27]"
"MGM Mirage announced today that Gen. Alexander M. Haig, Jr. has resigned from the company's board of directors. Gen. Haig has served as a director and consultant for the company since May 1990.
"We are tremendously honored that Gen. Haig has played a key role in the direction of our company for the past 19 years," said MGM Mirage chairman and chief executive officer James J. Murren. "His knowledge and expertise have been instrumental in the success and development of MGM Mirage, and we are deeply indebted to him for his contributions to our company."
Gen. Haig is chairman of Worldwide Associates, Inc., an international business advisory firm, and formerly served as the host of "World Business Review." a TV show that aired worldwide on CNBC TV.
Gen. Haig formerly held positions as vice chief of staff of the US Army (1973), White House chief of staff under Presidents Nixon and Ford (1973-74), Supreme Allied Commander of NATO Forces (1974-79), and the 59th Secretary of State under President Reagan (1981-82). He was a candidate for the Republican nomination of President of the US during 1986-1988.
Gen. Haig is also a former director of Metro-Goldwyn-Mayer, Inc., America Online, Inc. and Interneuron Pharmaceuticals, Inc".
"It also seemed to increase his [Haig's] taste for the administrative and political aspects of military life. In 1959 he enrolled on a military staff course and then went on to a further course at Georgetown University in Washington, where American diplomats trained. The thesis for his Georgetown master's degree showed how his ambitions were developing. It spoke of the need for a new breed of military professional occupying a prominent seat among presidential advisers. It also gave an early glimpse of his tormented prose, with incomprehensible references to "interpretive vagaries" and "a permeating nexus"."
"[Sheryl] Sandberg was born in 1969 in Washington, D.C. to a Jewish family,[9] the daughter of Adele (née Einhorn) and Joel Sandberg, and the oldest of three children.[4][10] Her father is an ophthalmologist and her mother was a college teacher of French language.[9]
Her family moved to North Miami Beach, Florida, when she was 2 years old.[9] She attended North Miami Beach High School, where she was "always at the top of her class", and graduated ninth in her class with a 4.646 grade point average.[9][11] She was sophomore class president, became a member of the National Honor Society, and was on the senior class executive board.[11] Sandberg taught aerobics in the 1980s while in high school.[12]
In 1987, Sandberg enrolled at Harvard College. She graduated in 1991 summa cum laude Phi Beta Kappa[13] with a bachelor's degree in economics and was awarded the John H. Williams Prize for the top graduating student in economics.[14] While at Harvard, she co-founded an organization called Women in Economics and Government.[11] She met then-professor Larry Summers, who became her mentor and thesis adviser.[15]Summers recruited her to be his research assistant at the World Bank,[9] where she worked for approximately one year on health projects in India dealing with leprosy, AIDS, and blindness.[16]
In 1993, she enrolled at Harvard Business School and in 1995 she earned her MBA with highest distinction.[14] In her first year of business school, she earned a fellowship.[17]
Career[edit]
Early career[edit]
After graduating from business school in the spring of 1995, Sandberg worked as a management consultant for McKinsey & Company for approximately one year (1995-1996). From 1996 to 2001 she again worked for Larry Summers, who was then serving as the United States Secretary of the Treasury under President Bill Clinton. Sandberg assisted in the Treasury's work on forgiving debt in the developing world during the Asian financial crisis.[16]
When the Republicans gained the US Presidency in November 2000, Sandberg left her job. She then moved to Silicon Valley in 2001 and joined Google Inc., serving as its Vice President of Global Online Sales and Operations from November 2001 to March 2008.[18] She was responsible for online sales of Google's advertising and publishing products as well as for sales operations of Google's consumer products and Google Book Search.[19]
Facebook[edit]
In late 2007, Mark Zuckerberg, co-founder and chief executive of Facebook, met Sandberg at a Christmas party held by Dan Rosensweig.[9] Zuckerberg had no formal search for a COO, but thought of Sandberg as "a perfect fit" for this role.[9] In March 2008, Facebook announced hiring Sandberg away from Google for the role of COO.[20]
After joining the company, Sandberg quickly began trying to figure out how to make Facebook profitable. Before she joined, the company was "primarily interested in building a really cool site; profits, they assumed, would follow."[9] By late spring, Facebook's leadership had agreed to rely on advertising, "with the ads discreetly presented"; by 2010, Facebook became profitable.[9] According to Facebook, she oversees the firm's business operations including sales, marketing, business development, human resources, public policy, and communications.[21]
In 2012 she became the eighth member (and the first woman) of Facebook's board of directors.[22]
In April 2014, it was reported that Sandberg had sold over half of her shares in Facebook since the company went public. At the time of Facebook's IPO she held approximately 41 million shares in the company; after several rounds of sales she is left with around 17.2 million shares, a 0.5% stake in the company, worth about $1 billion.[23]
Boards[edit]
In 2009 Sandberg was named to the board of The Walt Disney Company.[24] She also serves on the boards of Women for Women International, the Center for Global Development and V-Day.[21] She was previously a board member of Starbucks with a $280,000 annual salary,[25] Brookings Institution and Ad Council.
Other work and ventures[edit]
In 2008 Sandberg wrote an article for The Huffington Post in support of her mentor, Larry Summers, who was under fire for his comments about women.[26] She was a keynote speaker at the Jewish Community Federation's Business Leadership Council in 2010.[27] In December 2010, she gave a TED speech titled "Why we have too few women leaders."[28] In May 2011 she gave the Commencement Address at the Barnard College graduation ceremony.[29] She spoke as the keynote speaker at the Class Day ceremony at the Harvard Business School in May 2012.[30] In April 2013, she was the keynote speaker for Colgate University's second annual Entrepreneur Weekend.[31] In 2015 she signed an open letter which the ONE Campaign had been collecting signatures for; the letter was addressed to Angela Merkel and Nkosazana Dlamini-Zuma, urging them to focus on women as they serve as the head of the G7 in Germany and the AU in South Africa respectively, which will start to set the priorities in development funding before a main UN summit in September 2015 that will establish new development goals for the generation.[32]"

"Las Vegas shooter Stephen Paddock was a Cal State Northridge graduate, university confirms
By WES WOODS | Southern California News Group
PUBLISHED: October 4, 2017 at 7:00 am | UPDATED: October 4, 2017 at 7:57 am
Cal State Northridge students were mostly stunned Tuesday upon learning the man accused of fatally shooting 58 people and wounding hundreds more in Las Vegas Sunday night was a graduate of their university.
Related Articles
Stephen Paddock may have eyed Lollapalooza for an attack, report says
Clues few and elusive for motive of Las Vegas gunman Stephen Paddock
Video: Bay Area man's 2 minutes, 47 seconds of terror in Las Vegas
Las Vegas gunman's secret life thwarts investigators' hunt for motive
Vegas shooting victim: 'I wasn't ready to die'
"That's crazy man," said Sergio Martinez, 22, of Montebello, a senior who is majoring in business at the university. "I have no words to be honest … I feel shocked."
Late Monday, CSUN officials learned Stephen Paddock attended the university and completed a degree in business administration in 1977, campus spokeswoman Carmen Ramos Chandler said in a statement.
"Immediately, CSUN's Chief of Police was contacted, and university officials shared this information with investigators in Las Vegas," Chandler said.
Authorities said 58 people were killed and nearly 530 injured in Paddock's attack on the Route 91 Harvest Festival, where country music star Jason Aldean was performing for more than 22,000 fans.
It was the worst mass shooting in modern U.S. history. The 64-year-old gunman killed himself in his hotel room on the 32nd floor before a SWAT team blew off the door of his room.
He had 23 guns with him at the hotel — along with devices that can enable a rifle to fire continuously, like an automatic — and 19 more guns at one of his homes, authorities said."
"Third Cal State Northridge fraternity suspended over hazing allegations
Family and friends of Armando Villa, who died in a hazing incident, rally in July 2014 to call for an end to fraternity hazing at Cal State Northridge.
(Luis Sinco / Los Angeles Times)
Veronica Rocha
Tau Kappa Epsilon suspended from performing fraternity activities at CSUN
A third fraternity at Cal State Northridge has been suspended after an investigation of hazing and sexual misconduct allegations, officials said.
Tau Kappa Epsilon was stripped of all its Greek duties and will no longer be recognized as a fraternity, CSUN spokesman Jeff Noblitt said. The suspension took effect Jan. 21 and ends July 20, 2018, at which time the fraternity's future will come under review.
"CSUN has a zero-tolerance policy for hazing," Noblitt said.
The suspension comes after school officials investigated a hazing incident that occurred during a fall 2013 retreat. School officials believe sexual misconduct also occurred during that time, but that it was reported later.
Noblitt said a pledge was asked to take a photograph of a female student with the fraternity's letter written across her chest, but he declined and reported it.
The latest suspension comes after CSUN banned all pledging activity on campus while school officials come up with a thorough plan for the Greek system.
The university's move to suspend pledging was done in part to "change the culture" within the Greek system, Noblitt said.
The news follows the death of CSUN student Armando Villa, 19.
Villa became dehydrated July 1 during a mandatory hike while pledging for Pi Kappa Phi, which has since been shut down. School officials said the hike was part of a hazing incident and that Villa had hoped to join the fraternity.
University officials also suspended the Zeta Omicron chapter of Pi Kappa Alpha in October over allegations of hazing.
The fraternity is banned from operating on campus for six years.
For breaking news in California, follow @VeronicaRochaLA"
"Defense Ammunition Center (DAC) Contract Type Fixed Price Period of Performance 10/1/2008 to 9/30/2013
Project Overview: Since 2008, Serco has assisted DAC with the analysis, design, development, implementation, management/ administration, and evaluation of integrated, enterprise-wide and component-specific training, learning, knowledge management, and strategic human resource management interventions that are critical to achieving their mission. Serco holds an OPM TMA TO with DAC and also a contract through GSA Millenia Lite. When the GSA contract could not support all of DACs needs, Serco recommended the use of the OPM TMA vehicle. Through these contracts, Serco provides training program management support to deliver multi-faceted best practice solutions in training development and delivery, knowledge management, portal technologies, course conversions (ILT and CBT to WBT), mobile performance applications, and Learning Management Systems support. Serco applies the ADDIE model to all course development activities including ILT, WBT, and leading-edge technologies including mobile performance applications. Serco provided LMS support and also developed and continues to manage DAC's Ammunition Community of Excellence.""
"Serco Combined Resilience Exercising
http://www.epcollege.com/EPC/media/MediaLibrary/Downloads/Gold-Standard.pdf
Types of Exercise Workshop Exercises These are structured discussion events where participants can explore issues in a less pressurized environment.
They are an ideal way of developing solutions, procedures and plans rather than the focus being on decision making. Table Top Exercises These involve a realistic scenario and will follow a time line, either in real-time or with time jumps to concentrate on the more important areas. The participants would be expected to be familiar with the plans and procedures that are being used although the exercise tempo and complexity can be adjusted to suit the current state of training and readiness. Simulation and media play can be used to support the exercise. Table-top exercises help develop teamwork and allow participants to gain a better understanding of their roles and that of other agencies and organisations.
Command/Control Post Exercises These are designed primarily to exercise the senior leadership and support staff in collective planning and decision making within a strategic grouping. Ideally such exercises would be run from the real command and control locations and using their communications and information systems. This could include a mix of locations and varying levels of technical simulation support. The GoldStandard system is flexible to allow the tempo and intensity to be adjusted to ensure maximum training benefit, or to fully test and evaluate the most important aspects of a plan. Such exercises also test information flow, communications, equipment, procedures, decision making and coordination.
Simulation and Media Support The method of delivering an exercise is flexible and will be designed with the client to meet their requirements with options ranging from simple paper-based delivery through to full use of their real communications systems [Red Switch Network and Hawkeye onion router surveillance aircraft] and advance computer simulation [In Trump's death pool and war room suites]. In addition, media play can also be added in the form of news injects and the provision of experienced journalists and television crews to help test procedures and also assist in training key staff.
Gold Standard Emergency Planning College The Hawkhills, Easingwold, York North Yorkshire, YO61 3EG +44(0) 1347 821406 enquiries@emergencyplanningcollege.com www.epcollege.com"
"Robert William "Willy" Pickton (born October 24, 1949)[2] of Port Coquitlam, British Columbia, Canada, is a Canadian serial killer convicted in 2007 of the second-degree murders of six women. He attended UBC and was a member of Phi Delta Theta.[3][4]He was also charged with the deaths of an additional 20 women,[5] many of them from Vancouver's Downtown Eastside; however, these charges were stayed by the Crown in 2010.[6] In December 2007, he was sentenced to life in prison, with no possibility of parole for 25 years – the longest sentence then available for murder under Canadian law.[7]"
"Der komplette Artikel vom 21.8.99 (http://www.vancouversun.com/newsite/news/990821/2754619.html) Shareholders in Starnet, an Internet gambling provider, react with a massive selloff. Police raided Internet gambling and pornography rovider Starnet Communications Inc. early Friday, alleging the publicly traded company was involved in illegal gambling, gaming, betting and distribution of prohibited pornography. .. But all that came crashing down Friday, when more than 100 police officers from the RCMP, Coordinated Law Enforcement Unit, Vancouver Police, and other agencies descended upon Starnet`s offices at 425 Carrall Street in Vancouver. The raid was a culmination of an 18-month investigation into Starnet's activities, including its Web-based gambling business and live Internet sex shows. Search warrant documents indicate the police believe Starnet was not only involved in illegal gambling and bet-taking, but also possession and distribution of obscene material and child pornography."
"In 1987, Sandberg enrolled at Harvard College. She graduated in 1991 summa cum laude Phi Beta Kappa[13] with a bachelor's degree in economics and was awarded the John H. Williams Prize for the top graduating student in economics.[14] While at Harvard, she co-founded an organization called Women in Economics and Government.[11] She met then-professor Larry Summers, who became her mentor and thesis adviser.[15]Summers recruited her to be his research assistant at the World Bank,[9] where she worked for approximately one year on health projects in India dealing with leprosy, AIDS, and blindness.[16] In 1993, she enrolled at Harvard Business School and in 1995 she earned her MBA with highest distinction.[14] In her first year of business school, she earned a fellowship.[17]"
"[CAI Private Equity Special Investor] John H. McArthur Emeritus Professor John H. McArthur was Dean of the Faculty of Harvard Business School from 1980 through 1995. Since then he has been the George F. Baker Professor of Business Administration Emeritus and Dean Emeritus. He was a member of the School's faculty from 1962, where he taught courses in corporate finance and related fields in several HBS programs while also engaging in research and course development in Europe and North America. In 1973, McArthur was appointed the Sylvan C. Coleman Professor of Financial Management, and in 1980, the George F. Baker Professor of Business Administration. From 1995 to 2005 he served as Senior Advisor to the President of The World Bank. He is currently Chair of the Asia Pacific Foundation of Canada. A native of Vancouver, British Columbia, McArthur earned the Bachelor of Commerce degree in Forestry from the University of British Columbia in 1957. At the Harvard Business School, he completed the MBA degree in 1959 and earned a doctorate there in business administration in 1963."
"Please find below the key company advisors to Serco:
Auditors
Principal Bankers
Investment Bankers
N M Rothschild & Sons Limited
New Court
St Swithin's Lane
London
EC4N 8AL
Tel: +44 20 7280 5000
Fax: +44 20 7929 1643
www.rothschild.com"
"Rothschild Investments [edit]
In the late 1970s, Ross began his 24 year career at the New York City office of N M Rothschild & Sons, where he ran the bankruptcy-restructuring advisory practice.[6][8]
Representation of investors in casinos owned by Donald Trump[edit]
In the 1980s, Donald Trump was in financial trouble because of his casinos in Atlantic City. His three casinos in Atlantic City were under foreclosure threat from lenders. Ross, who was then the Senior Managing Director of Rothschild Inc., represented investors in the casino. Along with Carl Icahn, Ross convinced bondholders to strike a deal with Trump that allowed Trump to keep control of the casinos.[8][9]
Establishment of WL Ross & Co.[edit]
In the late 1990s, Ross started a $200 million fund at Rothschild to invest in distressed assets. As the U.S. bubble began to burst, he decided he wanted to invest more and advise less. In 2000, the 62-year-old banker raised $450 million to buy out the fund from Rothschild and make further investments in distressed assets.[6] The new firm was named WL Ross & Co.[8][6] Staff included four top managers who, along with Ross, make up the firm's investment committee: David H. Storper, who runs trading; David L. Wax, a longtime workout specialist; Stephen J. Toy, an Asia expert; and Pamela K. Wilson, a J.P. Morgan & Co. veteran.[7] WL Ross & Co. was acquired by Amvescap (now Invesco) in 2006.[10] In August 2016, Ross agreed to reimburse investors $11.8 million and pay a fine of $2.3 million to settle a Securities and Exchange Commission probe into the overcharging of fees by WL Ross & Co. The company had self-reported the issue to the SEC and did not admit any liability.[11]"

"The National Crime Squad co-ordinated arrests of suspected paedophiles across 19 separate countries on 28 November using information supplied by Demon Internet.
The Internet service provider was approached by the National Crime Squad and agreed to allow officers to access its servers. This led to the recovery of data showing the activity of nearly 1,500 newsgroups during a two-week period.
From this data, officers established that almost 10,000 Internet Protocol (IP) addresses had accessed more than 30 of the Web sites carrying paedophilia. For operational reasons this number was whittled down to just over 400 addresses of those specifically distributing paedophiliac images.
The information was then distributed via Interpol to the countries identified with the suspects, and evidence packs on each of the targets were distributed to the relevant police forces
Detective Superintendent Peter Spindler, leading the investigation for the National Crime Squad, said: "With the assistance of Demon Internet and the support and guidance of the National High-Tech Crime Unit, we are able to show that those accessing these newsgroups did so regularly and with purpose.
"We also learnt, not surprisingly, that those abusing the Internet have learnt from recent police successes how best to protect their true identities," he added.
The National Crime Squad and Serco, its IT partner, have developed facial mapping software that they hope to use to identify the abused children featured on the paedophiliac sites."
"Serco Inc., a provider of professional, technology, and management services, announced today that the Company has been awarded a new contract to provide state-of-the-art Information Technology (IT) services in support of the U.S. Army Installation Management Command (IMCOM) Child Youth Services program. The contract has a five-year base period and five one-year option periods, and is valued at a total of $140 million, if all options are exercised.
The mission of the U.S. Army Child and Youth Services (CYS) is to deliver crucial technology, safety, and support services to the children and families of our fighting men and women, to ease the burden of ever-changing deployments. Serco will provide program management for engineering, designing, installing and maintaining technology and video surveillance services hardware; deliver Application Library Services, and ensure all accreditation standards for services and systems requirements are met. Serco will support 320 IMCOM facilities at 86 DoD locations across the U.S. and overseas.
"Serco has a 25 year history in providing military family support services and this contract places Serco at the forefront of improving the lives of Army families deployed to military installations around the globe," said Dave Dacquino, Chairman and CEO of Serco Inc. "We are proud to have the opportunity to support our leaders of tomorrow."
CHILD Youth Services. We know SERCO Cares(sarc)"
"A face book or facebook is a printed or web directory found at some American universities consisting of individuals' photographs and names. …. Colleges and universities in the United States have often published official or unofficial books listing their students, faculty, or staff, together with pictures and limited biographical data.[1] By the early 2000s, some face books were being published online offering a number of new features, including password protection, more detailed information, more advanced indexing and searching, and the ability for people to upload and enter information and photographs.[1][2]
In early 2004, Mark Zuckerberg, a sophomore at Harvard University, created an unofficial online face book at the website "thefacebook.com", the forerunner of the Facebook service, out of frustration that the university's official online face book project was taking too long.[2] The development of a campus-wide face book had previously been stalled by privacy concerns, many of which became prominent in November 2003 when Zuckerberg was accused of breaching security and violating copyrights and individual privacy. Zuckerberg had created a website, www.facemash.com, that used photos taken without authorization from Harvard House-based face books, using the photos in a system to rate the attractiveness of students.[3]
"VANCOUVER, B.C.–(BUSINESS WIRE)–June 29, 1995–MACDONALD, DETTWILER (TSE,VSE:MDA)
MacDonald, Dettwiler and Associates, Ltd. announced that its data communications unit, The PSC Group, has reached an agreement with Northern Telecom Ltd. of Mississauga, Ont. Under the pact, PSC is providing certain services for a new Nortel security product called Entrust.
The PSC-Northern Telecom relationship is part of a new trend, called functional outsourcing, that is helping PSC to achieve rapid growth. Outsourcing allows independent consulting firms like PSC to provide training and other support for the customers of large multinational computer and communications companies.
Over the past two years, PSC has developed its first outsourcing relationship, with computer network equipment manufacturer Cisco Systems Inc. of San Jose, Calif. Under this relationship agreement, PSC has become a leading trainer for customers of Cisco around the world. Cisco itself is growing quickly. Its sales nearly doubled in 1994 to $1.2 billion (U.S.) and customer demand for training is very strong.
The pact with Northern Telecom is PSC's second outsourcing relationship. Under this pact, PSC ensures that Entrust software meets the highest quality standards. In addition, PSC provides post-sales service to Entrust customers worldwide, including product installation, training and ongoing support.
PSC is currently negotiating several other outsourcing pacts, under which it would provide training for other major computer equipment manufacturers. An announcement regarding one of those pacts is anticipated soon.
For the fiscal year ended March 31, 1995, PSC received nearly $6 million of revenue from its Cisco outsourcing relationship. That represented about 5 percent of MacDonald Dettwiler's total revenue of $110 million. With continued growth from Cisco, and with Northern Telecom and other relationships under negotiation, PSC expects its outsourcing revenue to approximately double during the current fiscal year.
With a staff of about 120, PSC specializes in consulting and training related mainly to computer networking. PSC helps customers design and implement networks so that computers can communicate faster and at less cost.
PSC's training is conducted from offices in Toronto, Washington D.C., London and Sydney, Australia. In addition, PSC sends instructors and portable laboratories from city to city to provide courses at locations convenient to customers. PSC has the capacity to teach in English, French, Spanish, Russian and several other languages.
MacDonald, Dettwiler and Associates provides technology-based solutions and services which address basic societal needs in earth observation, air navigation, defence applications and data communications markets.
CONTACT: Alan Bayless
Corporate Communications
604/278-3411″
"SERCO: 'The biggest company you've never heard of'
JULY 7, 2013 BY 21WIRE
21st Century Wire says…
As politicians asset-strip the public's portfolio of properties, infrastructure and services, one multinational corporation has grown as a result – and its scope and reach may shock many people who have not been paying attention.
All around the globe, our governments are busy outsourcing public-sector services like health, education, police, prisons, money delivery and military – to the esteemed private sector. It's sold to the public as a solution to avoiding higher taxes, while retaining better services. But it's simply an accountancy shell game, where the government kicks the can down the road by spreading the bill to the taxpayer over a longer period of time, in order to avoid any large upfront payments – all the while, allowing a private corporation to extend its influence over society. This, by definition, is fascism.
They are called SERCO, and they run countries…
The Biggest Company You've Never Heard Of

As well as thanking God for his success, CEO Chris Hyman is a Pentecostal Christian who has released a gospel album in America and fasts every Tuesday. Coincidentally he was in the World Trade Centre on 9/11 on the 47th floor addressing shareholders."
"CIA agent alleged to have met Bin Laden in July
French report claims terrorist leader stayed in Dubai hospital
Anthony Sampson
Thursday 1 November 2001 03.17 GMT
Two months before September 11 Osama bin Laden flew to Dubai for 10 days for treatment at the American hospital, where he was visited by the local CIA agent, according to the French newspaper Le Figaro.
The disclosures are known to come from French intelligence which is keen to reveal the ambiguous role of the CIA, and to restrain Washington from extending the war to Iraq and elsewhere.
Bin Laden is reported to have arrived in Dubai on July 4 from Quetta in Pakistan with his own personal doctor, nurse and four bodyguards, to be treated in the urology department. While there he was visited by several members of his family and Saudi personalities, and the CIA.
The CIA chief was seen in the lift, on his way to see Bin Laden, and later, it is alleged, boasted to friends about his contact. He was recalled to Washington soon afterwards.
Intelligence sources say that another CIA agent was also present; and that Bin Laden was also visited by Prince Turki al Faisal, then head of Saudi intelligence, who had long had links with the Taliban, and Bin Laden. Soon afterwards Turki resigned, and more recently he has publicly attacked him in an open letter: "You are a rotten seed, like the son of Noah".
The American hospital in Dubai emphatically denied that Bin Laden was a patient there.
Washington last night also denied the story.
Private planes owned by rich princes in the Gulf fly frequently between Quetta and the Emirates, often on luxurious "hunting trips" in territories sympathetic to Bin Laden. Other sources confirm that these hunting trips have provided opportunities for Saudi contacts with the Taliban and terrorists, since they first began in 1994.
Bin Laden has often been reported to be in poor health. Some accounts claim that he is suffering from Hepatitis C, and can expect to live for only two more years.
According to Le Figaro, last year he ordered a mobile dialysis machine to be delivered to his base at Kandahar in Afghanistan.
Whether the allegations about the Dubai meeting are confirmed or not, the wider leaks from the French secret service throw a worrying light on the rivalries and lack of coordination between intelligence agencies, both within the US and between western allies.
A familiar complaint of French intelligence is that collaboration with the Americans has been essentially one-way, with them happy to receive information while giving little in return."
"Serco Processes 2 Millionth Patent Application for U.S. Patent and Trademark Office March 19, 2013 RESTON, VIRGINIA – March 18, 2013 – Serco Inc., a leading provider of professional, technology, and management services to the federal government, announced today that their Pre-Grant Publication (PGPubs) Classification Services team recently processed their 2 millionth patent application for the U.S. Patent & Trademark Office (USPTO). Each application was also processed within the contractually required 28-day window."
1950 Total Views
2 Views Today
Please follow and like us: