#2740: FAF Clinton's Rwanda Propaganda – Hotel Serco's Zulu Bets With 8(a) Servers – Feminists Bank On Genocide
United States Marine Field McConnell 
Plum City Online – (AbelDanger.net) 
1. Abel Danger (AD) claims that Hillary Clinton launched a French American Foundation (FAF) propaganda war on Rwanda in 1994 by synchronizing news of the shoot down of the plane – allegedly using British-supplied missiles – carrying then Rwandan president Juvénal Habyarimana with scripts read by Valérie Bemeriki on Radio Télévision Libre des Mille Collines which identified the chief suspects as Tutsi 'cafards' or cockroaches.
2. AD claims that in 1994, Hillary Clinton's aides ordered a Serco 8(a) protégée company Base One Technologies to equip elite hotels and State Department offices with servers to track assassins to crime scenes so Clinton friends could bet on victim deaths in Zulu time.
3. AD claims that Serco's bank shareholders sponsor the French American Foundation propaganda attacks and allegedly hired Bemeriki as a Rwandan radio station presenter to promote the Rwandan Genocide and help the banks exterminate nearly one million people whom Hillary Clinton's elite feminists call "mindless breeders and useless breathers".
4. United States Marine Field McConnell offers to show Donald Trump how to win the French American Foundation domestic and foreign propaganda wars and bring Clinton's feminists and bankers to justice for their role in the Rwanda and subsequent genocides (https://abeldanger.blogspot.com/2010/01/field-mcconnell-bio.html).
Rwanda – Radio Mille Colline: istigazioni al genocidio
HOTEL RWANDA (2004) – Official Movie Trailer
Les Genocidaires – Check Henri de Castries!
Rwanda Genocide documentary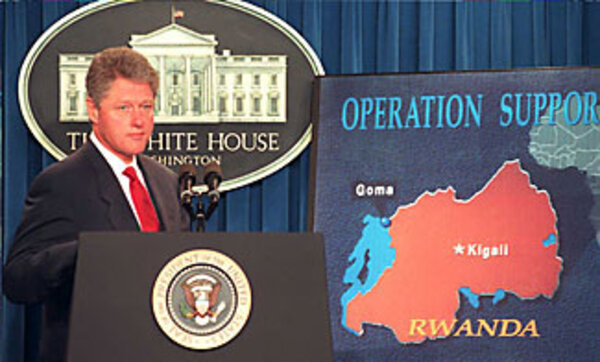 WAG THE DOG – Trailer – (1997) – HQ
The 9/11 Hotel – Part 1 of 5
Comey: Clinton Made United States Secrets Vulnerable To Hostile Actors
Copy of SERCO GROUP PLC: List of Subsidiaries AND Shareholders! [Note HSBC, British and Saudi Governments and Goldman Sachs]
Top HSBC [Serco's dirty banker] Executive Arrested In US For Front-Running Trades
White's Club death-bet bookmaker service dates back to 1743 only the technology to spot fix the Zulu time of victim death has changed.
Defense Ammunition Center [Outsourced to Serco]
Serco… Would you like to know more? 
"Digital Fires Instructor Serco – Camp Pendleton, CA Uses information derived from all military disciplines (e.g., aviation, ground combat, command and control, combat service support, intelligence, and opposing forces) to determine changes in enemy capabilities, vulnerabilities, and probable courses of action."

"Support Services for Starwood Hotels Group Starwood Hotels Group, owner of some of the world's most prestigious hotels, has appointed Serco as preferred bidder for a £7m contract to provide a range of support services to the Sheraton Grand in Edinburgh, the Westin in Dublin and the 5 star [Trump] Turnberry resort on Scotland's west coast. The contract, which has a 5 year term, is an extension to services already provided to other hotels in the Starwood Group and includes buildings maintenance and security, engineering support and help desk services"

"Shooting down the 'truth' about Rwanda ESSAY: Barrie Collins exposes the fictions of those claiming to know who killed the Rwandan president in 1994.

16 APRIL 2012 At a news conference in Paris earlier this year, one of the most contentious issues in the recent history of Rwanda appeared to be approaching resolution: the identity of who shot down the plane carrying then Rwandan president Juvénal Habyarimana in 1994.

A section of Bruguière's report is worth citing:

"That as to these missile-launchers, Abdul Ruzibiza stated that while he was at the RPF headquarters in Mulindi he learned that the SAMs, which had come from the Ugandan arsenal in the beginning of January 1994, had been introduced into the CND [the RPF's base] in Kigali hidden on board a Mercedes truck transporting firewood; and, he added, that he had heard of talk about a training programme in Uganda in January 1993 for RPA personnel, which included enlisted men Eric Hakizimana, Stevens Twagira and Andrews Nyavumba, all members of the 'Missiles Section' under the command of Lt, Alphonse Kayumba and his adjutant Lt, Franck Nziza; and that, in discussing the final stage of operation, he went on to state that, knowing the approximate time of arrival of the president's flight and identifying the Falcon 50 by its characteristic engine noise, Eric Hakizimana fired the first missile, which missed the target, and that it was the second missile fired by Franck Nziza that hit the plane and caused it to explode in flight; and he added that at the end of this operation the hit-team fled, leaving the two empty missile-launcher tubes behind; and that furthermore, Abdul Ruzibiza learned that around 5.30 pm, Lt-Col. Charles Kayonga received a call from Paul Kagame alerting him to the return of the president's plane and that he must not miss the operation, and that at the moment of the attack, Charles Kayonga, who was posted on the top floor of the CND, saw the plane explode; and that Paul Kagame, informed of the success of the operation by Lt-Col, James Kabarebe, immediately ordered the RPA units to move out…' …

Just as Kagame needs death squads to silence his opponents, so Washington and London – and now Paris – need to keep Kagame in office. They know that if Kagame falls, all the certainties surrounding the genocide in Rwanda that are trotted out to justify the Western record in central Africa will fall with them. And the extent of their complicity in the RPF's war and atrocities will no longer be shrouded in the mist of disinformation. This is why we have an extraordinary set of affairs where British foreign aid directly funds the budget of the government of Rwanda, and at the same time Scotland Yard informs Rwandans resident in London that they have credible intelligence that indicates that their lives are in danger from… the very same government (13)."

"Valérie Bemeriki (born 1955[4] in Rutshuru, Democratic Republic of Congo[1]) was a presenter on the Rwandan radio station Radio Télévision Libre des Mille Collines (RTLM), which played a significant role in promoting the Rwandan Genocide.

Although born in Rutshuru, Democratic Republic of Congo (then Belgian Congo), Bemeriki's hometown is Giciye commune, Gisenyi préfecture, in Rwanda.[1]Prior to working at RTLM, Bemeriki worked for the ruling MRND party as a propagandist, also writing for the Interahamwe's (MRND's youth wing) publication.[5]

One of the main animatrices of RTLM,[2][6] Bemeriki frequently read out names and addresses of alleged "RPF accomplices",[7] inciting targeted violence and often murder on the named individuals by groups such as the Impuzamugambi and Interahamwe militias. Bemeriki's style of presenting was representative of RTLM's overall hateful rhetoric, used alongside a colloquial type of tongue-in-cheek humor. On April 8, 1994, two days after the assassination of Rwandan president Juvénal Habyarimana, Bemeriki ironically noted on air that opposition members of the previous government "could not be found",[8] while several, such as prime minister Agathe Uwilingiyimana had already been murdered. Based on an encounter at an interview at the offices of RTLM, Roméo Dallaire, the Force Commander of UNAMIR, has described Bemeriki as "very aggressive."[9] On June 28, 1994, over a month after the interview, Bemeriki claimed on-air that "Dallaire is the basis of this war."[10]

After Kantano Habimana, Bemeriki was the announcer with the second most airtime, approximately 17% of all RTLM broadcasts.[11]

Following the genocide, Bemeriki was named[6] as one its 2,133 "planners, organizers, instigators, supervisors and leaders"[12] in accordance with the Genocide Law of the Republic of Rwanda (1996).[13] Bemeriki fled Kigali for her native Zaire in July 1994 [1] and was arrested in Minova, near Bukavu in the (by then renamed) Democratic Republic of Congo on the 13th of June, 1999 by the Rwandan military.[1][4] [6] She was convicted of and pleaded guilty to planning genocide, inciting violence and complicity in several murders and sentenced to life imprisonment by a Gacaca court in 2009.[2][4]"

"1994 Rwanda Pullout Driven by Clinton White House, U.N. Equivocation 
White House Clears E-Mail Release and Susan Rice Hand-written Notes Newly Declassified E-Mails Detail U.S. Role at Genocide Turning Point Political Restrictions on Peacekeeping Missions Were Key to U.S. Thinking in 1994, Not Protection of Civilians or Prevention of Genocide State Department Attempts to Cover Up Well-Known U.S. "Bombshell" – Excises Key Parts of Cable Already Released in Substance by Other Governments Documents Show Minimal High-Level U.S. Attention to Rwanda Genocide in April 1994; Ended with Evacuation of U.S. Citizens April 11, Notwithstanding Last-Minute Add-On to Deputies' Meeting of April 29 National Security Archive Electronic Briefing Book No. 511 April 16, 2015 For more information contact:

Tom Blanton/Emily Willard, nsarchiv@gwu.edu, 202.994.7000″
"The White House travel office controversy, sometimes referred to as Travelgate,[1][2] was the first major ethics controversy of the Clinton administration. It began in May 1993, when seven employees of the White House Travel Office were fired. This action was unusual because although theoretically staff employees serve at the pleasure of the President and could be dismissed without cause, in practice, such employees usually remain in their posts for many years.

The White House stated the firings were done because financial improprieties in the Travel Office operation during previous administrations had been revealed by an FBI investigation. Critics contended the firings were done to allow friends of President Bill Clinton and First Lady Hillary Rodham Clinton to take over the travel business and that the involvement of the FBI was unwarranted. Heavy media attention forced the White House to reinstate most of the employees in other jobs and remove the Clinton associates from the travel role.

Further investigations by the FBI and the Department of Justice, the White House itself, the General Accounting Office, the House Government Reform and Oversight Committee, and the Whitewater Independent Counsel all took place over the subsequent years. Travel Office Director Billy Dale was charged with embezzlement but found not guilty in 1995. In 1998, Independent Counsel Kenneth Starr exonerated Bill Clinton of any involvement in the matter.

Hillary Clinton gradually came under scrutiny for allegedly having played a central role in the firings and making false statements about her role in it. In 2000, Independent Counsel Robert Ray issued his final report on Travelgate. He sought no charges against her, saying that while some of Clinton's statements were factually false, there was insufficient evidence that these statements were either knowingly false or that she understood that her statements led to the firings." 

"A dossier on paedophiles allegedly associated with the British government was assembled by the British Member of Parliament, Geoffrey Dickens, who handed it to the then Home Secretary, Leon Brittan, in 1984. The whereabouts of the dossier is unknown, along with other files on organised child abuse that had been held by the Home Office.[1]

In 2013, the Home Office stated that all relevant information had been passed to the police, and that Dickens' dossier had not been retained. It was later disclosed that 114 documents concerning child abuse allegations were missing. In July 2014, the Labour Party called for a new inquiry into the way that the allegations had been handled, and Prime Minister David Cameron ordered the permanent secretary of the Home Office, Mark Sedwill, to investigate the circumstances of the lost dossier.
On 7 July 2014, the Home Secretary, Theresa May, announced a review into the handling of historic child abuse allegations, to be led by Peter Wanless, chief executive of the NSPCC, and the establishment of a public panel inquiry into the duty of care taken in the protection of children from paedophiles by British public institutions, led by an independent panel of experts and chaired by Baroness Butler-Sloss. Butler-Sloss later stood down as chair of the inquiry.[2] On 5 September 2014, it was announced that it would instead be chaired by Fiona Woolf[3] but on 31 October 2014 she, too, resigned from the role.[4] On 4 February 2015 it was announced that the inquiry would be chaired by Justice Lowell Goddard, a New Zealand High Court judge. The existing panel would be disbanded, and the inquiry would be given new powers.[5]"

"FBI: 'Hostile Actors' Likely Hacked Clinton Email Secrets 
Comey recommends not prosecuting presumed Democratic nominee 
BY: Bill Gertz 
July 6, 2016 5:00 am 
An extensive FBI investigation found evidence that foreign government hackers accessed private emails sent by former secretary of state Hillary Clinton but no direct evidence spies hacked into the several unsecure servers she used.

FBI Director James Comey revealed Tuesday the 11-month probe into Clinton's private email servers uncovered negligent handling of very sensitive classified information that was placed on several unsecure servers between 2009 and 2013, when Clinton served as secretary of state.

In an unusual public announcement, Comey outlined findings that included discovery of highly classified information sent and received on Clinton's private email servers, and signs that "hostile actors" gained access to email accounts of people who were sharing emails with Clinton." 

"Loan Improvement 
Jan 31, 2001 
SBA modernizes to help feed its growing programs [Field McConnell's sister Kristine Marcy introduced the 8(a) electronic accelerated loan guarantee program at SBA to ensure funding for the Serco protégés' participating in the 9/11 carbon cap]
BY PATRICIA DAUKANTAS | GCN STAFF 
Under a five-year plan for overhauling its information technology systems, the Small Business Administration recently acquired new software for financial and other administrative tasks.

By the time SBA celebrates its 50th anniversary in 2003, agency officials want all their programs up and running around the clock, chief financial officer Joseph Loddo said.

In the first phase of the modernization, the agency has upgraded systems for managing its extensive portfolio of guaranteed loans, chief operating officer Kristine Marcy said.

SBA processed its first electronic loan last November through its Sacramento, Calif., office and plans to add more private lenders during fiscal 2001.

The agency's staffing level has dropped 22 percent over the past eight years, which is another reason to improve IT, Marcy said. Over the past decade, SBA's portfolio of loans to small and disadvantaged businesses has more than doubled to $50 billion.

'We're a small agency with a huge portfolio,' Marcy said. SBA supplies more than half of the U.S. venture capital available each year.

Seventy percent to 80 percent of the loans are booked through a preferred lender program [structured by Serco], which involves nearly 7,000 banks, Marcy said. SBA guarantees the loans, just as the government backs student and housing loans.

'The financial and IT businesses were changing so rapidly, we had to make some changes to stay current with the private sector,' Marcy said. Banks had been asking SBA to make faster decisions on loan guarantees. The agency decided to aim for a turnaround time of one hour."

"Serco do a bunch more that didn't even make our story: As well as thanking God for his success, CEO Chris Hyman is a Pentecostal Christian who has released a gospel album in America and fasts every Tuesday. Amazingly, he was also in the World Trade Centre on 9/11, on the 47th floor addressing [Serco] shareholders. Serco run navy patrol boats for the ADF, as well as search and salvage operations through their partnership with P&O which form Defence Maritime Services. Serco run two Australian jails already, Acacia in WA and Borallon in Queensland. They're one of the biggest companies In the UK for running electronic tagging of offenders under house arrest or parole." 

"UK Cabinet Office – Emergency Planning College – Serco …..Types of Exercise 
Workshop Exercises These are structured discussion events where participants can explore issues in a less pressurised environment. They are an ideal way of developing solutions, procedures and plans rather than the focus being on decision making. Table Top Exercises These involve a realistic scenario and will follow a time line, either in real-time or with time jumps to concentrate on the more important areas. The participants would be expected to be familiar with the plans and procedures that are being used although the exercise tempo and complexity can be adjusted to suit the current state of training and readiness. Simulation and media play can be used to support the exercise. Table-top exercises help develop teamwork and allow participants to gain a better understanding of their roles and that of other agencies and organisations. Command/Control Post Exercises These are designed primarily to exercise the senior leadership and support staff in collective planning and decision making within a strategic grouping. Ideally such exercises would be run from the real command and control locations and using their communications and information systems [Feeling lucky, Punk?]. This could include a mix of locations and varying levels of technical simulation support. The Gold Standard system is flexible to allow the tempo and intensity to be adjusted to ensure maximum training benefit, or to fully test and evaluate the most important aspects of a plan. Such exercises also test information flow, communications, equipment, procedures, decision making and coordination. Live Exercises These can range from testing individual components of a system or organisation through to a full-scale rehearsal. They are particularly useful where there are regulatory requirements or with high-risk situations. They are more complex and costly to organise and deliver but can be integrated with Command Post Exercises as part of a wider exercising package."

"Serco farewell to NPL after 19 years of innovation 8 January 2015 Serco said goodbye to the National Physical Laboratory (NPL) at the end of December 2014 after 19 years of extraordinary innovation and science that has seen the establishment build a world-leading reputation and deliver billions of pounds of benefit for the UK economy. During that period under Serco's management and leadership, NPL has delivered an extraordinary variety and breadth of accomplishments for the UK's economy and industry. Some of the key achievements during that time have been:… It has been estimated that work carried out by the Centre of Carbon Measurement at NPL will save eight million tonnes of carbon emissions reductions (2% of UK footprint) and over half a billion pounds in economic benefit over the next decade…. NPL's caesium fountain atomic clock is accurate to 1 second in 158 million years and NPL is playing a key role in introducing rigour to high frequency trading [for Serco's front running banks] in the City through NPL [Zulu] Time."

"Base One Technologies, Ltd. is a DOMESTIC BUSINESS CORPORATION, located in New York, NY and was formed on Feb 15, 1994. This file was obtained from the Secretary of State and has a file number of 1795583.

This business was created 7,695 days ago in the New York SOS Office and the registered agent is C T Corporation System that does business at 111 Eighth Avenue , New York in New York.

After conducting a search for principals and owners of Base One Technologies, Ltd., we were able to find 2 owners and/or executives. Their information is listed below.

This file was last updated on May 14, 2013.

Principals 
Liza R Zaneri 
Chief Executive Officer 
15 Irving Place New 
Rochelle, NY 10801″

"Serco's Office of Partner Relations (OPR) helps facilitate our aggressive small business utilization and growth strategies. Through the OPR, Serco mentors four local small businesses under formal Mentor Protégé Agreements: Three sponsored by DHS (Base One Technologies, TSymmetry, Inc., and HeiTech Services, Inc.,) and the fourth sponsored by GSA (DKW Communications, Inc.). Serco and HeiTech Services were awarded the 2007 DHS Mentor Protégé Team Award for exceeding our mentoring goals." http://www.dtic.mil/whs/directives/corres/pdf/100515p.pdf 
"[White's Club member] Rupert Christopher Soames OBE (born 18 May 1959) is a British businessman, CEO of the outsourcing [and long range death-betting bookmaker] company Serco.[1] Soames was born in Croydon, Surrey, to Lord and Lady Soames. He is a grandson of Sir Winston Churchill, a nephew of the former Defence Secretary Duncan Sandys and Diana Churchill; the journalist Randolph Churchill and the actress and dancer Sarah Churchill and a great-nephew of the founders of the Scout movement, Robert Baden-Powell and Olave Baden-Powell. His brother is the Conservative MP Sir Nicholas Soames.

Education[edit]

Soames was educated at St. Aubyns Preparatory School in Rottingdean, East Sussex and Eton College,[2] and then Worcester College at the University of Oxford,[3] during which time he worked as a DJ at the London nightclub Annabel's, as well as being elected to the Presidency of the Oxford Union.[3] Career[edit]

Upon graduation, he was offered a position at General Electric Company (GEC) by the managing director Arnold Weinstock. He remained at GEC for 15 years, working in the company's avionics and computing divisions, and became managing director of Avery Berkel, running the company's UK, India, Asia and Africa operations.[4]

After leaving GEC in 1997, Soames joined the software company Misys as chief executive of its Midas-Kapiti division. He was promoted to chief executive of the Banking and Securities Division in June 2000.[5]

Soames left Misys after a disagreement with Misys founder Kevin Lomax on the company's direction, and was appointed chief executive of power hire group Aggreko in June 2003,[6] replacing Philip Harrower who died when his car collided with a train in the United States.[7]

Soames was appointed Officer of the Order of the British Empire (OBE) in the 2010 New Year Honours.[8] In November 2010 Rupert Soames gave a speech to Holyrood in which he warned, "In the UK, we are already close to the rocks, because, over the next 8 years a third of our coal-fired capacity, two-thirds of our oil-fired capacity, and nearly three-quarters of our nuclear capacity will be closed down either through age or the impact of the European Large Combustion Plant Directive. Absent a massive and immediate programme of building new power stations, with concrete being poured in the next two years, we will be in serious danger of the lights going out."
Yours sincerely,
Field McConnell, United States Naval Academy, 1971; Forensic Economist; 30 year airline and 22 year military pilot; 23,000 hours of safety; Tel: 715 307 8222
David Hawkins Tel: 604 542-0891 Forensic Economist; former leader of oil-well blow-out teams; now sponsors Grand Juries in CSI Crime and Safety Investigation
1418 Total Views
3 Views Today
Please follow and like us: