#2622: Trump Apprentice Death-Pool Shuttle – Serco 8(a) Combat Missions – UK Rwanda Clock
United States Marine Field McConnell 
Plum City Online – (AbelDanger.net) 
1. Abel Danger (AD) alleges that Donald Trump developed an East Coast death-pool casino service in the 1980s where apprentice killers would fly to crime scenes controlled by scabbed-up labor unions, kill victims at a pre-selected time for the death pool and catch the first shuttle home.
2. AD claims that Trump and his friend, the British-born reality-show producer and former UK paratrooper Mark Burnett, used Serco's National Visa Center to send 8(a) protégés – a.k.a. apprentices – on long-range combat missions, allegedly including the use of a Javelin missile to shoot down the airplane carrying Rwandan president Juvénal Habyarimana on April 6, 1994.
3. AD alleges that the UK Cabinet Office outsourced NPL cesium clock operations to help Serco identify which of its shareholders such as AXA, Goldman Sachs and TIAA-CREF should scoop the pot for the 8(a) death-pool murders which triggered the Rwanda Genocide.
4. United States Marine Field McConnell https://abeldanger.blogspot.com/2010/01/field-mcconnell-bio.html invites FBI Director James Comey, ex-director of Serco's death-pool banker HSBC to investigate Burnett and Trump reality shows during the 1994 long-range 8(a) attack – check State Department's Base One Technologies – which carbon capped nearly a million Rwanda citizens.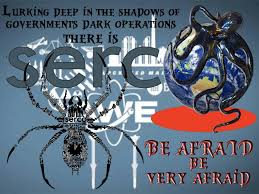 Donald Trump and Mark Burnett talk Apprentice with Jimmy Carter-Interview
Copy of SERCO GROUP PLC: List of Subsidiaries AND [Loan Shark] Shareholders!  
(Mobile Playback Version)
[Serco's] Defense Ammunition Center
Serco… Would you like to know more? 
"The assassination of Juvénal Habyarimana and Cyprien Ntaryamira on the evening of 6 April 1994 was the catalyst for the Rwandan Genocide. The airplane carrying Rwandan president Juvénal Habyarimana and Burundian president Cyprien Ntaryamira was shot down as it prepared to land in Kigali, Rwanda. The assassination set in motion some of the bloodiest events of the late 20th century, the Rwandan Genocide and the First Congo War. Responsibility for the attack is disputed, with most theories proposing as suspects either the rebel Rwandan Patriotic Front (RPF) or government-aligned Hutu Power extremists opposed to negotiation with the RPF. Regardless of the cause of the assassination, it unquestionably resulted in the immediate national mobilization of anti-Tutsi militias, the Interahamwe, who proceeded to set up roadblocks across Rwanda and slaughter every Tutsi or moderate Hutu until driven away by rebel RPF troops."

"Javelin is a British, man-portable surface-to-air missile, formerly used by the British Army and Canadian Army. It can be fired from the shoulder, or from a dedicated launcher known as Javelin LML—Lightweight Multiple Launcher. Capable of being vehicle mounted, the LML carries three rounds.

It was replaced in front line British service by the Javelin S-15, sold commercially as the Starburst surface-to-air missile in 1993 (radio frequency guided Javelin was retained for some time thereafter for training purposes), and later by the Starstreak starting around 1997. The Canadian Forces have retired it without replacement.

.. Similar in overall appearance to the Manual Command Line of Sight (MCLOS), radio frequency guided Blowpipe, Javelin is slightly more compact, uses Semiautomatic Command Line of Sight (SACLOS) radio frequency guidance and is fitted with Semi and improved warhead. The operator is equipped with a 6× magnification sight and a long range T.V. camera to locate targets. Although the Javelin's accuracy is somewhat susceptible to smoke, fog, or clouds, it is claimed to be virtually impossible to decoy it away from a target with flares. It has been alleged [by whom?] that some were supplied to the Mujahideen by the United States during the Soviet war in Afghanistan."

"The East Coast of the United States is the coastline along which the Eastern United States meets the North Atlantic Ocean. This area is also known as the Eastern Seaboard, the Atlantic Coast, and the Atlantic Seaboard. The coastal states that have shoreline on the Atlantic Ocean are, from north to south, Maine, New Hampshire, Massachusetts, Rhode Island, Connecticut, New York, New Jersey, Delaware, Maryland, Virginia, North Carolina, South Carolina, Georgia, and Florida."

"Combat Missions is a one-hour-long reality TV show produced by Mark Burnett and hosted by former Survivor castaway Rudy Boesch that aired from January to April in 2002 on the USA Network. It pits four teams of highly experienced military and police operatives against each other in physical challenges and "mission" scenarios. Each team has a call sign and corresponding color. The four teams are Alpha (Red), Bravo (Blue), Charlie (Yellow) and Delta (Green). The team members were past and present members of SWAT, the United States Army Special Forces, the Navy SEALs, Marine Recon, the CIA Special Operations Group, the Delta Force, and the U.S. Army Rangers. The mission scenarios has each team face off against the opposing "Shadow force" (not another team) using MILES gear in real-life combat situations. The show was not picked up for a second season. Scott Helvenston, one of the contestants from the Delta team went on to work for Blackwater USA in Iraq after the show and was killed in action on March 31, 2004."
"Mark Burnett was born on 17 July 1960 in London, the only child of Archie and Jean Burnett, both Ford Motors factory workers,[5] and was raised in Dagenham, Essex. His father was a Roman Catholic and his mother was a Presbyterian, although it is not known in which denomination he was raised.[6] Aged 17, he enlisted in the British Army, and became a Section Commander in the Parachute Regiment. From 1978–82 he served with the 3rd Battalion, Parachute Regiment in C Company and saw action during the Falklands War.[5] He has been a naturalized United States citizen since 1990, according to some reports.[citation needed]

Early career[edit]

In October 1982, Burnett decided to emigrate to the United States, where he met up with a friend, Nick Hill, who had emigrated from the UK several years earlier and was working as a nanny and chauffeur. Hill knew of an open position for a live-in nanny position with the Jaeger family in affluent Beverly Hills. Despite having no experience as a nanny, Burnett went on the interview. The Jaegers, realizing the advantage of having a nanny and security at the same time, hired him. After a year of working for the Jaegers, he moved on to another family in the beach city of Malibu, also in California, taking care of two boys for $250 a week. He was eventually given a position in the insurance office owned by Burt, the father of the two boys. Two years later, he decided to rent a portion of a fence at Venice Beach in Los Angeles, and sell T-shirts for $18 each during weekends. Realizing he made more money selling T-shirts, he left his insurance job.[7] In 1991, Burnett, along with four others, joined a French adventure competition called the Raid Gauloises. After competing, Burnett saw a business opportunity in holding similar competitions. He purchased the format rights and brought a similar competition, Eco-Challenge, to America. Eco-Challenge launched Burnett's career as a television producer.[5]"
"Before Donald Trump made great reality TV, before his campaign to make American reality great, he never watched any of the shows. 
He didn't like the whole idea of reality TV. "That's for the bottom feeders of society," Trump told friends.

Then, in 2002, "Survivor" creator Mark Burnett came to see him at Trump Tower. Burnett, a former T-shirt salesman on Venice Beach, had achieved stratospheric ratings with a show based in exotic spots such as the Australian outback and the Polynesian islands. But he had little kids at home, and he was desperate to do a show in a U.S. city. Burnett's road home, he realized, was through Trump. Above: Republican presidential candidate Donald Trump at a November campaign stop in Fort Dodge, Iowa. (Charles Ommanney/The Washington Post)

"The Apprentice" would star Trump as judge, jury and executioner in a weekly winnowing of young go-getters vying to run one of his businesses. Trump's agent told him it was a terrible idea — business shows never work on TV, he said.

Trump disagreed. Indeed, he fired the agent shortly thereafter. "If I would have listened to him," Trump told The Washington Post, "I wouldn't have done the show."

THE DECIDERS

Nothing reveals more about politicians than the decisions they make — why they chose to do something, how they made it happen, what came of it. In the days before the first votes are cast in Iowa and New Hampshire, The Washington Post is exploring one key choice by each leading presidential candidate and explain the insight it offers into the way he or she might operate in the White House.

Not halfway into that first, hour-long meeting with Burnett, Trump made up his mind. He sensed that "The Apprentice" had enormous potential to introduce him to a broader audience, and especially to younger people.

"My jet's going to be in every episode," he told Jim Dowd, then NBC's publicity director and now head of a PR firm, Dowd Ink. "Even if it doesn't get ratings, it's still going to be great for my brand."

Burnett walked out of the meeting with a handshake deal. Trump secured not only a starring role on a show made by TV's hottest producer but also a 50 percent ownership stake in "The Apprentice."

The man who now seeks to be commander in chief had consulted no one, done no research. He liked the idea. He bought it.

It was a classic Trump moment, an example of the gut-instinct decision-making that he proudly touts in nearly every campaign speech. Buy a show. Build a wall. Pull out of a debate. Make America great again. "It's very easy," Trump promises.

What was harder was the decision to run for president, which Trump had talked about for decades. He didn't run for president because of "The Apprentice," but according to the show's executives and producers, without "The Apprentice" there would be no candidacy."
"Loan Improvement Jan 31, 2001 SBA modernizes to help feed its growing programs 
BY PATRICIA DAUKANTAS | GCN STAFF 
Under a five-year plan for overhauling its information technology systems, the Small Business Administration recently acquired new software for financial and other administrative tasks. .. In the first phase of the modernization, the agency has upgraded systems for managing its extensive portfolio of guaranteed loans, chief operating officer Kristine Marcy [Field McConnell's sister] said. SBA processed its first electronic loan last November through its Sacramento, Calif., office and plans to add more private lenders during fiscal 2001. .. Marcy said. Banks had been asking SBA to make faster decisions on loan guarantees. The agency decided to aim for a [onion router] turnaround time of one hour. In the second phase of modernization, SBA is revamping its financial, human resources, procurement and travel systems with Web-enabled Oracle Corp. applications. .. The second-phase integrator, SRA International Inc. of Arlington, Va., has subcontracted with a number of small firms for things such as training and data conversion [Note Serco protégé Base One opened a document conversion center in the Bronx in 2006, presumably to deal with Obama's passport problems]. .. In the final phase of the modernization, SBA will upgrade the computers in its 8(a) Business Development Program, which assists small businesses in competing for government contracts, Marcy said. The agency wants to be able to improve its tracking of clients' successes and failures [through to liquidation by the SBA's preferred lenders and sureties such as HSBC and Travelers Casualty and Surety Company of America – note merged with Citigroup and John Deutch's CIA friends!]."
"Preparing the 8(a) application package 
You do not need to pay anyone to prepare your 8(a) application. SBA designed the application forms so the applicant can complete the application. However, a consultant can assist in completing the application. Please be advised that no one can guarantee that an application for 8(a) program participation will be approved. The application process is intended to assure that each applicant receives a fair, unbiased review, free from favoritism and influence. Any irregularities in the application review process should be immediately referred to the SBA Inspector General.

Definition of Socially and Economically Disadvantaged Individuals Socially disadvantaged individuals are those who have been subjected to racial or ethnic prejudice or cultural bias because of their identities as members of groups without regard to their individual qualities. The social disadvantage must stem from circumstances beyond their control.

In the absence of evidence to the contrary, the following individuals are presumed to be socially disadvantaged: Black Americans; Hispanic Americans (persons with origins from Latin America, South America, Portugal and Spain);

Native Americans (American Indians, Eskimos, Aleuts, and Native Hawaiians);

Asian Pacific Americans (persons with origins from Japan, China, the Philippines, Vietnam, Korea, Samoa, Guam, U.S. Trust Territory of the Pacific Islands [Republic of Palau], Commonwealth of the Northern Mariana Islands, Laos, Cambodia [Kampuchea], Taiwan, Burma, Thailand, Malaysia, Indonesia, Singapore, Brunei, Republic of the Marshall Islands, Federated States of Micronesia, Macao, Hong Kong, Fiji, Tonga, Kiribati, Tuvalu, or Nauru);

Subcontinent Asian Americans (persons with origins from India, Pakistan, Bangladesh, Sri Lanka, Bhutan, the Maldives Islands or Nepal);

And members of other groups designated from time to time by the SBA.

In addition, an individual who is not a member of one of the above-named groups may apply for 8(a) certification. However, the applicant must establish social disadvantage on the basis of clear and convincing evidence.

Economically disadvantaged individuals are socially disadvantaged individuals whose ability to compete in the free enterprise system has been impaired due to diminished capital and credit opportunities, as compared to others in the same or similar line of business and competitive market area who are not socially disadvantaged. For purposes of program entry, an individual whose personal net worth (excluding the equity in their personal residence and business) exceeds $250,000 will not be considered economically disadvantaged.

Woman-Owned Businesses

A woman-owned business may be recognized as a "socially disadvantaged firm" if the owner is a member of one of the groups for which social disadvantage is presumed. If the woman is not a member of one of the groups for which social disadvantage is presumed, she must establish her individual disadvantage on the basis of clear and convincing evidence that she has suffered discriminatory treatment because of her gender and that this treatment has impeded her entry into or advancement in the business world. SBA will consider any pertinent evidence but will give particular attention to evidence of discriminatory practices suffered in the areas of education, employment and the business world."
"Time called on Serco's NPL contract 
By Gill Plimmer 
Serco, the FTSE 100 outsourcing company, has lost its contract to run the National Physical Laboratory – which built the first atomic clock – after the government said it would seek academic partners to take over the centre instead.

The laboratory has been managed by Serco on a profit-share basis since 1994. But David Willetts, science minister, has decided that the government can "encourage greater interaction with businesses" by ending the contract in March 2014, when the company's 17-year tenure comes to an end.
The decision highlights the vulnerability of some of the government's biggest suppliers to political change. Although the coalition is widely accepted to be engaged in the biggest wave of outsourcing since the 1980s, contracts can be pulled at the last minute, even once companies have spent significant amounts on the bidding process.

Kean Marden, analyst at Jefferies, said there were still UK government contracts worth £3.5bn in revenues in the pipeline, as advertised in the Official Journal of the European Union. But this is down from the £4bn of bidding opportunities it found in May. The decrease takes account of a surprise decision last month to cancel a programme to outsource nine prisons each year to the private sector and instead keep the running of custodial services in-house.

It also includes a scaling back of the private sector's involvement in police services after Surrey Police Authority pulled out of discussions with G4S in the wake of the company's failure to provide 12,000 security staff it had promised for the London Olympics. The National Physics Laboratory still has a role in setting UK time, with radio signals based on its clocks used to set everything from the pips on the radio to the rail network. An apple tree grown from a cutting of Newton's famous tree is still growing at its site in Teddington, London.

Serco said it was disappointed by the decision and pointed to a 30 per cent reduction in overhead costs over the life of its deal, as well as a doubling of scientific citations as well as third party revenues.

"We have managed NPL for the last 17 years and we are very proud that during that time it has flourished, both scientifically and commercially," Serco said. The company has won £5.6bn of contracts so far this year.

Mr Willetts said there were significant "opportunities which would be difficult to realise under an extension of the current contract". He said the change would reflect the government's aim to strengthen "both fundamental research and engagement with business" at the centre.

"I consider that the partners should have a clear, long-term stake in the ownership and operation of the National Physical Laboratory which would not be possible under the current arrangements which, of necessity, must be time-limited," Mr Willetts said. "A partnership with an academic institution would also allow for the formation of a dedicated applied science postgraduate institute.""
"Serco announces office carbon reduction initiative 
International outsourcing business Serco has announced it is to introduce new software aimed at helping its offices cut back on carbon emissions.

Under the new initiative, the company's offices in 35 countries will make use of the newly-launched Acco2unt software from Greenstone Carbon Management.

This new technology will be used to help office managers measure, store and report levels of carbon emissions, thereby making it easier to carry out green audits and assess where cuts can be made.

In addition, it is intended that the data compiled through the use of the software will also enable Serco to draw up [carbon-capping death-pool onion-router] benchmarks for its operations across the globe.

Announcing the development, Tim Davis, head of assurance reporting at Serco, said: "The complex nature of Serco's business operations demanded an easy to use enterprise carbon accounting tool that would help us aggregate, measure and manage carbon emissions – quickly, accurately and cost-effectively."

This comes as the Federation of Small Businesses has joined forces with the Prince's Mayday Network to help UK companies cut their carbon emissions."
"Serco do a bunch more that didn't even make our story: As well as thanking God for his success, CEO Chris Hyman is a Pentecostal Christian who has released a gospel album in America and fasts every Tuesday. Amazingly, he was also in the World Trade Centre on 9/11, on the 47th floor addressing shareholders [such as Wells Fargo with an insured interest in the leveraged lease on the WTC Twin Towers]. Serco run navy patrol boats for the ADF, as well as search and salvage operations through their partnership with P&O which form Defence Maritime Services. Serco run two Australian jails already, Acacia in WA and Borallon in Queensland. They're one of the biggest companies In the UK for running electronic tagging of offenders under house arrest or parole."
Yours sincerely,
Field McConnell, United States Naval Academy, 1971; Forensic Economist; 30 year airline and 22 year military pilot; 23,000 hours of safety; Tel: 715 307 8222
David Hawkins Tel: 604 542-0891 Forensic Economist; former leader of oil-well blow-out teams; now sponsors Grand Juries in CSI Crime and Safety Investigation
1044 Total Views
1 Views Today
Please follow and like us: