Marine Links Obama's Paperclip Alibi Crime Time (PACT) to Benghazi BlackBerry Rape
United States Marine Field McConnell has linked Barack Obama's Paperclip Alibi Crime Time (PACT) death squads to the former Barry Soetoro's (CUKC) alleged use of an encrypted BlackBerry device to watch his pedophile trusties as they raped the late U.S. ambassador to Libya, Christopher Stevens, in a Benghazi hospital on 9/11 2012.
See #1:
Abel Danger Mischief Makers – Mistress of the Revels – 'Man-In-The-Middle' Attacks


Prequel:
11-17-2012 Marine Sister Greeks' Pedo-in-the-Middle Attack on Benghazi Paperclip Chain of Command


"Obama LIED About Benghazi Attack!!! (Lt. Col. Tony Shaffer Interview)"


(PACT evidence. Geddit?)
Kristine Marcy allegedly Obama's BlackBerry to Nortel's JABS is support of 9/11 Pedophile in the Middle Attacks on U.S. Paperclip aliens.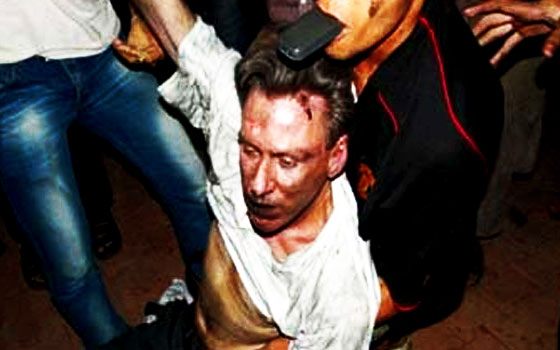 "The CIA has launched an internal inquiry following the resignation of its director David Petraeus, who confessed to an extramarital affair, a spokesman for the U.S. intelligence agency said Thursday.


"If there are lessons to be learned from this case, we'll use them to improve," said the spokesman, Preston Golson.


"But we're not getting ahead of ourselves. An investigation is exploratory and doesn't presuppose any particular outcome," he added.


Petraeus, who was already the most celebrated U.S. general of his generation before he took the helm at the CIA last year, resigned last week to pre-empt the revelation that he had had an affair with his biographer.


The scandal sent shockwaves through the Washington security establishment and entangled the U.S. commander of allied forces in Afghanistan, General John Allen, whose career is on hold pending a Pentagon investigation.


Petraeus has kept a low profile since his resignation, but he will be in the limelight once again on Friday when he heads to Capitol Hill to testify before two congressional committees over a deadly attack on a U.S. mission in Libya.


The 60-year-old retired general is not expected to face charges, but FBI agents seized a trove of documents from the home of his mistress, 40-year-old Paula Broadwell, and may act if she improperly received classified material.


U.S. Attorney General Eric Holder said Thursday that the FBI had not found any "national security threat" in the course of its investigation.


Petraeus' resignation also triggered speculation that its timing — three days after President Barack Obama's re-election — was political or was linked to the probe into the killing of four Americans at the Benghazi consulate.


Lawmakers are still demanding answers, with Senator Chuck Grassley — the senior Republican on the Senate Judiciary Committee, which has oversight of the FBI — asking Holder and FBI director Robert Mueller for a timeline of events.


"A number of questions have been raised about the FBI's actions during the course of its investigation of the Petraeus matter," Grassley said.


"It would be best for the administration to be forthright and transparent so the country can feel comfortable that our chief domestic law enforcement agency is doing everything properly under the law to protect national security."


Petraeus has yet to speak publicly, but he told a friend, CNN Headline News anchor Kyra Phillips, that the scandal had nothing to do with Benghazi and that he had never passed secret documents to his lover.


"He was very clear that he screwed up terribly — it was all his fault — even that he felt fortunate to have a wife who is far better than he deserves," Phillips said, after a series of calls to Petraeus.


"He has insisted to me that he has never passed classified information to Paula Broadwell," she added. "He has said this has nothing to do with Benghazi and he wants to testify. He will testify."


Petraeus will face both the House and Senate intelligence committees on Friday as they probe the September 11 attack on the consulate in Benghazi, in which Ambassador Chris Stevens and three more Americans died.


Two of the dead were former Navy SEALs working as paramilitary agents for Petraeus' CIA, and questions have been raised about whether the agency or the State Department was responsible for security at the exposed outpost.


Broadwell herself further muddied the waters by suggesting in a public speech that the CIA team in Benghazi was holding local prisoners and that this was what inspired Islamist militants to launch their assault.


The CIA has firmly denied her claim, made before the scandal broke.


Petraeus met Broadwell in 2006 when she was studying for a doctorate at Harvard. They hit it off and she was invited to follow him to Afghanistan to study his command for what was to become a fawning biography.


The four-star general retired from the military last year and took over at the CIA. Shortly afterwards, according to Petraeus' friends, he and Broadwell became lovers, and remained so until they split around four months ago.


The affair came to light as a result of an FBI inquiry that was launched in May when Jill Kelley, a 37-year-old Tampa socialite [From a Paperclip Alibi Crime Time family associated with the massacre and rapes of children in Lebanon civil war 1975-1990] who hosted parties for officers at U.S. Central Command in Florida, complained of threatening emails.


Agents traced the anonymous emails to Broadwell's computer and found that she had been jealous of Kelley's rapport with both Petraeus and Allen.


While investigating cyberstalking they uncovered sexually explicit emails between Petraeus and Broadwell. The investigation might have remained secret, but an FBI agent raised concerns with a congressman and the scandal broke.


This week, Allen was pulled into the drama, when it was revealed he had written hundreds of emails to Kelley, some of them reportedly "flirtatious," and the Pentagon launched an inquiry into his conduct.


He was expected to be promoted to become NATO's Supreme Allied Commander, but Obama has put this on hold until the result of the investigation.


Source: Agence France Presse [uses feed from BBC Crimewatch Wag the Dog] "


"WASHINGTON — Susan E. Rice was playing stand-in on Sept. 16 when she appeared on all five Sunday news programs, a few days after the deadly ­attack in Benghazi, Libya, that killed four Americans.


Secretary of State Hillary Rodham Clinton would have been the White House's logical choice to discuss the chaotic events. But administration officials said she was drained after a week consoling the families of those who died, including Ambassador J. Christopher Stevens. And Clinton steers clear of the Sunday shows anyway.


So instead, Rice, the ambassador to the United Nations, delivered her now-famous ­account of the episode. Reciting talking points supplied by intelligence agencies, she said that the Benghazi siege appeared to be a spontaneous protest rather than a premeditated terrorist attack. Within days, Republicans in Congress were calling for her head.


In her sure-footed ascent of the foreign-policy ladder, Rice has rarely shrunk from a fight. But now that she appears poised to claim the top rung — White House aides say she is President Obama's favored candidate for secretary of state — this sharp-tongued, self-confident diplomat finds herself in the middle of a feud in which she is largely a bystander.


''Susan had a reputation, fairly or not, as someone who could run a little hot and shoot from the hip,'' said John Norris, a foreign-policy specialist at the Center for American Progress. ''If someone had told me that the biggest knock on her was going to be that she too slavishly followed the talking points on Benghazi, I would have been shocked.''


Rice's record:


At the UN, and in posts in the Clinton White House, Rice, who turned 48 on Saturday, has earned a reputation as a blunt advocate, relentless on issues like pressuring the regime in Sudan or intervening in Libya to prevent a slaughter by Moammar Khadafy.


She was a Rhodes scholar, has degrees from Stanford and Oxford, a Rolodex of contacts, and a relationship with Obama sealed during his 2008 campaign. So her ascension to lead the State Department would be less a blow for diversity — she would, after all, be the second black woman named Rice to hold the job — than the natural capstone to a fast-track career.


Yet the firestorm over Benghazi raises more basic questions: Is Rice the best candidate to succeed Clinton as the nation's chief diplomat? Does she have the diplomatic finesse to handle thorny problems in the Middle East? And even if Obama gets the votes for her confirmation, has the episode so tainted her that it would be hard for her to thrive in the job?


Rice's supporters say she has compiled a solid record at the United Nations, winning the passage of resolutions that impose strict sanctions on Iran and North Korea. Diplomats praise her for reengaging with the institution after deep strains during the George W. Bush administration. But even those who back her tend to emphasize factors like her ties to Obama, an advantage that Clinton, for all her celebrity, did not have.


''Given that he's probably the most withholding president on foreign policy since Nixon, if anyone can get him to delegate, not dominate, it's Rice,'' said Aaron David Miller, a longtime Middle East negotiator now at the Woodrow Wilson Center. ''That would be good for her, and for our foreign policy.''


While some in the State ­Department are wary of her, recalling her stormy tenure as a thirtysomething assistant secretary for African affairs during the Clinton administration, Rice has a core of support among Obama's aides, particularly those who worked with her on the 2008 campaign.


They insist that Benghazi will not derail her chances. Some analysts said Obama's defense of her at a news conference last week was so impassioned that he had left himself little room to put forward an alternative, like Senator John Kerry, Democrat of Massachusetts.


Still, other longtime Washington observers question if Obama would risk a battle over his secretary of state when he needs to cut a deal with Republicans on the budget and taxes.


"The attacks are patently unfair and mean-spirited,'' said Tommy Vietor, a spokesman for the National Security Council. ''Susan's record at the UN is ­exceptional.'' He added that Rice, who was an early supporter of Obama's and advised him on foreign policy, is in addition a longtime friend of the president."
More to follow.
Abel Danger
334 Total Views
2 Views Today
Please follow and like us: