Marine Links Marcy's Small Business Escrow to Weather Underground Pentagon Bombs
United States Marine Field McConnell has linked his sister Kristine Marcy's development of a Small Business Administration escrow service to the 1972 and 2001 bombings of the Pentagon, fraudulently attributed to the terrorist leaders of the Weather Underground Organization.
McConnell invites DOJ Pride's same-sex counter-intelligence experts (cf. Robert Hanssen) to investigate his sister's 1966 visit to Chicago where she appears to have adopted the escrow debt-recovery model developed at Hull House where SBA borrowers and lenders would be filmed as they raped children – groomed by Weather terrorist leaders in the art of sexual entrapment (cf. Jarrett's White House Women and Girls) – and threatened with exposure unless they completed escrow transactions on demand (cf. Marcy ordered SBA protégé companies to sabotage PENREN project below).


See #1:
Abel Danger Mischief Makers – Mistress of the Revels – 'Man-In-The-Middle' Attacks
Prequel:
Marine Links Marcy's Pentagon Protégé Parks Police to Huey Laser-Guided al-Qaeda Bomb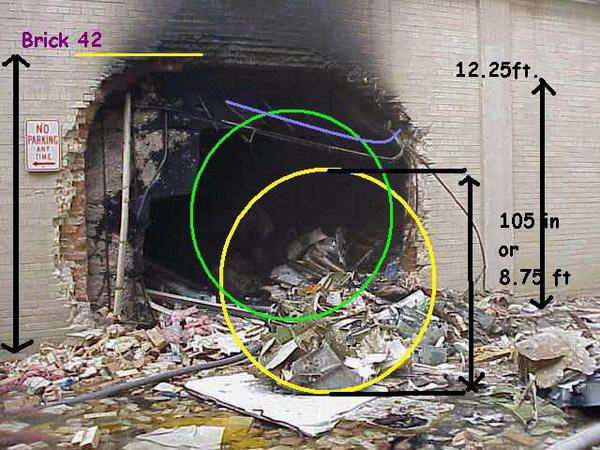 "The Pentagon Renovation Program or PENREN was a long-term project by the United States Department of Defense to perform a complete slab-to-slab renovation of The Pentagon in Arlington, Virginia. The program began in the 1990s, and was completed in June 2011.


The full-scale renovation became necessary because by the mid-1990s, the Pentagon had never undergone a major renovation, and building systems had deteriorated beyond repair, requiring complete replacement. Additionally, the presence of asbestos-containing materials throughout the building made any repairs or other work to the building highly disruptive.[3]


The Defense Authorization Act of 1991 transferred control of the Pentagon Reservation from the General Services Administration to the Department of Defense, and established the Pentagon Reservation Maintenance Revolving Fund, designed to fund Pentagon renovations. This move enabled the Secretary of Defense to determine rent rates for Pentagon tenants to help fund the renovation……


The Phoenix Project was the name given to the project [led by British company and its Small Business protégés] to repair the damage to the Pentagon caused when American Airlines Flight 77 was deliberately crashed into the building during the September 11, 2001 attacks [using laser guided autopilots installed in weapons platform by Marcy's escrowed SBA protégé company Kuchera]. The project's goal was to reoccupy the outermost ring of the rebuilt section by September 11, 2002. This goal was bettered by nearly a month, with tenants moving back in on August 15, 2002.


The project entailed the complete demolition and reconstruction of the C, D, and E Rings in the area of the boundary between the recently-renovated Wedge 1 and the unrenovated Wedge 2. Wedge 1 space would be fully rebuilt, while only the building shell would be rebuilt for Wedge 2. A full build-out for the Wedge 2 space would be completed at a later time.


The phrase "Let's roll", as spoken by Todd Beamer on United Airlines Flight 93 [Vodaphone MitM attack], was adopted as the project's slogan, and displayed prominently on the building's exterior during the reconstruction work. A clock counting down the time until 9:37 AM on September 11, 2002 was located on site as well."


"Questions & Answers


What does US Escrow Do?


US Escrow provides an independent third party intermediary to offer additional security, confidentiality and confidence in business and other transactions between two or more parties.


What is US Escrows experience with escrows?


US Escrow has been in business for 30+ years and has maintained a pristine reputation, both national and internationally, with its clients and escrow beneficiaries. US Escrow has extensive experience in dealing with many different types of businesses, industries, charities and individuals in setting up customized escrows. US escrow provides trustworthy and confidential services to its clients and customers.
….




What does an Escrow cost?


The cost and fee are based on the complexity of the escrow whether Cash, Document or Source Code escrow. Contact us to discuss the fees. US Escrow will provide an escrow agreement suitable to meet the requirements of each client; however, customization and special escrow instructions may incur additional fees.


What types of Escrows does US Escrow do?


US Escrow handles all kinds of cash escrows, including deed of trust collection and payments, contractor escrows between the contractor and his customers, including sub-contractors and manufacturers.


US Escrow also acts as an intermediary in various business transactions, property purchases and other transactions requiring transparency and confidentiality.


US Escrow provides document escrow services, in which US Escrow will provide secure protection for documents such as deeds, contracts and any other document that is required to be held pending completion of a transaction by an independent party.


US Escrow offers source code escrows, in which software will be held, preserved and protected unless and until such time as it may be required by the client.
What Other Escrow Services are available?


US Escrow does business Purchase and Sale closings that do not include real property. The closing includes all document preparation, closing statements, actual document presentation and disbursement of funds, and recording of documents. In addition , US Escrow is experienced in closing SBA loans, and has worked with major banks in closing business transactions involving SBA loans.


What are my first steps in setting up an escrow?


Go to our contact page and submit your information to U.S. Escrow or call 303.224.0404.
What will my clients think of an escrow arrangement?


US Escrow provides additional protection and transparency in transactions between you as US Escrow's client and your customers, your customers will feel more confident that their funds are secured and will be properly disbursed.


Does US Escrow work with companies and individuals outside the U.S. [including members of the British Bankers Association, BIC Days of Rage and the Bin Laden Group]?


Yes, US Escrow provides the same escrow services for your protection by special arrangement."


http://ontology.buffalo.edu/smith/clinton/arkansas.htm
http://en.wikipedia.org/wiki/Small_Business_Administration"
More to follow.
364 Total Views
2 Views Today
Please follow and like us: