Marine links Ken Clarke's Bilderberg Blackmail Bond to Broadmoor Pedophile Key
United States Marine Field McConnell has linked Kenneth Clarke's Bilderberg Blackmail Bond to the Broadmoor pedophile key which the former Minister of Health allegedly has issued to Jimmy Savile.
McConnell claims that his sister Kristine Marcy helped Clarke to build a pedophile trusty blackmail matrix with Serco where images of child pornography generated in U.K. and U.S. prisons such as the Broadmoor prison hospital, are used to blackmail and bind Bilderberg delegates such as those attending the conference which was allegedly staged n in Sweden in May 2001 to prepare for the 9/11 attack.


"CABINET minister Ken Clarke was dramatically dragged into the Jimmy Savile scandal yesterday.


It emerged that BBC pervert Savile was "given the keys" to Broadmoor secure hospital around 1988 — when Mr Clarke was Health Secretary.


Mr Clarke was last night forced to defend himself, saying: "I have no recollection of ever having met Jimmy Savile and no recollection of these events.


"The Department of Health are now investigating to establish the facts."


An aide to the Tory veteran, now minister without portfolio in David Cameron's Cabinet, said Savile's role at Broadmoor "may have been" set up by someone else.


'No recollection' … Ken Clarke


The Sun revealed how Savile molested a 17-year-old girl patient after being given keys and a job at the Berkshire psychiatric hospital.


He even had a mobile home on site and ordered teenagers inside, supposedly to clean it. "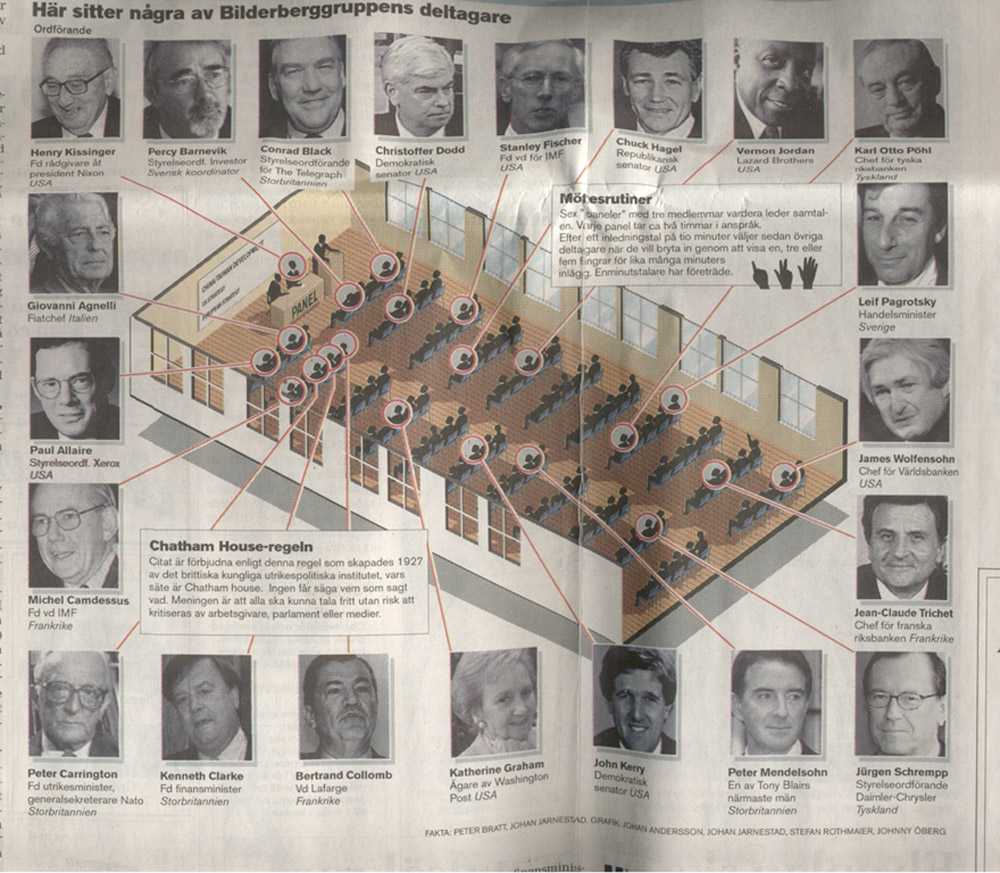 On this Page:


Win-Win-Win?: Bilderberger Clarke One Step From Completing UK Single Currency Triangle [He lost! :-)]


2001 official Bilderberg Press release and participant list


Bilderberg 2001 – this year's Reuters Reports


Spotlight magazine closes – along with possibly their last Bilderberg report


The Morning Star – Bilderberg report


London Guardian (online only) reports


10Mar01- Who pulls the strings? Jon Ronson


24May01 – The Canadian Press – Lord among world's elite at secret meeting


This year's agenda – leaked to Swedish journalist


Secret meetings for over fifty years – Full translation of Dagens Nyheter – 13 May 2001 – Excellent
Swedish Newspaper article on Bilderberg and this years conference


Info on the conference – in digest form


Original 2001 conference venue announcement
More to follow.
Abel Danger
649 Total Views
2 Views Today
Please follow and like us: