#2412: Serco Ad-Hoc Boeing Waypoint Hack – 8(a) Obama USAID Cabinet – MH Deaths by Marine Corps Tor
Briefing from United States Marine Field McConnell
Plum City Online – (AbelDanger.net)
July 30, 2015
1. In May 1998, Serco began hacking Boeing civilian passenger aircraft through illegally-modified E4Bs and is allegedly now using ad hoc waypoints to guide targets to landing or crash sites where the coordinated spoliation of evidence and 'script kiddie' spin protects the '98 conspirators (compare with the '68ers).


2. Serco, as mentor of the '98 conspirators, allegedly provided E4B cesium clock timing signals to 8(a) and USAID agents in the Obama Cabinet, for use in synchronized ad hoc waypoint attacks on the Boeing Uninterruptible Autopilots of MH Flights 370 and 17.
3. MH passengers and crews appear to have died wrongful deaths after ad hoc waypoint timing signals were transmitted to their planes through the onion router (Tor) over the Navy/Marine Corps Intranet operated by Serco 8(a) USAID protégés since May 1998.
Field McConnell invites readers to refer to his Open Letter to General Joseph Dunford – Treason Against the United States – 18 U.S. Code § 2382 – Misprision of Treason – Government Drug Running – USMC Col. James Sabow's Assassination – US Military Members Are Being Threatened: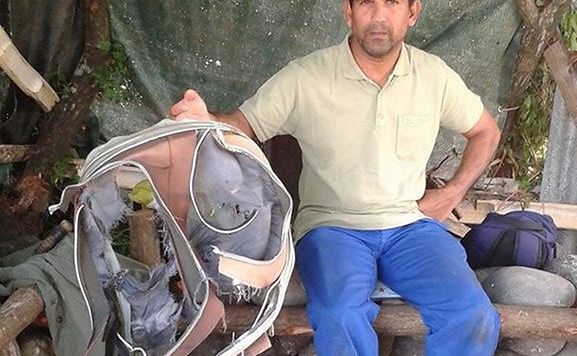 ATC Global 2013 – ITT Exelis Workshop
Marines training Sailors on weapons on Diego Garcia
"MH370 search: Malaysian experts arrive to study island plane debris – live
Latest news as Malaysian aviation experts arrive at La Reunion to investigate wreckage believed to be from a Boeing 777
By Jessica Winch, and Rob Crilly
4:14PM BST 30 Jul 2015
• Debris washed ashore on Reunion could be from MH370
• Malaysia says 'almost certain' debris discovered from Boeing 777
• Key questions as plane debris 'found'
• MH370: Everything you need to know
• MH370 mystery one year on – a tale of two realities…



13.21



The man who found the piece of wreckage that may be part of the missing Malaysia Airlines plane says he came across it on a beach while he was looking for a stone to use to mash his chilli pepper, writes Rory Mulholland in Paris.



"I had no idea that by looking for a pestle to mash my pepper that I would become famous," said Johnny Bègue, who was the first to spot the plane fragment on a beach in the French island of Réunion in the Indian Ocean.



Mr Bègue is charge of a team of eight people who have a contract to keep the popular beach clean in the town of Saint-André in the east of the tropical island.



"We started work around 7am. At around 9am we took a break. I went to the edge of the water to look for a flat round stone to use as a pestle. It was then that I saw a strange looking thing on the shore," he told AFP news agency.



He called over his colleagues to examine the object that was partially covered in sand. They pulled it further up the beach so that it wouldn't be carried off by the tide.
"I saw straight away that it was a piece of a plane," said his colleague Cédric Gobalsoumy.



"The workers at first decided to leave the fragment where it was "so that tourists passing by could see it."



"But then I thought that we shouldn't do that," said Mr Gobalsoumy. "Finding a piece of a plane in the sea is not normal. We thought that maybe people had died in that plane and their families should know about this."



So the team contacted the local authorities to tell them of their discovery. It could help resolve the mystery of the Malaysia Airlines plane that vanished en route to Beijing in March 2014 with 239 people aboard.



"It was a good catch," said Mr Bègue of his discovery.



He also said that the piece of a suitcase that may have been onboard flight MH370 lay unnoticed on the same beach in for nearly a day.



"The piece of suitcase was here yesterday but no one really paid any attention to it," he said.



"You can see how a zip from the suitcase is still attached to a piece of rigid fabric," he added, "it's just surreal, it makes me shudder."



"U.S. says missing Malaysian jet could be 'act of PIRACY': Evidence shows plane changed direction and climbed to 45,000 feet 'under command of a pilot' after tracking devices were manually disabled
Sources: Plane may have been deliberately flown across Malay peninsula
Military radar-tracking evidence reportedly suggests it was heading towards the Andaman Islands
US inquiries are increasingly focusing on theory someone who knew how to fly a plane deliberately diverted the flight, according to reports
Investigation sources also say plane may have climbed to more than 45,000ft immediately after losing contact – higher than the plane is allowed
Rival theory: Cargo of batteries could have caught fire, downing the plane
Search efforts are now being stepped up in the Andaman Sea and Indian Ocean
By JAMES RUSH and RICHARD SHEARS FOR MAILONLINE and KIERAN CORCORAN
PUBLISHED: 09:33 GMT, 14 March 2014 | UPDATED: 04:30 GMT, 15 March 2014″



Malaysia Airlines Flight 370 (MH370/MAS370)[b] was a scheduled international passenger flight that disappeared on 8 March 2014, while flying from Kuala Lumpur International Airport near Kuala Lumpur, Malaysia, to Beijing Capital International Airport in Beijing, China. Flight 370 last made voice contact with air traffic control at 01:19 MYT (17:19 UTC, 7 March) when it was over the South China Sea, less than an hour after takeoff. The aircraft disappeared from air traffic controllers' radar screens at 01:22.[3][4] Malaysian military radar continued to track Flight 370 as it deviated from its planned flight path and crossed the Malay Peninsula. Flight 370 left the range of Malaysian military radar at 02:22 while over the Andaman Sea, 200 nautical miles (370 km; 230 mi) northwest of Penang in northwestern Malaysia.[5]:3[6] The aircraft, a Boeing 777-200ER, was carrying 12 Malaysian crew members and 227 passengers from 15 nations.[7]



A multinational search effort began in the Gulf of Thailand and theSouth China Sea, where the flight's signal was lost on secondary surveillance radar, and was soon[8][9] extended to the Strait of Malacca and Andaman Sea.[10][11][12] Analysis of satellite communications between the aircraft and Inmarsat's satellite communications network concluded that the flight continued until at least 08:19 MYT and flew south into the southern Indian Ocean, although the precise location cannot be determined;[13][14][15] Australia took charge of the search effort on 17 March, when the search shifted to the southern Indian Ocean.[16] On 24 March 2014, the Malaysian government, noting that the final location determined by the satellite communication is far from any possible landing sites, concluded that "flight MH370 ended in the southern Indian Ocean."[13][14][15][17] The current phase of the search is a comprehensive search of the seafloor about 1,800 kilometres (1,100 mi) southwest of Perth, Australia, which began in October 2014.[18][19][20] Despite being the largest and most expensive search in aviation history,[21][22][23][24] there has been no confirmation of any flight debris,[25] resulting in speculations about its disappearance. On 29 July 2015, debris from an aircraft wing was found on the shores of Saint-André, Réunion Island. Authorities were investigating whether it was from a Boeing 777-200ER, and whether markings on it could be traced to the MH370 aircraft.[26]"



"Obama Elevates SBA to Cabinet-Level Agency
Patricia Orsini|
Small Business Editor
Friday, 13 Jan 2012 | 2:53 PM ETCNBC.com
CNBC.com
Barack Obama
President Barack Obama today announced that the head of the U.S. Small Business Administration, Karen Mills, will be the newest cabinet member.



He made the announcement that the SBA would become a cabinet-level agency in front of small-business owners at the White House. The head of the SBA was a cabinet-level position under the Clinton Administration.



The announcement was part of a larger proposal that would combine the SBA with five other government agencies that focus on business and trade.



Those organizations include the Commerce Department's core business and trade functions; the Office of the U.S. Trade Representative; the Export-Import Bank; the Overseas Private Investment Corporation; and the Trade and Development Agency.



These agencies combined would, according to Obama, create a more efficient climate for business development and entrepreneurship. In addition, according to AP, the merger would save the federal government $3 billion over 10 years by eliminating duplicate costs and human resources.



Barry Sloane, CEO of the Small Business Authority, applauded the move. "I think it's constructive for two reasons," he told CNBC.com. "By doing this, Obama is making a statement that small business is important. And, he's making good on his promise of reducing overlapping agencies, which will reduce government spending."



The proposal to merge the agencies must be approved by Congress. If the merger is approved, the SBA would no longer be in the cabinet.



Sloane the SBA has been an engine for recovery from the recession. "Under the Obama Recovery Act, he increased loan size from the SBA from $2 million to $5 million, and increased the amount of government guarantee on those loans, which has been helpful to business owners. This proposal is another acknowledgment of the importance of small business."



House Small Business Committee Chairman Sam Graves (R-MO) said in a statement today that "I look forward to examining the [proposed merger] further, and I hope the President will work very closely with Congress before finalizing any changes."



While he was non-committal on whether he would vote to approve the changes, he said: "Decreasing the size of government and reducing bureaucracy is something that I support in principle, however, it is important that any effort to make significant changes to federal commerce and trade programs be done carefully, and in a way that protects America's small businesses."

"Barack Hussein Obama, Sr. (/ˈbærək huːˈseɪn oʊˈbɑːmə/;[11][12] 18 June 1936[2] − 24 November 1982) was a Kenyan senior governmental economist and the father of U.S. President Barack Obama. He is a central figure of his son's memoir, Dreams from My Father (1995). Obama married in 1954 and had two children with his first wife, Kezia. He was selected for a special program to attend college in the United States, where he went to the University of Hawaii. There, Obama met Stanley Ann Dunham, whom he married in 1961 and had a son Barack II, named after him. He divorced her three years later. The elder Obama later went to Harvard University for graduate school, where he earned an M.A. in economics, and returned to Kenya in 1964.2



"CONTRACT INFORMATION BULLETIN 98 – 15 The Small Business Administration (SBA) has launched a new pilot program to delegate 8(a) contract signature authority to individual agencies. This program is effective for one year, until terminated or extended, beginning in May of 1998. The SBA has delegated its authority under Section 8(a)(1)(A) of the Small Business Act (15 USC 637(a) as amended) to USAID to enter into 8(a) prime contracts, and its authority under Section 8(a)(1)(B) of the Act to subcontract the performance of that contract to an eligible 8(a) Program Participant. I hereby re-delegate said 8(a) contracting authority to all Contracting Officers at USAID. This delegation shall be in effect until the authority from the SBA is withdrawn. USAID has signed a Memorandum of Understanding (MOU) with the SBA that will eliminate the tripartite agreement and allow us to execute a single contract document to serve as the legal instrument between USAID and the 8(a) contractor. The MOU, which is attached to this CIB, explains the new award procedures and the responsibilities of the parties. Of the USAID responsibilities, the Office of Small and Disadvantaged Business Utilization(OSDBU), not the Office of Procurement, shall: 1. submit summary reports of all 8(a) contracting activities, as required by the MOU, to the SBA's Assistant Administrator for Business Development, Office of Minority Business Enterprise, on a quarterly basis; and 2. ensure that all applicable requirements of 13 CFR 124 are followed. The SBA has obtained a class deviation from the 8(a) award procedures contained in Federal Acquisition Regulation (FAR)19.8, which will be sent to all Contracting Officers and negotiators when it is received by the Agency. The MOU may be amended at any time by mutual agreement between the SBA's Associate Administrator for Minority Enterprise Development (AA/MED) and USAID's Procurement Executive. All amendments will be in writing. The MOU may be terminated by either the SBA's AA/MED or USAID's Procurement Executive upon thirty (30) days advance written notice. If the test program is successful, the MOU and all delegations of authority may be extended. I have also signed a class deviation to FAR subparts 19.8 and 52.2 (attached) to implement model language that will be incorporated in the FAR following promulgation of an SBA final rule. Use the model language attached to the deviation for your 8(a) contracting actions. Attachments 1) Memorandum of Understanding between USAID and SBA 2) Class Deviation w/attachment MEMORANDUM OF UNDERSTANDING between the U.S. SMALL BUSINESS ADMINISTRATION and the U.S. Agency for International Development I. PURPOSE The purpose of this Memorandum of Understanding (MOU) between the U.S. Small Business Administration (SBA) and the U.S. Agency for International Development (USAID) is to establish streamlined procedures for the award of requirements pursuant to Section 8(a) of the Small Business Act (15 USC 637(a)as amended), hereinafter referred to as "the Act." II. OBJECTIVES a. To reduce the interval between the time USAID sends offering letter to SBA and SBA's acceptance of the offering to a maximum of five (5) working days. b. To eliminate SBA approval of contracts executed under the authority of this MOU. c. To establish a uniform policy and procedure regarding the application of Simplified Acquisition Procedures (SAP) to the 8(a) contracting process, when applicable.
….
XI. ACCEPTANCE The undersigned parties hereby accept the terms of this MOU:



J. Brian Atwood, Administrator U.S. Agency for International Development
Marcus L. Stevenson , Procurement Executive, U.S. Agency for International Development
Ivan Ashley, Director Office of Small and Disadvantaged, Business Utilization/Minority Resource Center, U.S. Agency for International Development
Aida Alvarez, [The allegedly extorted] Administrator U.S. Small Business Administration
William A. Fisher Acting Administrator for Minority Enterprise Development, U.S. Small Business Administration
Richard L. Hayes. Associate Deputy, Administrator for Government Contracting and Minority Enterprise Development, U.S. Small Business Administration
http://www.usaid.gov/sites/default/files/documents/1868/cib9815.pdf"
"Opened in 1994 as the successor to the Transitional Immigrant Visa Processing Center in Rosslyn, Va., the NVC centralizes all immigrant visa preprocessing and appointment scheduling for overseas posts. The NVC collects paperwork and fees before forwarding a case, ready for adjudication, to the responsible post.
The center also handles immigrant and fiancé visa petitions, and while it does not adjudicate visa applications, it provides technical assistance and support to visa-adjudicating consular officials overseas.
Only two Foreign Service officers, the director and deputy director, work at the center, along with just five Civil Service employees. They work with almost 500 contract employees doing preprocessing of visas, making the center one of the largest employers in the Portsmouth area.
The contractor, Serco, Inc., has worked with the NVC since its inception and with the Department for almost 18 years.
The NVC houses more than 2.6 million immigrant visa files, receives almost two million pieces of mail per year and received more than half a million petitions from the U.S. Citizenship and Immigration Service (USCIS) in 2011. Its file rooms' high-density shelves are stacked floor-to-ceiling with files, each a collection of someone's hopes and dreams and each requiring proper handling.
….
The NVC also preprocesses the chief of mission (COM) application required for the fi ling of a petition for a Special Immigrant Visa (SIV). Such visas, for foreign nationals who have performed services for the U.S. government in Iraq and Afghanistan, require COM concurrence before the applicant can file a petition with USCIS. The NVC collects the requisite documents from such applicants and, when complete, forwards the package to the U.S. embassies in Baghdad or Kabul for COM approval"
"Serco farewell to NPL after 19 years of innovation 8 January 2015 .. During that period under Serco's management and leadership.. .. NPL's caesium fountain atomic clock is accurate to 1 second in 158 million years and NPL is playing a key role in introducing rigour to high frequency [GPS remote assassination betting] trading in the City through NPLTime."



"Serco's Office of Partner Relations (OPR) helps facilitate our aggressive small business utilization and growth strategies. Through the OPR, Serco mentors four local small businesses under formal Mentor Protégé Agreements: Three sponsored by DHS (Base One Technologies, TSymmetry, Inc., and HeiTech Services, Inc.,) and the fourth sponsored by GSA (DKW Communications, Inc.). Serco and HeiTech Services were awarded the 2007 DHS Mentor Protégé Team Award for exceeding our mentoring goals." http://www.dtic.mil/whs/directives/corres/pdf/100515p.pdf



"Base One Technologies – Corporate Strategy – We are a Government Certified Women-Owned Business
We practice Diversity Recruitment and Staffing for IT positions



Base One was founded in 1994 by a women engineer who had made a career in technology research for many years. Base One has been very successful in focusing on diversity recruiting and staffing for IT projects. It has been our experience that the greater the diversity mix, the more creative the solution. As in any field the more diverse the viewpoint the more thorough your analysis. Our engineers can think out of the box.



Because of our affiliations we have access to pools of resources among more diverse groups & individuals. We work with a large pool of minority professionals who specialize in IT skills. We are able to have access to these resources through our status as a D/MWBD firm and our affiliations. These affiliations assist us in working with resources among more diverse groups & individuals.



We are also partnered with firms that are 8A certified as Minority firms, Disabled Veteran firms, Native American firms, Vietnam veteran firms, women owned firms.



Our hub zone location keeps us close to the professional organizations of great diversity. We are active in recruiting from and networking with these community organizations of local IT professionals. This has given us access to a large pool of diversity talent.



Base One's staff of engineers are a diverse group of professionals. This diverse network of engineers helps us to branch out to other engineers and creates an even larger network of resources for us to work with.



The greater the diversity the more complete & thorough the analysis. The broader the spectrum of points of view the broader the scope of the analysis. We feel that a diverse team gives us a greater advantage in creating cutting edge solutions. To that end we will continue to nurture these relationships to further extend our talent pool.



The greater the diversity mix, the more creative the solution.



The more diverse the viewpoint, the more thorough the analysis.



The more diverse our team, the more our engineers can think out of the box.



This is why Base One Technologies concentrates on diversity recruitment in the belief that a diverse team gives us a greater advantage in creating cutting edge solutions."



Information Security Planning is the process whereby an organization seeks to protect its operations and assets from data theft or computer hackers that seek to obtain unauthorized information or sabotage business operations.



Key Clients Benefiting From Our Information Security Expertise: Pentagon Renovation Program, FAA, Citigroup, MCI.



Base One technologies



Expertly researches, designs, and develops information security policies that protect your data and manage your firm's information technology risk at levels acceptable to your business.



Performs architectural assessments and conducts both internal and external penetration testing. The results of these efforts culminate in an extensive risk analysis and vulnerabilities report.



Develops, implements and supports Information Security Counter measures such as honey-pots and evidence logging and incident documentation processes and solutions."
"The 8(a) Business Development Program assists in the development of small businesses owned and operated by individuals who are socially and economically disadvantaged, such as women and minorities. The following ethnic groups are classified as eligible: Black Americans; Hispanic Americans; Native Americans (American Indians, Eskimos, Aleuts, or Native Hawaiians); Asian Pacific Americans (persons with origins from Burma, Thailand, Malaysia, Indonesia, Singapore, Brunei, Japan, China (including Hong Kong), Taiwan, Laos, Cambodia (Kampuchea), Vietnam, Korea, The Philippines, U.S. Trust Territory of the Pacific Islands (Republic of Palau), Republic of the Marshall Islands, Federated States of Micronesia, the Commonwealth of the Northern Mariana Islands, Guam, Samoa, Macao, Fiji, Tonga, Kiribati, Tuvalu, or Nauru); Subcontinent Asian Americans (persons with origins from India, Pakistan, Bangladesh, Sri Lanka, Bhutan, the Maldives Islands or Nepal). In 2011, the SBA, along with the FBI and the IRS, uncovered a massive scheme to defraud this program. Civilian employees of the U.S. Army Corps of Engineers, working in concert with an employee of Alaska Native Corporation Eyak Technology LLC allegedly submitted fraudulent bills to the program, totaling over 20 million dollars, and kept the money for their own use.[26] It also alleged that the group planned to steer a further 780 million dollars towards their favored contractor.[27]"

"On October 6, 2000, the NMCI contract was awarded to Electronic Data Systems (EDS), now HP Enterprise Services (HP).[11] Secretary of the Navy Gordon England summed up the Navy's IT Environment prior to the commencement of NMCI: "We basically had 28 separate commands budgeting, developing, licensing, and operating IT autonomously. It was inefficient and from the larger Department perspective, produced results that were far from optimal."[12]



NMCI consolidated roughly 6,000 networks—some of which could not e-mail, let alone collaborate with each other—into a single integrated and secure IT environment. HP updated more than 100,000 desktop and laptop PCs in 2007.[13] The program also consolidated an ad hoc network of more than 8,000 applications to 500 in four years and 15,003 logistics and readiness systems to 2,759 over a two-year period.[14]



Sub-contractors to HP include:



Apple Inc., Cisco, Dell, McAfee, Microsoft, Oracle Corporation, Sun Microsystems, and Symantec[15]



Harris Corporation (which acquired Multimax formerly known as Netco Government Services and WAM!NET), which provided enterprise network infrastructure design and support until its contract expired in 2014.[16]



Verizon, which provides wide area network (WAN) connectivity.



HP also provides the security services once provided by Raytheon.



"HP also has worked with more than 400 small businesses, with 5 percent for small disadvantaged businesses, 5 percent for women-owned small businesses and 1.5 percent for HUBZone small businesses. Since its inception, NMCI has exceeded the minimum 40% small business objective set for the contract.[17]


…
The Department of the Navy has shown no desire to scale back or cancel the program. On 24 March 2006 the Navy exercised its three-year, $3 billion option to extend the contract through September 2010.[1]
In April 2006, users began to log on with Common Access Cards (CACs), a smartcard-based logon system called the Cryptographic Log On (CLO). In October 2008, NMCI's prime contractor HP posted a set of procedures so Apple Mac users can access NMCI's public-facing Web services, such as the e-mail and calendar functions, using their CAC readers with their Macs. The workaround also works with other Defense Department CAC-enabled networks.[27] Alternatively, NMCI and all other CAC-authenicated DoD websites may be accessed using LPS-Public."

"Government still paying G4S and Serco millions for tagging despite ban Alan Travis Home affairs editor
Thursday 25 June 2015 00.01 BST
The Ministry of Justice is still paying security firms G4S and Serco millions of pounds every month for supplying electronic tagging equipment, more than a year after both companies were barred from running the contract.



Both companies faced criminal investigations by the Serious Fraud Office over allegations of overcharging that led to them repaying nearly £180m.



The continuing monthly payments to the two companies were uncovered by an analysis of Ministry of Justice (MoJ) data by the Centre for Crime and Justice Studies which shows that G4S was paid a total of £8.7m between March 2014 – when it lost the tagging contract – and February 2015. Serco was paid £4.5m over the same period.



The electronic monitoring tags are used to enforce curfews on more than 100,000 offenders each year. The outsourcing giant Capita took over the contract on an interim basis in April last year.



In July 2014, Capita and three other companies were named as the winners of a £265m six-year contract to supply the next generation of satellite tracking tags, which would allow dangerous and repeat offenders to be monitored around the clock."



Serco… Would you like to know more?
SWISSLEAKS – "HSBC developed dangerous clients: arms merchants, drug dealers, terrorism financers"
Copy of SERCO GROUP PLC: List of Subsidiaries AND Shareholders! (Mobile Playback Version) [HSBC is Serco's drug-hub Silk Road banker and a major shareholder with the 9/11 8(a) lenders including Her Majesty's Government and JPMorgan]



Yours sincerely,
Field McConnell, United States Naval Academy, 1971; Forensic Economist; 30 year airline and 22 year military pilot; 23,000 hours of safety; Tel: 715 307 8222
David Hawkins Tel: 604 542-0891 Forensic Economist; former leader of oil-well blow-out teams; now sponsors Grand Juries in CSI Crime and Safety Investigation



800 Total Views
4 Views Today
Please follow and like us: